News | Galleries
Art Basel is Back, Dealers Say, With Some Caveats
Galleries were enthusiastic about how the fair went, despite slower sales and a significant drop in visitors.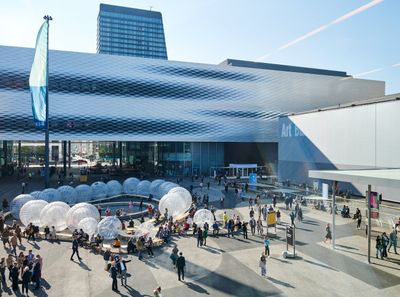 Art Basel in Basel, 2021. Courtesy Art Basel.
Art Basel wrapped this year's edition of its Swiss fair on Sunday. Dealers mostly deemed the fair a success, despite visitor numbers falling by a third from the last in-person edition.
Roughly 60,000 people visited Messe Basel during the fair, down from 90,000 in 2019. The decline is largely due to the pandemic, which continues to disrupt international travel. On 30 August, for instance, the U.S. State Department issued an ongoing Do Not Travel advisory to Switzerland due to the prevalence of Covid-19 in the country.
'It's astonishing and amazing that the success of this edition lives mainly from European collectors and that Europe alone can carry such an important art fair like this,' said Thaddaeus Ropac, owner of Galerie Thaddaeus Ropac.
Among the gallery's early sales was Robert Rauschenberg's Rollings (Salvage) (1984), which sold for US $4.5 million.
Karma Gallery's booth at Art Basel, Basel, 2021. Courtesy Art Basel.
Other noteworthy sales that have been made public include Meleko Mokgosi's Bread, Butter, and Power (2018) at Gagosian / Jack Shainman for US $750,000, three works by Heidi Bucher at Lehmann Maupin, and works by Jenny Holzer, Andreas Gursky, Anne Imhof, Barbara Kruger, and Rosemarie Trockel at Sprüth Magers.
Lévy Gorvy sold an Ellsworth Kelly painting for US $3.5 million and Günther Uecker's STILLE (SILENCE) (2021) for €1.6 million (US $1.9 million), while Hauser & Wirth's sales included Philip Guston's The Poet (1975) for US $6.5 million and the David Smith sculpture Vertical Structure (1939) for US $5.5 million.
'Art Basel is back in full force,' declared Hauser & Wirth's president and co-founder Iwan Wirth.
'Collectors at the fair have renewed energy to be back with art of incredible calibre, such as the works by Philip Guston and David Smith, and this year we've had even greater interest from those in touch from afar,' he said.
David Zwirner was more circumspect, admitting that 'business was not at the same level as 2019'. But, he said it 'did exceed our expectations.'
Their sales included Dan Flavin's pink fluorescent light work Untitled (1974) for US $3 million.
'Despite reduced attendance of collectors from Asia and the US due to current travel restrictions, vigorous sales throughout the duration of the show brought to the fore Europe's powerful collector bases and rich collecting tradition,' said Marc Spiegler, Art Basel's global director.
Monster Chetwynd performance at Art Basel, Basel, 2021. Courtesy Art Basel.
The number of participating galleries held up better than visitor numbers, with 272 galleries taking part compared to 290 in 2019.
As well as discounting booths by 10%, Art Basel set aside CHF 1.5 million (US $1.6 million) in a 'solidarity fund' galleries could opt into if they felt they needed it.
In addition to the gallery booths, this year's edition of Art Basel included 62 large-scale artworks in the Unlimited section, 20 site-specific projects as part of Parcours, and performances by artists Monster Chetwynd and Cecilia Bengolea. —[O]