News | Galleries
Art Collaboration Kyoto Introduces Disruptive Fair Design
Booths shared between Japanese and international galleries will be distributed in a seemingly random way, creating exhibition hall 'back alleys' for private discussions and deals.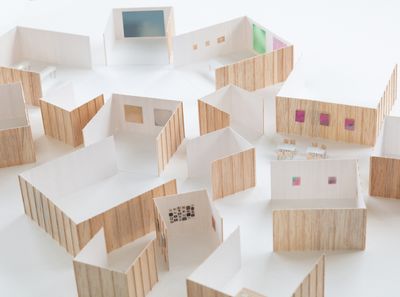 Takashi Suo's spatial design for Art Collaboration Kyoto. Courtesy Art Collaboration Kyoto.
A new art fair will launch in Kyoto this November with a focus on partnerships between Japanese and global galleries.
Led by Japanese cultural institutions and private galleries, Art Collaboration Kyoto (ACK) seeks to make up for Japan's relative isolation from the rest of the global art market.
'Whether overseas or at home, Japanese galleries tend to have difficulties participating inart fairs focused mainly on selling artworks, because of geographic location and market size,' said Takahiro Kaneshima, ACK's program director.
Kaneshima said reaching out to galleries and collectors outside Japan was especially important in the face of the pandemic.
There are some impressive pairings for the inaugural event, including: Anomaly, Tokyo, and Blum & Poe, Los Angeles; Taka Ishii Gallery, Tokyo, and Galerie Gisela Capitain, Cologne; NANZUKA, Tokyo, and Petzel, New York; and Taro Nasu, Tokyo, and Esther Schipper, Berlin.
In addition to the collaborations between host galleries and international galleries, the fair will include a section called 'Kyoto Meetings' for nine Japanese galleries exhibiting artists with strong ties to the city.
Art Collaboration Kyoto venue, the Kyoto International Conference Center. Courtesy Kyoto International Conference Center.
ACK claims to be the largest art fair devoted to contemporary art in Japan, but with 54 galleries in 32 booths it's a more boutique event than Art Fair Tokyo and the Tokyo International Art Fair (TIAF), both of which bring in over 100 exhibitors.
The fair's smaller size will allow for an unusual layout at its venue, the Kyoto International Conference Center Event Hall. Takashi Suo's spatial design for the fair positions booths in seemingly random orientations and relations to one another.
The intention behind this presentation is to provide a sense of discovery to fairgoers and create plaza-like spaces and back alleys, where visitors and exhibitors can take a break from the booths. It's a design that ought to facilitate discreet deal making and the exchange of art world gossip.
Initially planned for February this year, the inaugural edition of ACK was postponed due to the pandemic. It will begin with a preview on Thursday 4 November followed by public days from Friday 5 to Sunday 7 November.
The full list of participating galleries follows below. —[O]
Gallery Collaborations
ANOMALY (Tokyo) and Blum & Poe (Los Angeles)
ARTCOURT Gallery (Osaka) and ULTERIOR (New York)
THE CLUB (Tokyo) and KAVI GUPTA (Chicago)
FINCH ARTS (Kyoto) and Space Four One Three (Seoul)
imura art gallery (Kyoto) and MIZUMA GALLERY (Singapore)
KAYOKOYUKI (Tokyo) and King's Leap (New York)
MISAKO & ROSEN (Tokyo) and Fortes D'Aloia & Gabriel (São Paulo)
MORI YU GALLERY (Kyoto) and RICHARD TAITTINGER GALLERY (New York)
NANZUKA (Tokyo) and Petzel (New York)
Gallery OUT of PLACE (Nara) and Galerie CAMERA OBSCURA (Paris)
Satoko Oe Contemporary (Tokyo) and Gallery EXIT (Hong Kong)
STANDING PINE (Nagoya) and Primo Marella Gallery (Milan)
TAIGADO (Kyoto) and Caves Art Center (Taipei)
Taka Ishii Gallery (Tokyo) and Galerie Gisela Capitain (Cologne)
Takuro Someya Contemporary Art (Tokyo) and UPSTREAM GALLERY (Amsterdam)
TARO NASU (Tokyo) and Esther Schipper (Berlin)
TEZUKAYAMA GALLERY (Osaka) and Der-Horng Art Gallery (Tainan)
Tokyo Gallery+BTAP (Tokyo) and Gene Gallery (Shanghai)
Tomio Koyama Gallery (Tokyo) and Fergus McCaffrey (New York)
GALLERY TOMO (Kyoto) and Marsiglione Arts Gallery (Como)
Yoshiaki Inoue Gallery (Osaka) with both AKI Gallery (Taipei) and Galerie EIGEN+ART (Berlin)
Yuka Tsuruno Gallery (Tokyo) and alexander levy (Berlin)
Kyoto Meetings
COHJU contemporary art (Kyoto)
KEN NAKAHASHI (Tokyo)
KOKI ARTS (Tokyo)
KOSAKU KANECHIKA (Tokyo)
Gallery Nomart (Osaka)
Gallery RIN (Tokyo)
SNOW Contemporary (Tokyo)
WAITINGROOM (Tokyo)
Gallery Yamaki Fine Art (Hyogo)