News | Exhibitions
Following Martial Arts Trope, Galleries Try to Be Like Water
Adapting to the post-pandemic world, 21 galleries have joined the fluid GALLERIES CURATE initiative.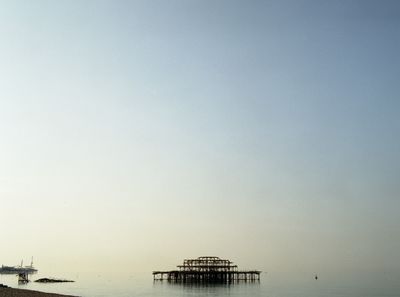 Fiona Tan, West Pier IV (2006). Colour print. Courtesy the artist and Frith Street Gallery, London, Peter Freeman Inc., New York, and Wako Works of Art, Tokyo.
'You must be shapeless, formless, like water,' said Bruce Lee, playing the part of a martial arts instructor in the '70s cop show Longstreet. A group of galleries have adopted the same strategy for 2021, morphing in response to fast-changing circumstances.
Jan Mot in Brussels, Experimenter in Kolkata, and Goodman Gallery in Johannesburg are among 21 of them taking part in the new GALLERIES CURATE initiative, which seeks to create more flow between gallery programmes around the globe.
'In the first days of the COVID-19 pandemic, an informal group of contemporary galleries from around the world came together to discuss how to navigate through the new challenges of the global crisis as it affected our artists, staff, and businesses,' said the galleries in a shared press release.
'The relationships among us over weeks of exchange became close and essential and we discovered that while the pandemic had broken many things apart, it had also brought us together,' they said.
The first chapter in the GALLERIES CURATE initiative is entitled RHE, a name taken from the Greek for 'that which flows'.
'Through water, we are all connected, physically as well as metaphorically,' the galleries said. They added, 'like culture, water is never static but always in flux.'
Co-ordinated by Clément Delépine, independent curator, writer, and co-director of boutique art fair Paris Internationale, RHE will continue through May 2021, with new collaborations being added each month.
'Some participants have a precise idea of what they wish to exhibit, others don't, but ultimately they all share the same light-hearted approach,' Delépine said.
Francis Alÿs, August 2020, Guerro, Mexico (2020), oil on canvas and clip, 18 x 18 cm. Courtesy the artist and Jan Mot.
Launching on 4 January 2021, the first RHE exhibition will be a digital presentation of works by Francis Alÿs, Giovanni Anselmo, and Latifa Echakhch that elaborates upon the exhibition A buoy if not a beacon, now showing at Jan Mot.
While the exhibition doesn't include works from other GALLERIES CURATE galleries, Jan Mot did invite artists from two other Belgian galleries: Dvir Gallery, Brussels, and Micheline Szwajcer, Antwerp.
Jan Mot said working with other galleries was 'more fun, more personal, more flexible, [and] more real' than other responses to the pandemic, such as taking part in online fairs.
From 11 to 17 January, New York gallery Peter Freeman Inc will present works by Jan Dibbets, Helen Mirra, Fiona Tan, and Richard Wentworth on the RHE website. These include Tan's colour photograph West Pier IV (2006), pictured top. Constructed in Brighton during the 1860s, the pier closed to the public in 1975. The sea has since swallowed its walkway and concert hall, leaving only a skeletal metal framework.
Tanya Leighton, Berlin, and Sadie Coles HQ, London, will present a third exhibition under the GALLERIES CURATE banner entitled Tempest at Tanya Leighton and on the RHE website from 17 January to 27 February 2021. The exhibition includes works by Michele Abeles, Alvaro Barrington, Pavel Büchler, Monster Chetwynd, Oliver Laric, and Sky Hopinka.
RHE will create a digital archive of texts and reference materials in support of each project. Works are also being shared on RHE's instagram.
The full list of galleries participating in GALLERIES CURATE follows below.
Participating Galleries
A Gentil Carioca (Rio de Janeiro)
Blum & Poe (Los Angeles, Tokyo, New York)
Chantal Crousel (Paris)
Edouard Malingue (Hong Kong, Shanghai)
Experimenter (Kolkata)
Galleria Franco Noero (Turin)
Goodman Gallery (Johannesburg, Cape Town, London)
Galerie Lelong & Co (New York)
Jan Mot (Brussels)
kurimanzutto (Mexico City, New York)
Marfa' (Beirut)
Meyer Riegger (Berlin, Karlsruhe)
Mitchell-Innes & Nash (New York)
Peter Freeman, Inc. (New York, Paris)
Petzel (New York)
ROH Projects (Jakarta)
Sadie Coles HQ (London)
Stevenson (Cape Town, Johannesburg, Amsterdam)
STPI (Singapore)
Take Ninagawa (Tokyo)
Tanya Leighton (Berlin) —[O]