News | Artists
Paola Pivi to Exhibit 500 Shoes in Homage to Andy Warhol
The exhibition at Pittsburgh's Andy Warhol Museum will also feature dozens of baby polar bear sculptures covered in fluorescent plumage.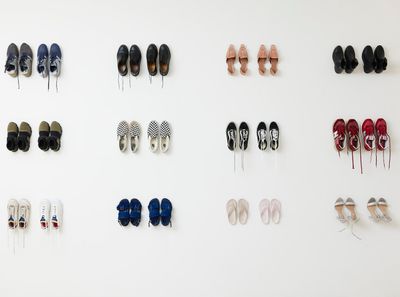 Paola Pivi, Untitled (shoes) (detail) (2022). Courtesy of the artist, The Andy Warhol Museum, and Perrotin, Photo by Agostino Osio.
Paola Pivi's artworks light up the imagination. The Milan-born, Anchorage-based artist's past provocations include introducing trained stunt horses to the Eiffel Tower, coating a crocodile in whipped cream, and unleashing a leopard on a room covered with plastic cappuccino cups.
For her upcoming exhibition at The Andy Warhol Museum in Pittsburgh, however, she's turning her attention to something far more workaday—shoes.
In the exhibition Paola Pivi : I Want It All, on view from 22 April to 15 August, Pivi will feature 250 pairs of shoes mounted to the walls like trophies. Half will be heavily worn, while identical matches for each pair will be brand new.
Paola Pivi, Yee-haw (2015). Courtesy of the artist and Perrotin. Photo by Hugo Glendinning.
'I am particularly excited about working with shoes,' Pivi said. 'It brings me back to Andy's fascination for shoes and for people. He always had an intimate connection with the others he surrounded himself with, as if highlighting who they were and what they did, in a way that, in my perception, was voluptuous.'
'In the same way,' she continued, 'the individually worn shoes will be displayed collectively and I will add the unworn identical shoes, as a flashback, to what it was before, and to what would have been without the lifecycle of each individual participant.'
In the 1950s, Andy Warhol worked as an illustrator for shoe manufacturer I. Miller. He returned to the subject in the 1980s, making a series of screen prints of shoes that incorporated diamond dust, a byproduct from the manufacture of industrial grade diamonds.
Paola Pivi, Is it a date? (2019). Courtesy of the artist and Perrotin. Photo by Guillaume Ziccarelli.
In addition to the footwear, the Pivi exhibition will include photos and video from her past performances and dozens of baby polar bear sculptures covered in phosphorescent plumage.
Pivi began by making full-size bears, which she first showed at Perrotin in New York in 2013, but started making cubs after adopting her son, who was five at the time.
The Warhol Museum's chief curator, José Carlos Diaz, said Pivi's 'creativity and curiosity responds to everyday life and adds a touch of magic to it.' –[O]