News | Artists
Pussy Riot's Maria Alyokhina Escapes Russia Disguised as Delivery Woman
The daring exit was accomplished with a travel document smuggled into Belarus at the urging of Icelandic performance artist Ragnar Kjartansson.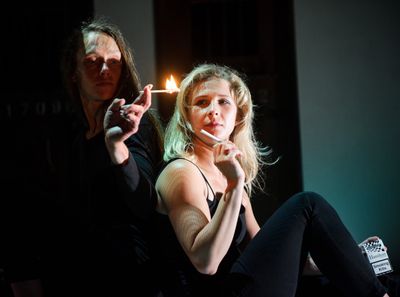 Belarus Free Theatre, Burning Doors. Maryia Sazonava and Maria Alyokhina. Photo: Alex Brenner.
Maria Alyokhina, the leader of activist art group Pussy Riot, has escaped from Russia.
'A lot of magic happened last week,' she told The New York Times yesterday. 'It sounds like a spy novel.'
Alyokhina has been closely watched by Russian authorities since 2012, when Pussy Riot staged a protest against Vladimir Putin in Moscow's Christ the Saviour Cathedral. She has been jailed many times since but decided it was time to get out after being told she would soon be sent to a penal colony.
Alyokhina abandoned her cellphone and dressed as the local equivalent of an UberEats driver to evade Moscow police, riding with a friend to the Belarus border.
Once inside Belarus, she was given a travel document smuggled into the country at the urging of Icelandic performance artist Ragnar Kjartansson. The document granted her the freedoms of an EU citizen, allowing her to enter Lithuania on her third attempt.
She reunited with other members of Pussy Riot before travelling on to Iceland, where she met with Kjartansson, who sings and plays the guitar in the bath in his nine-screen orchestral masterpiece The Visitors (2012). That work showed at Moscow's GES-2 House of Culture last year.
Both Kjartansson and Björk, who are relatives, will perform alongside Pussy Riot on the Reykjavik leg of a tour organised by pro-Ukrainian activists. The tour begins in Berlin on 12 May.
After the Crimea Crisis, Alyohkhina told Ocula Magazine in 2017, 'I think about 80 percent of intellectuals left the country because they didn't know how they would find a place in this so-called new world. I'm proud of the people who stayed. I'm proud of knowing them and I'm proud of my opportunity to help them at some point, because this is the only way to show that another Russia exists.'
In her interview with the New York Times this week, she seemed to have lost her belief in other Russias.
'I don't think Russia has a right to exist anymore,' she said. 'Even before, there were questions about how it is united, by what values it is united, and where it is going. But now I don't think that is a question anymore.' —[O]