News | Galleries
Rirkrit Tiravanija Joins David Zwirner, Proffers Pad Thai
The artist's first solo exhibition with the gallery will show in Hong Kong early next year.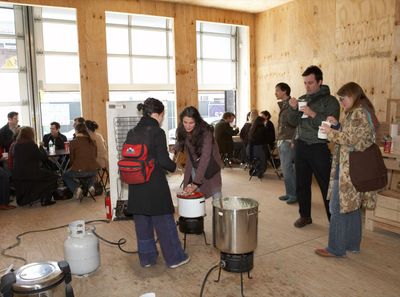 Rirkrit Tiravanija, Untitled 1992 (Free) (1992–2007), installation view at David Zwirner New York, 2007. Copyright Rirkrit Tiravanija. Courtesy David Zwirner.
David Zwirner announced today the gallery now represents Rirkrit Tiravanija.
'Rirkrit Tiravanija is a longtime friend,' said the gallery's founder, David Zwirner. 'I have known him as long as I have had a gallery, and have been collecting his work since the early 1990s.'
'Relational art would not be what it is without his immense influence,' Zwirner continued. 'His work is about connection, community, and shared experiences. I think after this past year in which there has been so much disconnection and separation, his art is even more important and meaningful.'
Tiravanija will recreate the work untitled 1990 (pad thai) at David Zwirner Hong Kong as part of a group exhibition opening on 18 May. First performed over 20 years ago at Paula Allen Gallery, New York, the participatory installation sees the artist prepare and serve noodles to visitors.
David Zwirner has shown similar work before. In untitled (free) (1992), Tiravanija commandeered the office space of 303 Gallery, New York, to cook Thai curry for visitors. David Zwirner presented an iteration of the work in 2007, with Tiravanija recreating the close confines of 303 Gallery's former space on 89 Greene Street out of plywood. The work was collected by The Museum of Modern Art (MoMA), New York.
Tiravanija's first solo show of new work presented by David Zwirner is scheduled for Hong Kong in early 2022.
David Zwirner declined to elaborate on the details of their relationship with Tiravanija, though the gallery acknowledged it does not represent him exclusively.
Other galleries Tiravanija has worked with include: STPI – Creative Workshop & Gallery, Singapore; Pilar Corrias, London; Gladstone Gallery, New York; Tang Contemporary Art, Bangkok; Galerie Chantal Crousel, Paris; Kurimanzutto, Mexico City. —[O]