News | Market
Sotheby's New York Sales Pull in $1.3 Billion
The sum was boosted by divorcees divesting themselves of the Macklowe Collection and big moves from the crypto community.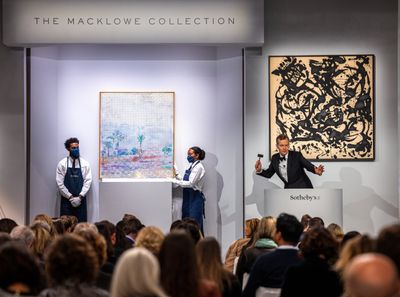 The Macklowe Collection goes to auction at Sotheby's New York. Courtesy Sotheby's.
Sotheby's New York marquee sales brought in a combined US $1.33 billion last week, the highest series total in the auction house's history.
The Macklowe Collection sold for $676 million, over half of the series' total sum, despite accounting for just 35 of the 666 lots.
The work that fetched the highest price was Mark Rothko's No. 7 (1951), which sold for $82.5 million to an anonymous bidder, rumoured to be Taiwanese billionaire Pierre Chen. Alberto Giacometti's Le Nez (1947) was a close second, picked up by 31-year-old TRON founder Justin Sun—one of the backers of the Art Dream Foundation—for $78.4 Million.
Mark Rothko, No. 7 (1951). Courtesy Sotheby's.
No. 7 actually hammered for an even higher price of $89.3 million including fees, which would have been a record for Rothko. But according to Artnet News reporter Katya Kazakina, that amount fell back to the final sale price thanks to an irrevocable bid, which sees fees waived for bidders chosen to guarantee the work sells.
Something similar happened when Sotheby's auctioned off a 1787 first edition print of the United States Constitution on 18 November. The print was bought by Kenneth Griffin, the billionaire founder of hedge fund Citadel, for what would have been $47.4 million. Thanks to an irrevocable bid, however, it cost him just $43.2 million.
Sotheby's Chairman Brooke Lampley on the phone for the winning bid of the Constitution at Sotheby's New York. Courtesy Sotheby's.
The $4 million discount put the work out of reach of underbidder ConstitutionDAO, a Decentralised Autonomous Organisation (DAO) representing over 17,000 people. The DAO, whose governance is facilitated using smart contracts on the Ethereum blockchain, bid up to $40 million, or $46.2 million with fees. That's $3 million more than Griffin will actually pay.
No price was put on the irony of a hedge fund CEO getting beneficial treatment to win a copy of the constitution at the expense of thousands of people.
The practice of finding irrevocable bidders to guarantee works are sold is not uncommon. The star lot at Phillips' evening sale on 17 November, Francis Bacon's Pope With Two Owls (1958) also came with an irrevocable bid. It hammered at $33 million, just above the $30 million low estimate. —[O]