News | Market
The Legal Risks of Eating Maurizio Cattelan's 'Comedian' Banana
Defining the duct-taped banana as a sculpture or a concept could mean the difference between serving up to five years in prison and paying for a single piece of fruit.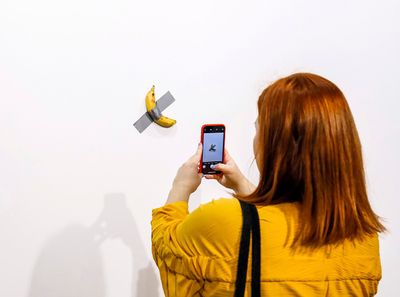 Maurizio Cattelan, Comedian (2019). Perrotin, Art Basel Miami Beach (5–8 December 2019) . Courtesy Ocula. Photo: Charles Roussel.
Last Saturday, Georgian-American artist David Datuna strode up to Maurizio Cattelan's Comedian (2019), a banana duct-taped to the wall of Perrotin's booth at Art Basel in Miami Beach. Datuna peeled the banana—first from the wall and then from its skin—and began eating it, saying, 'art performance: Hungry Artist.' Later, as he was escorted away, he said, 'see you after jail, guys.'
But Datuna was not headed to jail.
'When the police asked if we wanted to make an arrest, of course we declined', the gallery's founder, Emmanuel Perrotin, told Ocula. Had Perrotin decided to take a different path, things could have gone one of several ways.
Under Florida's criminal mischief laws, wilful and malicious injury or damage to another's property worth over $1,000 is a third-degree felony that carries a potential prison sentence of five years and fines of up to $5,000 or double the pecuniary loss suffered by the victim. Three editions of Comedian sold at Art Basel in Miami Beach for between $120,000 and $150,000, suggesting potential fines of up to $300,000.
Alternatively, Cattelan might have sought damages under the federal Visual Artists Rights Act (VARA), which applies to paintings, sculptures, drawings, prints, and still photographs produced for exhibition. Under VARA, Datuna would be responsible for damages up to $100,000 for wilfully infringing upon Cattelan's rights as the creator of Comedian, which many have described as a 'sculpture'.
However, according to Joan Kee, professor of history of art at the University of Michigan and author of Models of Integrity: Art and Law in Post-Sixties America (2019), neither tough penalties for criminal mischief nor a charge under VARA were likely.
The amount of restitution would be the market price of the banana and some duct tape
'If the duct-taped banana was a sculpture existing in a single copy or in an edition less than 200 that bear the signature of the author VARA would apply, but that isn't the case here', said Kee, who worked as a lawyer before becoming a professor. 'Cattelan's work is an editioned conceptual work that comes with a certificate of authenticity upon purchase.' She said that because the certificate states that bananas used in the work can be replaced, the specific banana that Datuna ate 'has no "special" status. It's just the physical manifestation of Cattelan's idea, which is the work.'
The six-figure sums collectors paid for Comedian bought them Cattelan's concept, which was in no way harmed by Datuna, meaning any fines he might be charged would be negligible.
'The amount of restitution would be the market price of the banana and some duct tape, probably less than a dollar', Kee said.
On balance, Datuna's unsolicited performance does not seem to have harmed the artist, the collectors, or the gallery. 'The surge of energy around Comedian allowed us to deepen conversations with historic collectors, as well as starting conversations with new collectors', said Perrotin.
Asked if he or Cattelan were in on Datuna's stunt, Perrotin said, 'Of course not. I don't know this person at all, and neither does Maurizio. But more importantly, this kind of provocation is not new. If you remember, Duchamp's Fountain was famously pissed in almost a dozen times. If anything, it's quite mundane.' —[O]