News | Artists
Tiffany Recruits Beyoncé, Jay-Z, and a Basquiat for Ad Campaign
There's little evidence Basquiat was referring to the jewellery brand with his use of robin's egg blue in the painting Equals Pi.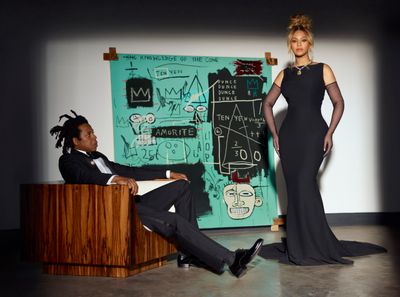 Beyoncé and JAY-Z pose with Jean Michel-Basquiat's Equals pi (1982) for the Tiffany & Co. fall 2021 ABOUT LOVE campaign. Photo: Mason Poole.
Jewellery brand Tiffany & Co. yesterday revealed photos of Jay-Z and Beyoncé posing in front of the Jean-Michel Basquiat painting Equals Pi (1982).
The painting's robin's egg blue is similar to the Tiffany Blue used by the brand.
'We don't have any literature that says he made the painting for Tiffany,' said Alexandre Arnault, Tiffany's executive vice president of products and communications, in an interview with fashion news site WWD, which first reported on the campaign.
'But we know a little bit about Basquiat,' he continued. 'We know his family. We did an exhibition of his work at the Louis Vuitton Foundation a few years back. We know he loved New York, and that he loved luxury and he loved jewellery. My guess is that the [blue painting] is not by chance. The colour is so specific that it has to be some kind of homage.'
The WWD article described the Basquiat as a 'never-before-seen painting', an odd phrasing on its face, unless the work was painted blindfolded.
In fact, the work was captured in a 2018 feature by W Magazine on the Sabbadini family, who hung it above a couch in their Milan apartment. In that image, the work looks less green than the blue Tiffany uses in its brand.
Equals Pi was presented at Sotheby's London twice, first in 1990 with an estimate of £180,000 to £250,000 (US $300,000–420,000), and then in 1996, when it sold for £155,500 ($253,000).
Other large Basquiats made in 1982 have since sold for far, far larger sums. Untitled (Head) was bought for over $15 million in June last year, Warrior was purchased for US $41.8 million at Christie's Hong Kong in March, and Versus Medici sold for over $50 million at Sotheby's New York in May.
Several sources reportedly told Artnet News that Equals Pi was most recently sold to the Arnault family for a price in the range of $15 million to $20 million.
In a press release announcing the ad campaign, Arnault said, 'Beyoncé and JAY-Z are the epitome of the modern love story.'
Part of that love story was communicated in Beyoncé's 2016 album Lemonade, which dealt with their effort to overcome Jay-Z's infidelity.
Jay-Z has his own love story with Basquiat. The rapper mentions the artist several times on the 2013 album Magna Carta... Holy Grail, including the lyrics 'It ain't hard to tell, I'm the new Jean-Michel' and 'Yellow Basquiat in my kitchen corner / Go 'head, lean on that shit Blue, you own it', both from the song 'Picasso Baby'. —[O]