News | Artists
Who is Audemars Piguet Art Commission Winner Phoebe Hui?
Hui's commission is a lyrical exploration of the Moon's slow drift away from Earth.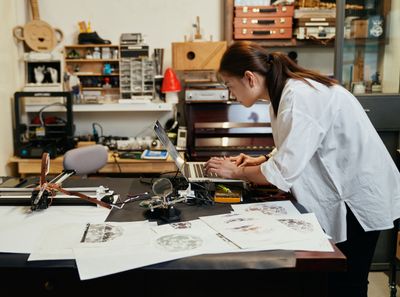 Phoebe Hui working in her studio. Courtesy the artist and Audemars Piguet.
Hong Kong-based artist Phoebe Hui has been selected to create the fifth Audemars Piguet Art Commission.
Hui, whose Chinese given name is Fong Wah, will create an installation entitled The Moon is Leaving Us, which explores the fact that our largest satellite is being pushed away from at a rate of four centimetres per year. It will be unveiled at Tai Kwun Centre for Heritage and Arts in Hong Kong on 23 April and remain on view for four weeks.
The Audemars Piguet Art Commission pairs an emerging artist with an established curator to help them amplify their practice. For The Moon is Leaving Us, Hui worked with Ying Kwok, whose previous curatorial projects include the Hong Kong Pavilion at the 57th Venice Biennale in 2017.
'Phoebe's work artistically reinterprets highly technical scientific research into tangible and relatable experiences,' said Kwok. 'She presents installations with a humanistic approach that allows audiences from various backgrounds to connect to complicated scientific ideas.'
Studies for The Moon is Leaving Us. Courtesy Phoebe Hui and Audemars Piguet.
Hui, who lectures at the Hong Kong Design Institute, works out of a studio in the Jockey Club Creative Arts Centre. Last year she travelled to Houston to meet with NASA staff and see moon dust up close, but was unable to complete her visit due to the pandemic. In Zoom conversations, however, a former astronaut told her the moon is not as grey as we think, exhibiting a spectrum of bright colours.
The commission has 'encouraged me to reflect on the fundamentals of my practice and given me the opportunity to interact beyond my network,' Hui said. 'Meeting astronauts, engineers, and scientists brought fresh new perspectives to the project. Without this insight, I could never have made this work.'
Hui has a BA in Creative Media from City University of Hong Kong, an MFA from UCLA Design Media Art, and an MA in Fine Art from Central Saint Martins College of Art and Design. She has presented her artworks and research at a mix of art institutions and technological institutes, including Ars Electronica, ISEA, MIT Media Lab, Asian Contemporary Art Week, and the Metropolitan Museum of Art.
Hui is the first artist to present an Audemars Piguet Art Commission in Asia. Beijing-based artist Sun Xun was the second recipient of the commission in 2016, but that work was presented at Miami Beach during Art Basel.
The other recipients of the commission are: British duo Semiconductor (2018); Los Angeles-based Lars Jan (2017); and Swiss artist Robin Meier (2015). —[O]