News | Exhibitions
Yoshitomo Nara to Bring 'Off-kilter Hopefulness' to Perth
The exhibition at the Art Gallery of Western Australia tracks the evolution in Nara's practice following the Fukushima disaster in 2011.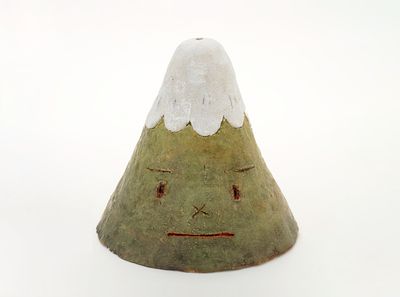 Yoshitomo Nara, Bud vase Mt Fuji (2011). Ceramic. 17 x 17 cm. On loan from the Artist. Courtesy Pace Gallery. © Yoshitomo Nara, 2011.
Yoshitomo Nara: Reach Out to The Moon, Even If We Can't will show at the Art Gallery of Western Australia (AGWA) in Perth from 26 February to 25 June.
The exhibition travels back to 2011, when Yoshitomo Nara found himself unable to make art following the Fukushima disaster. An earthquake triggered a tsunami that in turn caused a partial meltdown at a nuclear power plant not far from Nara's home prefecture of Tochigi.
Following the disaster, Nara abandoned drawing and painting to make small clay sculptures that later grew in size and expanded to include other materials.
'Nara's works emerge from his engagement with serious issues but are always full of a kind of off-kilter hopefulness and a gentle humility that comes from his sensitivity to living, like all of us, in a world we cannot ever really control,' said AGWA Director Colin Walker.
Yoshitomo Nara, WP1 (2022). Acrylic and grease pencil on canvas, framed. 67.5 x 56.7 cm. On loan from the Artist. Courtesy Pace Gallery. © YOSHITOMO NARA, 2022.
'I'm confident that the deeply felt, large-scale poetic reflectiveness of this show will resonate with audiences across Australia as we enter another year, more hopeful than the last,' he said.
According to Western Australian Minister for Culture and the Arts David Templeman, the Nara exhibition is part of a concerted effort to connect with Asia.
'As we continue to re-engage with our Asian neighbours after the challenges of the global pandemic, it is wonderful to see such high-quality content on display here in our State gallery,' he said.
AGWA's outreach to Asia has been bolstered by a five-year collaboration with the Simon Lee Foundation. The Foundation was established by Malaysian-born businessman Simon Lee AO, who built his fortune in the gold mining industry.
Through this collaboration, AGWA featured Hong Kong animator Wong Ping last year, and will present United Arab Emirates artist Farah Al Qasimi from 4 February to 30 July. —[O]