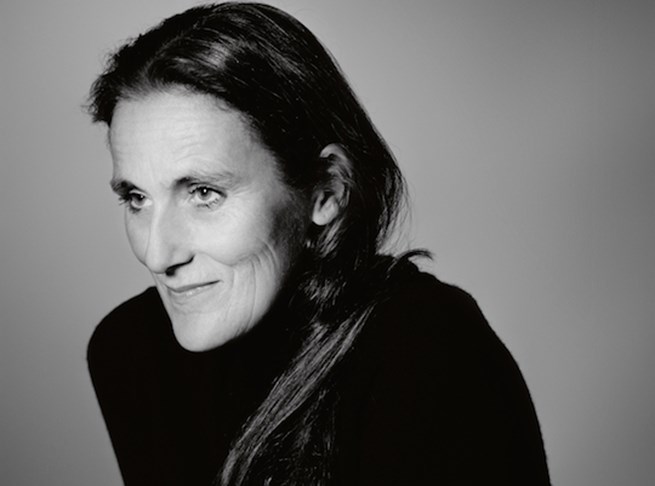 Fabienne Verdier is an artist who has clearly traversed a path less travelled in an extraordinary effort to create art that fuses both her Western roots with her passion for China and its culture. Born in Paris in 1962, Verdier graduated from the Ecole des Beaux-Arts of Toulouse in 1983 while studying Chinese at the Institut des Langues et Civilisation Orientales in Paris. Determined to expand her knowledge of Chinese art, and unsatisfied with the diluted prism through which she was digesting Chinese culture, she journeyed to China in 1984 intending to stay for a month. In fact Vedier stayed for ten years, initially studying at the Sichuan Fine Arts Institute in Chongqing, before becoming an apprentice to Huang Yuan, a Sichuanese calligraphy master and landscape painter. Melding western artistic practice with her in-depth knowledge of traditional ink painting, today Fabienne uses the calligraphic stroke to transmit her spiritual energy into the materiality of striking compositions - often iridescent in colour. The artist lives and works in France, and is currently the subject of a major retrospective at City Hall in Hong Kong. The retrospective is part of the Le French May Arts Festival, and traces her career from her early classical calligraphy works right through to her Eastern and Western fused more recent works. For the exhibition, Le French May
, the exhibition curator Daniel Abadie and the artist is publishing a book tracing the artist's career from her arrival in Sichuan through to her current large-scale works, where the free-moving brush, leaves, as it were, its memory of ink on canvas.
Your work is very much rooted in the teachings of Chinese calligraphy. How did your interest in China begin?
I was quite disappointed with the art education I was given in France and I have always been passionate about Chinese calligraphy. I was eager to learn so the best way was to go there. When I came to China I thought perhaps it would just be for one month, but then I had to stay for ten years – because I think if I had just stayed for a such a short time, I could not have completely changed my approach to everything. So my thought was, if I stay in China and if I want to learn the aesthetic philosophy, I should stay a long time and speak Chinese, and think with Chinese thoughts and dream with Chinese dreams… So one part of me really tried to immerse myself very deeply, and after that, your perception of reality and your relationship with human beings – everything changes. My view of art also changed completely.
In 1984 you enrolled at the Sichuan Fine Arts Institute in Chongqing, where you met Huang Yuan, a Sichuanese calligraphy master and landscape painter, and he ultimately became your mentor. But I understand he was reluctant to do so, why and how did you convince him to mentor you?
When I arrived to China, initially I did not find what I was looking for at a university. The Cultural Revolution had wiped it all and the old masters were forbidden to teach calligraphy and traditional ink painting. When I first met Huang Yuan, he did not want to transmit his passion anymore. Because he was not accepted anymore, because his art was not understood, he was secluded. Also, I was coming from the West and I was a woman, so he was even more reluctant to teach me! I was so enthusiastic and so sure that I had found what I had come for that every day I used to drop off in front of his door the drawings that I had made. After a while, he agreed to teach me on the condition that … I stay 10 years.
I understand that the process you use to make your work includes meditation, and also the involvement of a bike handlebar? Perhaps you can explain how you created your most recent work?
Meditation is part of my artistic process. Moving a huge brush across a large surface spread out on the floor records even the slightest vibration in your mind and body, so I have to be one with the brush. My studio is organized around my painting technique. There is a huge rope coming out from the ceiling attached to bicycle handlebars, which is attached to the brush. The canvas is on the floor and I am standing on it, moving the handlebars to infuse my energy on the canvas.
Western art has also been an influence on your practice – in what ways most substantially? Which Western artists are you inspired by today?
There is a part of me rooted in Western art traditions. For example, I enjoy working directly from Nature, like many Western artists – Cezanne for one. But it took maybe 30 years now to combine and to return to occidental tradition. I have received a commission from a collector who invited me to create some big monumental works alongside Elsworth Kelly, Cy Twombly, de Kooning. So I had to revisit all the abstract minimal American art.
I am also fascinated by Flemish old masters. Last year, I was invited by the Groeninge Museum in Bruges to compare my work to the Flemish painters' of the XVth and XVIth centuries. While working on this wonderful exhibition, I have been particularly drawn to a detail in Van Eyck's Margareta headdress because it reminded me of a labyrinth. I devoted a whole series – entitled Color Flows - to these archetypal forms of meanderings.
You have a retrospective exhibition in Hong Kong at City Hall. A retrospective accords an artist a type of stillness in which to reflect on a practice. Given this opportunity to reflect on your work – is there anything you have came to learn about your work that you were not so aware of before?
The opening of the retrospective exhibition went extremely well last week. The exhibition shows in detail the evolution of my work with different series. Curated by Daniel Abadie, the exhibition features my latest works and is another step to my return to Asia. An exhibition book is published tracing my career from the initial classical calligraphy right through to the major recent works.
What's next for Fabienne Verdier?
The inauguration of the monumental (12 m by 7 m) painting at Majunga Tower in La Défense, Paris, by architect Jean Paul Viguier. Also, this summer there will be an exhibition in a room of Herrenchiemsee Castle by Musée de la Pinakotek der Moderne of Munich. ― [O]