Hiroshi Sugimoto. Courtesy Asia Society Hong Kong Center. Photo: Keith Sin.
Having embarked on his exploration of conceptual photography in the mid-1970s with Dioramas, a series in which he photographed displays in natural history museums, Japanese artist Hiroshi Sugimoto is today best known for his black and white photographs of silent monochromatic seascapes and movie theatres where, with the exposure set to the duration of an entire film, the film screen is transformed into a shining white light. These works reflect the artist's ongoing interest in the philosophical possibilities of an image, as much as an exploration of the technical limits of photography.
Capturing the essence of time, history and memory are central themes of Sugimoto's work. In 1995, he produced a series entitled Sea of Buddha, which encompasses a collection of photographs featuring images of the 1,000 life-size and almost identical gilded statues installed in Kyoto's Sanjῡsangen-dō, or Hall of Thirty-Three Bays. The temple dates back to 1266 AD, and the statutes were carved from wood in the 12th and 13th centuries. Using a high vantage point and devoid of all contemporary fluorescent lighting and late-medieval and early-modern architectural embellishments, Sugimoto's images of the Buddhas transcend history, presenting the figures as though captured in their own time. Using the formal language that marks his practice—a sense of uniformity and exact compositional balance—Sugimoto also references the Buddhist practice of replicating images of a deity.
Born in Tokyo in 1948, Sugimoto moved to Los Angeles in 1970 and studied photography at the Art Center College of Design. Although he has homes in both New York and Tokyo, he says he feels increasingly drawn back to Japan, where his current focus is putting the final touches to his Odawara Art Foundation, a non-profit organisation slated to open later this year with the aim of promoting Japanese culture. Once completed, the multidisciplinary arts complex, which is situated about 60 miles southwest of Tokyo in Odawara, will include an exhibition space, a teahouse, and a contemporary Noh theatre, reflecting the multi-faceted nature of Sugimoto's practice, which also spans the mediums of performing arts, sculpture, installation and architecture.
In Hong Kong during March for the Asia Society's prestigious Asia Arts Awards, where he was honoured alongside artists Hon Chi Fun, Kimsooja and Rashid Rana for artistic excellence and contributions to contemporary art, Sugimoto met with Ocula to discuss his practice. In this interview, the artist explains how he feels more Japanese than ever and how, in his newest iteration as an architect, his work has evolved to a new form of land art.
Hiroshi Sugimoto at the Asia Arts Awards Gala in Hong Kong (2017). Courtesy Asia Society Hong Kong. Photo: Keith Sin.
What does being honoured at the Asia Arts Awards mean to you?
HSIt is a sign of recognition in Far East Asia. I think that it is a good sign that I am becoming better known in China. And, [laughs] I think there is no reason to miss being given an award!
You've spent half your life in the United States, where do you feel most at home?
HSI pay tax and am a US citizen, but I am also still a Japanese citizen. At the age of 69, I find I am slowly shifting back to Japan for my retirement period. I don't want to die in New York City [laughs]. New York is a good place to make money, but not to die.
Is it because as we age, we have a need to go back to our roots?
HSYes, it is about going back to your own nature and landscape. New York is so artificial, so I just pay attention to my work. It is not a place to rest.
But isn't Tokyo also a little frenetic?
HSYes, but my apartment in Shirogane has a lot of green around it.
Do you think you have a very Japanese way of looking at the world?
HSI discovered how Japanese I am when I first moved to the United States. You can't recognise how naturally Japanese you are when you are living in Japan.
How is it that being Japanese is reflected in your work?
HSIt is there in the sense of space and the way I divide and design space. The way I do it is three-dimensional, but at the same time it is also two-dimensional because space is not only physical, there can also be a space in music. For example, like in a Noh play: the musicians playing the shamisen are perfectly harmonised, but also slightly off the peak of harmony because that creates a sense of space. You should always be slightly off because if you are perfect, then there is no space for the gods or spirits to descend.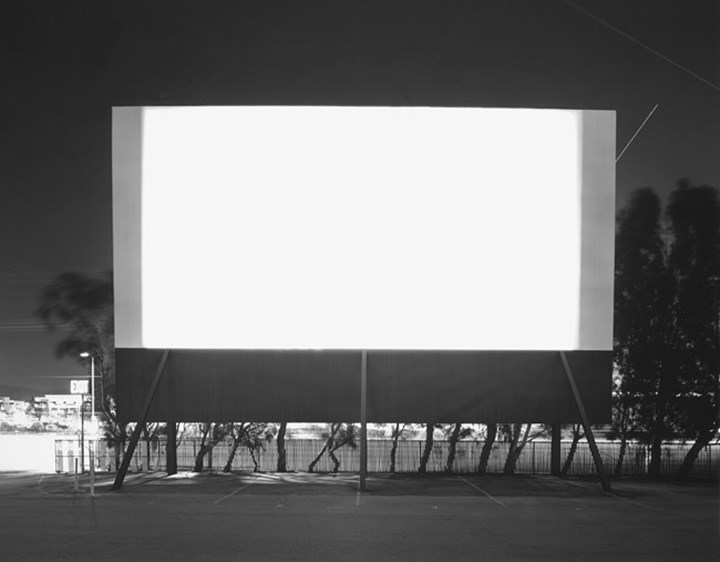 Hiroshi Sugimoto, Winnetika Drive-In, Paramount (1993). Gelatin silver print, edition of 25. 50.8 cm x 61 cm. Courtesy Ben Brown Fine Arts, London/Hong Kong.
You've talked previously about spirituality and how you first learned about your own religion after you moved to the United States.
HSI studied Buddhism and Shintoism when I moved to California, but when I was a young college student in Japan, I studied more about Western philosophy.
Why is that? Do you think we naturally have a fascination for something foreign?
HSYes, I educated myself about Western people and think that it was a good choice to leave Japan and choose art as a medium to express myself. I could have been a scholar. I am a good writer as well, but with art there is no academic standard and no rules, [laughs] so I thought it was a good choice.
You can make your own rules but that doesn't always work for everyone. Why do you think you've been so successful?
HSI had my own personal vision to start with. Art has to be strong presentation-wise, and I was able to describe my senses in lighting. Although, at that time photography wasn't recognised as fine art. It was the second-class citizen of art and just didn't sell for the same high prices. I thought that was to my advantage as there was space to expand there, to push it up to the same standard as fine art. To bring it up to be a first-class citizen.
Things have changed, especially more recently for video.
HSYes, that has followed photography and is also changing.
Your photography leans more towards spaces than objects. Do you naturally feel more comfortable dealing with architecture?
HSI am expanding my menu with architectural practice and theatre productions, but it is all the same as it comes from my roots and is just a different way of expressing my sense. I am still practicing photography as that makes most of my money, so I have to keep it to support my other mediums.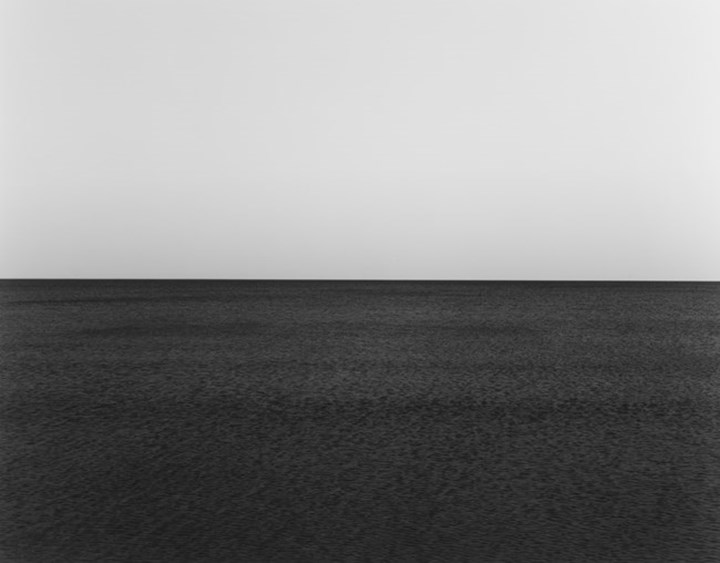 Hiroshi Sugimoto, Baltic Sea, Rugen (1996). Gelatin silver print. Edition of 25. 50.8 cm x 61 cm. Courtesy Ben Brown Fine Arts, London/Hong Kong.
How do you start a new photographic project?
HSUsually photographers take a camera and go out to find something to shoot. In my case, the idea first comes as a concept in my mind and my brain and then I decide what to do. I have a vision in my mind first and I then think of how to make it happen.
That is a very different way—especially in today's digital world where everyone wants to capture the perfect Instagram image.
HSYes, I use photography as a tool to explain what I am looking at in depth and inside my mind. Nobody can believe it, but I just make it happen in this world and make a record of it with film. It is the same with my seascapes and the brilliant light of the theatre; they are all artificially made in my mind.
Your Sea of Buddhas (1995) project is one of my favourites. What underpinned your interest in photographing the 1,000 Buddhas in the Sanjusangendo temple in Kyoto?
HSThere was a very conceptual theme behind this because while they are all very similar looking, every single Buddha is slightly different.
I hear it was quite a challenge to convince the temple to let you do the project.
HSYes, it took about seven years. I wanted to photograph at the best time in the morning as the sun comes up, but usually there is nobody around at that time. For around 30 minutes the sunlight is diffused through the shoji screens so that the gold leaf on the Buddhas shines. It is so fantastic, like a recreation of paradise. But the monks don't pay attention to this, and instead come at about 8 AM. I thought that was terrible and I tried to convince them, but they just said, 'Oh, is that so?' I think they had lost their religious contemplation of the space and were more concerned about the fee! [laughs]
Yes, some temples in Kyoto have become very commercial.
HSI even offered to donate a complete set of my art and they said they didn't need it. They said they didn't have the storage space and didn't need a panel because they have the real thing.
I bet they regret that now ...
HS[Laughs] Oh yes, and now every time I show this in a museum they want to be paid.
What are you working on now?
HSI have established my own art foundation that will open later this year. It is located in Odawara and is called the Odawara Art Foundation. I have not used my own name as it is a public service and I don't think I should do anything to profit myself. It is not to show my art, although I have donated some. It is more about art like theatre, so I have built two Noh theatre stages.
I thought you were more interested in Japanese Bunraku?
HSYes, that will also be available and the stage can be used for contemporary performances as well. I am very interested in Bunraku. My second major production of puppets will be shown in Tokyo in August. It is about the murder of a woman. Bunraku puppets are a very different way of showing romantic suicide that is not available in the Western world.
I hear you designed the Foundation yourself.
HSYes, with my foundation, I am finally getting together all the aspects of art that I want. I paid for it with my own pocket money and I designed it as an architect according to my own specifications. This is the final aesthetic of my life.
It sounds like the culmination of your life, and thoughts on time and light.
HSYes.
Now that it is almost completed, does it look exactly like you envisaged it—as is your experience with your other artworks?
HSI started with a strong concept with it as an observatory to check the axis of the Earth. I have designed a 70-metre underground tunnel where the sunlight goes through for just one day during the winter solstice when the sun comes up from the ocean. There is also a gallery designed for the summer solstice where the light will work in a particular way. During the equinox twice a year, a bridge and a teahouse with a small entrance will be connected to the light so you can always confirm the axis of the light. I believe it is a Neolithic mentality to confirm this and for modern people, it is there to remind us of our memories of how our consciousness started. —[O]