Feature
Art021 and West Bund Art & Design wrestle for dominance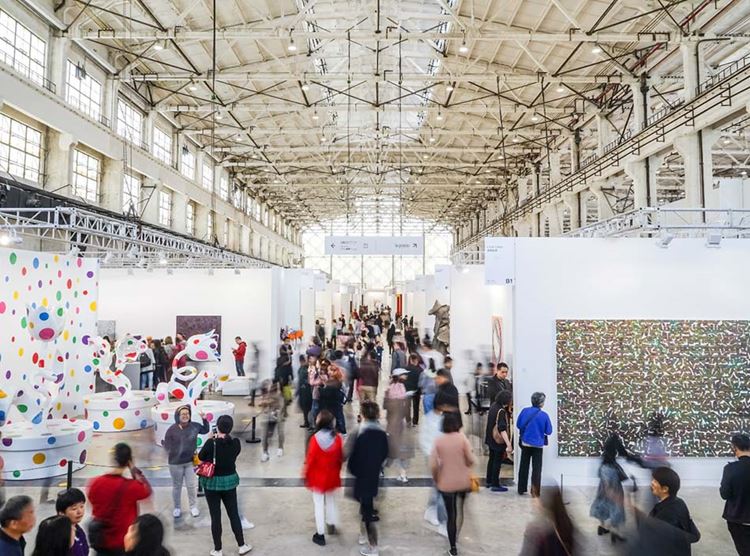 West Bund Art & Design, Shanghai (10–12 November 2017). Courtesy 2017 West Bund Art & Design. Photo: YTJ Studio.
Two monster art fairs took place this November during what has become known as Shanghai Art Week. The once symbiotic relationship between Art021 and West Bund Art & Design—each of which emerged to serve distinct galleries and collectors as SH Contemporary shuddered to a close in 2015—has become more fraught as the events have grown. This year, both gave their strongest showing yet, though not without clashing—two, outsized art world kaiju surfacing from the Huangpu River.
Art021 launched in 2013 with just 29 galleries, several of which joined after hearing about the fair only a month or two prior to its staging. It was edgy, taking place in historic but dilapidated buildings near the Bund, and distinctly Shanghainese in its sensibility, drawing its name from the Shanghai calling code. While it quickly snagged some major galleries from around China, the fair's focus was on emerging local galleries and collectors—an audience its Shanghainese founders, luxury brand marketer Bao Yifeng and former gallery director Kelly Ying, understood well.
Art021 at Shanghai Exhibition Centre (9–12 November 2017). Photo: Sam Gaskin.
This year, Art021 has grown to over 100 galleries from Asia and well beyond, with a significant portion of European and American galleries with no permanent presence in the region, including Galerie Thaddeus Ropac and Galerie Chantal Crousel. Now taking up both levels of the main hall and the upper floors of Shanghai Exhibition Centre, the event has thoroughly outgrown its initial ambit, not only with a more international scope but also with a long list of top tier galleries. Prime spots in the main hall were taken up by the likes of Gagosian and Kukje Gallery.
Meanwhile West Bund Art & Design has grown from the 25 galleries and selection of design firms included in its inaugural 2014 edition, to 55 galleries, filling both floors of a hangar big enough to house a zeppelin, with a massive marquee across the street added this year.
Started by Shanghai art don Zhou Tiehai, West Bund Art & Design initially focused on a limited selection of quality galleries from China and beyond—ShanghART and White Cube, included. Top galleries participated again this year, including all the blue chip galleries with a presence in Hong Kong (except Gagosian) and others making the trip to Asia especially, including Antwerp's Tommy Simoens, and New York's Edward Ressle. As Art021 has encroached on West Bund's territory with bigger and more international galleries, so West Bund simultaneously rolled up on Art021's corner, this year establishing its Talent sector in the marquee, featuring 16 galleries with booths devoted to emerging artists.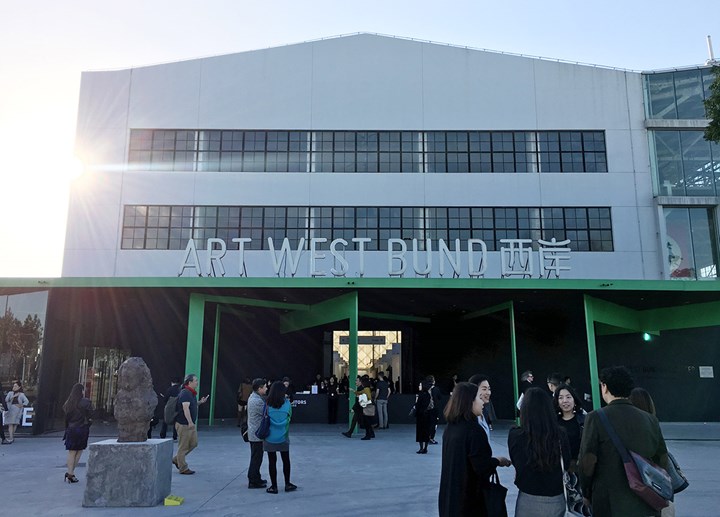 West Bund Art & Design, Shanghai (10–12 November 2017). Photo: Sam Gaskin.
There is no longer any one criterion—size, geography, media or price—that clearly separates the galleries in one fair from those in the other. The line between the two has become so blurred, in fact, that more than a dozen galleries participated in both. By my count, these included Antenna Space, Arario Gallery, Boers-Li Gallery, David Zwirner, Esther Schipper, Hauser & Wirth, Leo Xu Projects, Long March Space, Ota Fine Arts, Galerie Perrotin, Sadie Coles HQ, ShanghART Gallery and Shanghai Gallery of Art. (Tina Keng Gallery took the savviest approach to the duelling fairs, with the original gallery joining Art021 and its contemporary platform, TKG+, showing at West Bund Art & Design.)
Further conflating things, both fairs have now fully embraced the de facto art fair model: a large main galleries section, a smaller section to showcase younger galleries, a talks programme, and a scavenger hunt for impactful installations in curatorials that recall what Basel calls its Encounters sector in Hong Kong.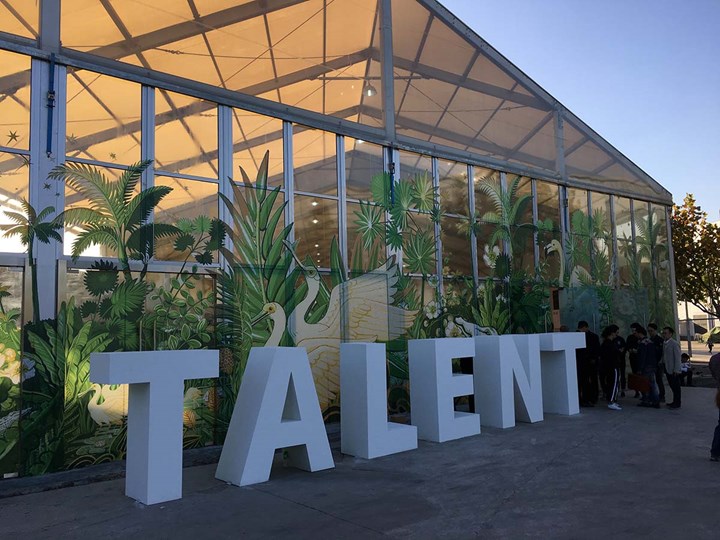 Talent sector at West Bund Art & Design, Shanghai (10–12 November 2017). Photo: Sam Gaskin.
While both fairs have style and substance, Art021 has a touch more of the former. The fair has impeccable branding, with its emerald logo neatly integrated into the grand stairways and so at home in the main hall it looks like a permanent fixture. Art021 is ice cream carts, stilettos, champagne, white chocolate sculpture vending machines and parties at Le Baron. It's a Shanghai scene, the whole thing somehow encoded in a sponsored booth by Blueair, the Swedish air purifier makers, who showcased three of their devices decorated by Shanghai artist Xue Song, one of which was bejeweled in shimmering sequin shanshui. Standout works by Chinese artists included portraits by Beijing painter Chen Fei in his trademark illustrative style at Hwas Gallery, and mournful photos of assemblages by Jiang Zhi at Hadrien de Montferrand Gallery, such as the small paper skulls poised on shards of glass in Skull and Glass Triangle (2017).
Exhibition view: Jiang Zhi at Hadrien de Montferrand Gallery, Art021, Shanghai (9–12 November 2017). Courtesy Hadrien de Montferrand Gallery, Beijing.
Among the most audacious pieces in a fair, where much was decorative or novel, was Lu Pingyuan's human-sized cat house at MadeIn Gallery, a piece from his 'Behind Every Successful Cat There's Always a Cat's Owner' series (2017). Once purchased, gallery staff said, the owner is welcome to play inside. Also at MadeIn was a work that united two of Feng Mengbo's ongoing interests, obsolescent tech and equally obsolescent institutions. Game Room (2017) repurposes a display case reminiscent of the old Shanghai Natural History Museum as an arcade machine with a lenticular screen that partly conceals King Kong reaching out of the murk to clutch at characters from the Capcom classic Street Fighter.
Leo Xu, who is taking on a new role as Hong Kong Gallery Director at David Zwirner, described his own gallery's last showing at Art021 as 'bittersweet'. An Aaajiao work called Membranization (2017) seemed a fitting inclusion in his booth, the small sheet of PVC patterned with tiny wrinkles caused by a change of form, but still golden.
Aaajiao, Membranization (2017). PVC sheet, solar film. 50 x 50 cm. Courtesy Leo Xu Projects, Shanghai.
Art021 this year included 20 solo artist booths by smaller galleries, the best of which—and among the best booths in the entire show—was Wong Kit Yi at Hong Kong gallery a.m. space (not to be confused with the excellent am art apace in Shanghai, led by Hugo Boss Asia Art Award nominee Yu Ji). Among much that was impersonal, Wong showed sliding windows printed with original song lyrics and intimate invitations such as 'Let's make a deposition, with a witness, which states that we will legally befriends forever, regardless of what terrible or nice things I do to you'. (Some of these works were part of the recent exhibition In Search of Miss Ruthless at Para Site, 2 July–10 September 2017.) Another Hong Kong gallery, Galerie Huit, pushed the boat out, too, with a Xie Rong performance titled School of Roots—The beaten skin sack (2017), which married live boxing with live ink painting in pigments of black, red, and Yves Klein blue.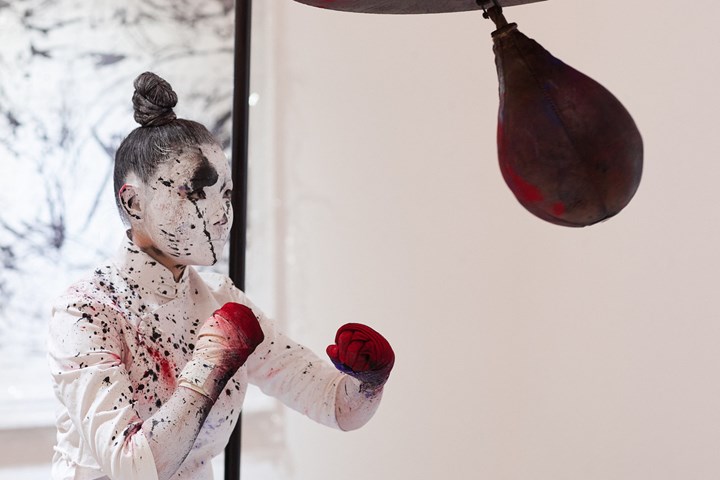 Xie Rong, School of Roots - The beaten skin sack (2017). Performance during Art021, Shanghai (9–12 November 2017). Photo: Jamie Baker - Jamie Baker Photography.
Nine works were featured in the 'Beyond Public Projects' programme this year, a selection of larger works that offer a breather from the booths. Tom Sachs' Bonsai Original (2015) is a gloriously trashy Arte Povera installation that substitutes cardboard tubes for branches and Q-tips for pine needles, while Zhang Ding showed a garishly flashy gold sign promising (or threatening) that Gold Can Move the God (2013). Somewhere between the two was Brian Michael Reed's Lotus Message (2014), a gold lotus pod installation with boiled lollies (or hard candies) placed in the recesses left by the seeds—a work as Art021 as edible gold leaf.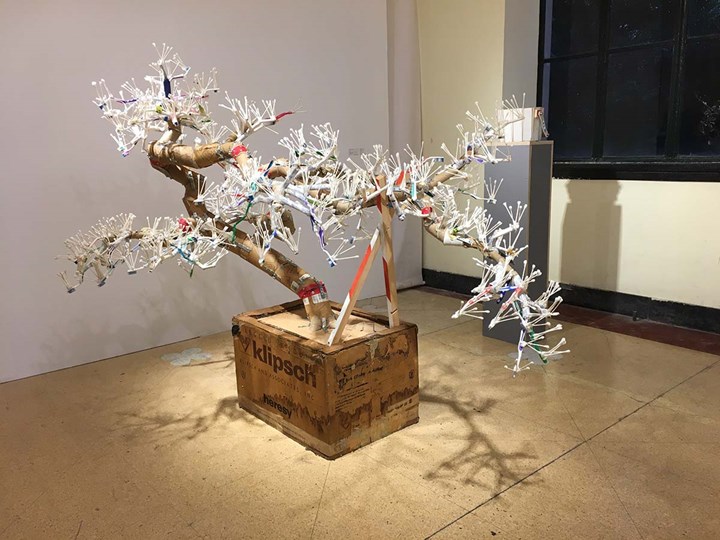 Tom Sachs, Bonsai Original (2015). Exhibition view: West Bund Art & Design, Shanghai (10–12 November 2017). Photo: Sam Gaskin.
Where the nine featured works at Art021 inhabited interstitial spaces on staircases and in halls, West Bund Art & Design's mammoth open space allowed for much more impactful gestures in its curated section, capably orchestrated by ArtReview Asia under the title of Xiàn Chǎng, or 'on the spot'. In total, the section comprised 32 works by 29 artists from 16 countries. These included a vast three-panel Ding Yi drawing hung near the entrance (Appearances of Crosses 2017-B4). The work is impressive not only for its intricacy—its woven textile pattern zooming out to a riot of bright, chalky colours—but for the audacity of making such a staggering piece on paper.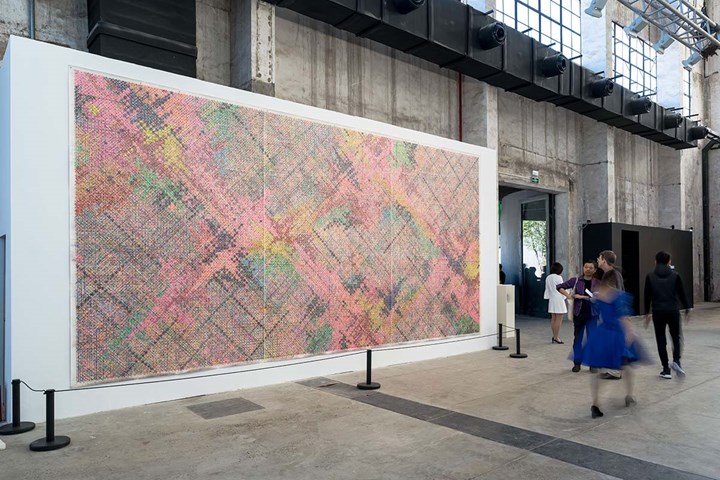 Ding Yi, Appearances of Crosses 2017-B4 (2017). Charcoal and chalk on rice paper. Exhibition view: Xiàn Chǎng sector, West Bund Art & Design, Shanghai (10–12 November 2017). Courtesy the artist and ShanghART Gallery, Shanghai/Beijing/Singapore.
Several international galleries used the Xiàn Chǎng section as a means of testing the Shanghai waters for the first time. Zurich's Mai 36 Galerie, for instance, hung Matt Mullican's Untitled (5 Banners, Tamayo) (2013) above the venue's zig zagging steel ramp to spectacular effect, while Mexico City's kurimanzutto showed Damián Ortega's 3D diagrammatic sculpture Deaf Torch: Open View (2017), commissioned especially for the fair. Lehmann Maupin exhibited an installation by Austrian artist Erwin Wurm, comprised of various sized plinths, each exhibiting a small, deceptively realistic pickle made of painted, cast acrylic. Entitled Portrait of the Artist as a Young Man (2008/2017), the work effectively engaged audiences with ugly little green phalluses just as the art world begins to reckon with its treatment of women.
One noticeable difference on arriving at West Bund Art & Design was the greater number of power cords taped to the floor and running down walls. On view was a more diverse range of media, perhaps aimed at larger collectors and institutions, though the Talent tent also housed kinetic sculptures, light installations and videos. Berlin's Galerie Mazzoli, for instance, showed a mesmerising electric abacus, Moving objects (2012), by Swiss artist Pe Lang, with little black rings propelled by taut spinning wires.
Erwin Wurm, Portrait of the Artist as a Young Man (2017). Exhibition view: Xiàn Chǎng sector, West Bund Art & Design, Shanghai (10–12 November 2017). Courtesy the artist and Lehmann Maupin, New York/Hong Kong.
The larger booth size at West Bund Art & Design allowed for more interesting and ambitious installations, and a little more space to enjoy them, though that was hardly the case for the massive Chapman brothers Ferris wheel, Back to the end of the beginning of the end again (2016). This wicked diorama of damned Nazis and McDonald's mascots was so utterly and immediately marvellous that on the opening day, staff in the Blain Southern booth already looked a little overwhelmed by the crowds gathered around it. Almost as violent was Joyce Ho's Overexposed Memory (2015), a visceral video showing different fruits being pressed and crushed at TKG+.
Just as memorable but much more tranquil, at least at first glance, was a beautiful Xu Bing light box called The Yellow Mountain (2017) from his 'Background Story' series—misty limestone karst landscapes revealed to be sculpted from trash hidden behind a translucent sheet of plastic. Shown at BANK, it was a rare work at either fair that seemed interested in the existential threat of environmental degradation.
At Project Fulfill Art Space, Taiwanese artist Zhang Xu Zhan's stop motion paper puppet show Hsin Hsin Paper Home Series Room 003 - Inferiority Bat (2015), was reminiscent of Audrey II in Little Shop of Horrors. (The artist grew up surrounded by the requisite materials for his practice in his parents' funereal paper offering store.) Less unusual but just as courageous was Galerie Perrotin's decision to show a sombre black and white sculpture by Filipina artist Maria Taniguchi in their West Bund booth, a calculated risk backed by her showing in Shanghai in the lead up to winning the Hugo Boss Asia Art Award in 2015. (Such works might have been mistaken for furniture in the hustle of Art021.)
Xu Bing, Yellow Mountain from the series 'Background Story' (2017). Mixed media installation. 80 x 160 cm. Courtesy the artist and BANK, Shanghai.
In all, while both Art021 and West Bund Art & Design refined their identities to fit their ambitions this year, it is hard to know how much bigger they can get—especially if they are to continue operating concurrently. Nevertheless, there was plenty of optimism at both events in the unseasonably Shanghai warm weather.
Jin Shan, who is represented by BANK, said it was a good time to be an artist in Shanghai. With 'only maybe 500 artists' here by his count, and reckoning that in a city of over 20 million people, if families buy just one work to decorate their apartments there will be ample demand for art, he noted: 'I think things will be good here for at least the next five years.'—[O]