Feature
New propositions on curatorial practice: the making of the 11th Shanghai Biennale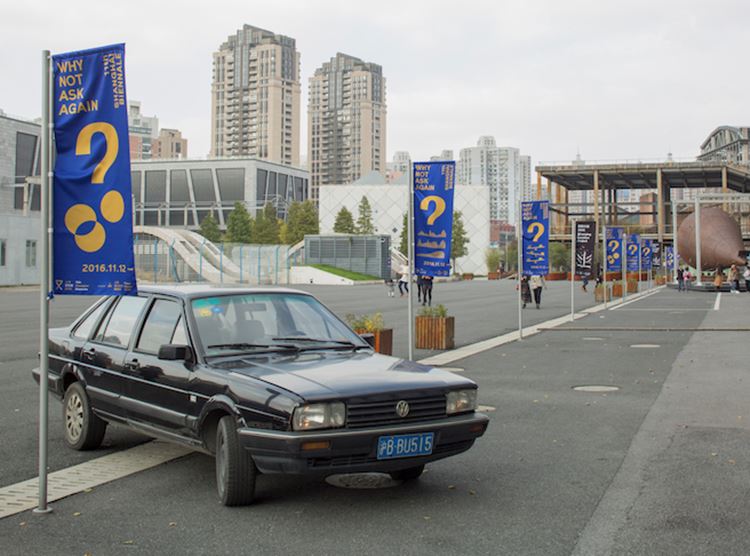 Lantian Xie, The Sidewinder (2016). Site-specific installation with Volkswagen car, audio system, and LIFE magazine. Installation view: 11th Shanghai Biennale, Power Station of Art (12 November 2016–12 March 2017). Courtesy Power Station of Art.
The 11th Shanghai Biennale (SHB11): Why Not Ask Again: Arguments, Counter-arguments, and Stories was an exhibition staged at the Power Station of Art, Shanghai from 12 November 2016 to 12 March 2017. The exhibition was curated by the artist and curatorial collective Raqs Media Collective, and featured 92 artists from 40 countries, with a strong selection of artists working from the Global South. The title Why Not Ask Again was inspired in two parts by Chinese science fiction writer Liu Cixin's novel The Three Body Problem (2006), alongside Bengal filmmaker Ritwik Ghatak's 1971 film Jukti, Takko aar Gappo (Reason, Debate and a Story). The exhibition was a conceptual dance between artists, audiences and curators, who folded together ideas derived from science, mathematics, fiction, history, literature, and more. Throughout this dance, Why Not Ask Again was able to engage with conversations about disparate geographies without reducing the Biennale framing to geography itself.
11th Shanghai Biennale Chief Curators, Raqs Media Collective with Curatorial Collegiate and Exhibition Architects. (L-R): Chen Yun, Rupali Gupte, Liu Tian, Tess Maunder, Shuddhabrata Sengupta, Monica Narula, Jeebesh Bagchi, Sabih Ahmed and Prasad Shetty.
Both the overarching curatorial premise and the actual methodologies employed within the 11th Shanghai Biennale demonstrate the project's capacity to be read as a case study for shifting contemporary curatorial practice within a biennale context. As a member of the curatorial collegiate that comprised of four curators working alongside Raqs, this text is a reflection on how the methodologies employed by the 11th Shanghai Biennale demonstrate an expanded notion of contemporary curating today, especially from the position of artist as curator.
In undertaking this exercise of reflection, I first want to consider the historical context within which the curatorial project of the 11th Shanghai Biennale is situated. In the last 50 years in particular, the curatorial field has expanded beyond a strictly art-historical or museological approach to practice. Since the traditional form of curating was replaced with an active move towards conceptual frameworks, most notably marked by documenta 5, held in 1972 and curated by Harald Szeemann, contemporary curating has continued to shift its form. New institutionalism in the 1990s and 2000s affirmed the importance of small-medium size art institutions and the new role of curator as director—as exemplified in the practices of Maria Lind and Charles Esche. The former actively acknowledging that curatorial work does not end at making exhibitions, but encapsulates all parts of institutional work; fundraising, networking, producing public programmes, editing publications, and organising residencies all fold into the arc of responsibilities performed by many curators.
Lee Mingwei, Our Labyrinth (2015). Performance. Exhibition view: 11th Shanghai Biennale, Shanghai Power Station of Art (12 November–2 March 2017). Courtesy Power Station of Art.
The next big shift was not in curatorial form itself but relates to context: the ethics, gaze and geographical reach of the practice. From the early 2000s to now, biennale culture has actively interrogated a geographical turn in curatorial practice. This shift is widely acknowledged to have been provoked by Nigerian curator Okwui Enwezor, through his documenta 11, held in 2002. The exhibition is remembered for its geographical reach and engagement with the Global South. Enwezor, working with a team of six curators, and in relation to the primary historical Kassel location, divided documenta 11 into five 'platforms'. These included Berlin, St. Lucia, Vienna, New Delhi and Lagos. Also diverse was the artist list, with more than 50 percent of practitioners working outside of the then dominant Euro-American art context.
Alongside this development of contemporary curating, it is crucial to acknowledge early efforts made by artists in expanding this field. In the 20th century, these included the influence of artists such as Marcel Duchamp, Yves Klein, Martha Rosler, and David Hammons, and has been documented through exhibition history anthologies such as Mousse magazine's 'The Artist as Curator' publication series edited by Elena Filipovic, ongoing since 2013. Thinking about this legacy in relation to artist-curators within the biennale circuit, there are some recent developments to report on. Founded in 2010, we have seen the Kochi-Muziris Biennale Foundation emerge as a framework that is dedicated to engaging with artist-curators for each edition. For instance, the upcoming 2018 Biennale curator will be New Delhi-based artist Anita Dube. There has also been more artist-curators operating within the biennale circuit, including Raqs Media Collective curating Manifesta 7 in 2008, and artists' collective ruangrupa from Jakarta, Indonesia, curating Sonsbeek in 2016.
These three highlighted shifts, first new institutionalism, then global geo-politics within a post-2000 biennale circuit, and finally, the recent rise of artist as curators since Szeemann's documenta 5, culminate now in a reflection of contemporary curating in relation to Raqs Media Collective's curation of the 11th Shanghai Biennale, and their role as artist-curators. Raqs Media Collective were founded in 1992, and since then have been operating as artists, curators, filmmakers, writers, educators, institution-makers and more. In 2000, they co-founded Sarai in New Delhi, a space dedicated to the intersection of urban development, culture and contemporary art. Following this, they curated the 7th Manifesta entitled The Rest of Now (2008) at Bolzano, and the international art project INSERT 2014 at Indira Gandhi National Centre for the Arts, New Delhi, an exhibition and speculative project with over 30 participating international artists. For Why Not Ask Again, the 11th Shanghai Biennale, Raqs built upon this collective experience in reconsidering contemporary curatorial practice in relation to institutional practices.
11th Shanghai Biennale, Power Station of Art (12 November 2016–12 March 2017). Courtesy Power Station of Art.
Why Not Ask Again marked a shift in the Shanghai Biennale's history and what was a typically thematic exhibition format alongside a 'city pavilions' presentation. The thematic exhibition is generally housed within the Power Station of Art, and the city pavilions positioned at certain intervals throughout the city of Shanghai. However, for the 11th Shanghai Biennale, the curatorial team decided to continue the engagement with the city not through the city pavilions framework, but through a completely different methodology which the curatorial team named '51 Personae'. The intention here was to have a more direct engagement with Shanghai audiences and to stimulate engagement with audiences who may not necessarily be already familiar with the Power Station of Art's programmes.
51 Personae was curated by SHB11 Curatorial Collegiate Chen Yun, who is also director of the Dinghai Qiao Mutual-Aid Society, an organisation based within a dense migrant worker community area in Shanghai known as Dinghai Qiao. The Society engages with urban studies, the built environment and migrant and local histories of Shanghai by living in and with migrant communities in Shanghai. The outcome of 51 Personae was 51 events with 51 Shanghai locals, selected from an open-call. Though not overtly engaging with class-based politics, many of the participants came from working-class backgrounds including street merchants.
In addition to the shift in city engagement created through 51 Personae, there was also a different stream of public engagement called Theory Opera. This was curated by Curatorial Collegiate Liu Tian and Shanghai-based curator and artist Yao Mengxi. Theory Opera included a wide array of performances, lectures and talks from both local and international contributors. The aim of Theory Opera was to provide a temporary platform for the intersection of what may be defined as both theory and performance—in the words of Raqs Media Collective, provoking the question, 'What happens when theory sings?'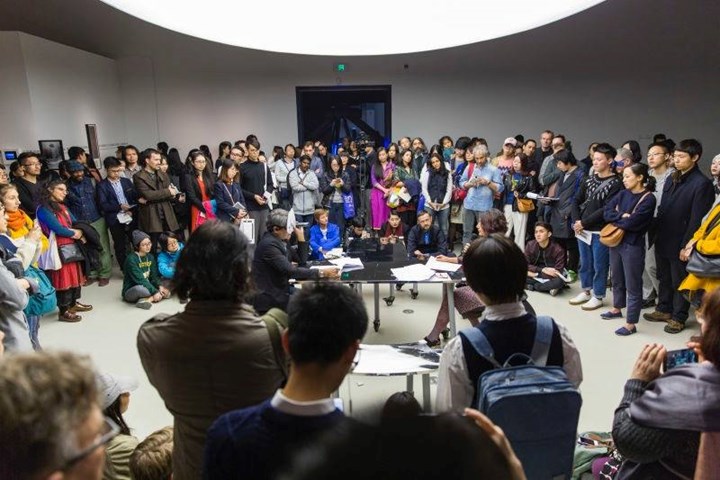 Einstein and Bergson in Three Acts: On Physics and Philosophy (Act I: The Debate). Text by Jimena Canales and read by Raqs Media Collective for the first Theory Opera program of the 11th Shanghai Biennale (12 November 2016–12 March 2017), November, 2016. Courtesy the author.
Apart from these programming highlights, there were also shifts in SHB11's curatorial structure for this edition. In addition to the core curatorial team, a further seven international curators from disparate geographies were invited to respond to the concept of the 'Infra-Curatorial'—a sector of the Biennial folded into the main exhibition—by staging their own interventional projects. These curators included: Ugochukwu-Smooth C. Nzewi, Didem Yazıcı, Mouna Mekouar, Srajana Kaikini and Ivan Isaev, among others. It is important to reflect on Raqs Media Collective's intention to bring in curatorial imaginaries beyond their own. This reflects an increasing interest by curators to work with each other to make exhibitions, allowing what is produced to reflect the shared nature of exchange.
Rather than imagining the Biennale as an event in a singular venue, Raqs' curatorial approach from the very beginning was to circumvent the expectations of structure that biennales usually adhere to. The Infra-curatorial projects, Theory Opera events and the 51 Personae, project alongside the artistic practices of over 90 artists, situates Why Not Ask Again as an engaging extension of the historical lineages set up in the field of contemporary curatorial practice.—[O]