Feature
Real Social: A Report from the 6th Moscow Biennale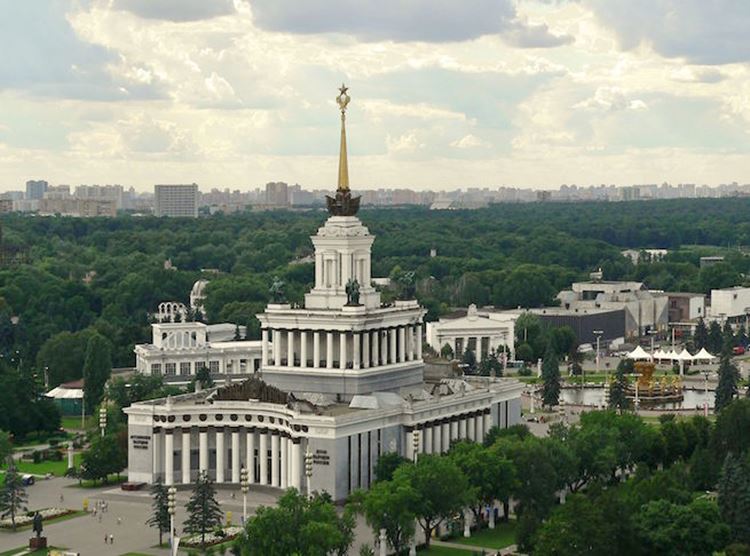 VDNKh, Pavilion No. 1 (Central). Photo: Ekaterina Allenova / Artguide
At the press conference of the 6th Moscow Biennale of Contemporary Art, How to Gather? Acting in a Center in a City in the Heart of the Island of Eurasia, a reporter asked artistic director Joseph Backstein about the problems this Biennale faced, to which Backstein responded: "There are no problems." The audience erupted into laughter, then applause. After all, the issues that have plagued this Biennale are no secret: take the economic implications of foreign sanctions imposed on Russia after the 1994 Budapest Memorandum essentially broke down in 2014 and caused the devaluation of the Ruble; or more directly, the sudden unavailability of the original host venue, the Moscow Manege. But Backstein's response was more an affirmation than a denial. Whatever setbacks arose were blessings in disguise. Without them, Moscow would never have staged a biennale as special as this one.
Indeed, the Biennale's co-curators—an institutional tripartite comprised of Bart De Baere (Director of M HKA, Antwerp), Defne Ayas (Director of Witte de With Center for Contemporary Art, Rotterdam), and Nicolaus Schafhausen (Director of Kunsthalle Wien, Vienna)—describe this exhibition as a survival manual and a think tank in real time—a "think in", if you will. After losing the Manege, for instance, the curators moved the venue to the impressive—and recently regenerated—grounds of the VDNKh: a fairground of sorts, complete with two mini amusement parks, historical pavilions, working stables, and a space museum. The history of the site could not be more all encompassing when thinking about Russia's 20th century history. Opened in 1939, the VDNKh is the world's largest exhibition, museum and recreation complex (at 237 hectares it's larger than Monaco). The English translation of what the acronym stands for is "Exhibition of Achievements of the People's Economy," as it was re-named in 1959 under Stalin's reign (the complex was developed to reflect Stalin's vision of the Soviet Union).
6th Moscow Biennale of Contemporary Art curators: (L-R) Bart De Baere, Defne Ayas and Nicolaus Schafhausen. Photo: Natasha Polskaya. Image courtesy of the 6th Moscow Biennale of Contemporary Art office
But as perfect as the VDNKh is as a site for a biennale exhibition, the curators did not hit on their final plan right away. It was only after they considered using one pavilion each (of the 21 available) that they realised the possible issues of working in what transpired to be protected heritage sites. Thus, the trio recalibrated as a collective and opted to work together in Pavilion 1—a remarkable building in front of which a statue of Lenin faces the entrance gate to VDNKh and in the distance there is a view of the towering Hotel Cosmos (intended for the 1980 Moscow Olympics).
Of course, coming together in Pavilion 1 was also a response to funding issues, which is why the curators cut costs by "investing in people rather than objects". (Shipping is one of the costliest aspects of an exhibition of this scale, they note.) Thus, artists such as Saâdane Afif (who translated Alfred Jarry's 19th century play, Ubu Roi, into Russian, and distributed translated sections within and around Pavilion 1), Els Dietvorst (who produced a large skull made from wood and clay), and Birdhead (who took documentary photographs of their experience in Moscow), were invited to make work on site during the Biennale's ten-day run from September 22 to October 1 (a period of time that pays homage to the Ten Commandments, so I was told.)
Els Dietvorst at the 6th Moscow Biennale. Photo: Alexey Sapronenkov. Image courtesy the 6th Moscow Biennale
Likewise, thinkers such as Saskia Sassen, Yanis Varoufakis, and Hong Kong's Ackbar Abbas were asked to participate in daily keynote speeches and discussions. Entire bodies of video work were screened daily, with featured artists including Nástio Mosquito, Keren Cytter and Jimmie Durham. Other artists, from Burak Arikan to Anton Vidokle, were invited to produce performances or workshops scheduled throughout the ten-day period. Gabriel Lester's performance comprised a string quartet hidden behind a wall, the musicians' limbs reaching through shapely holes so as to play their instruments on the other side. Taus Makhacheva's centrepiece performance in the main arena of Pavilion 1, On the Benefits of Pyramids in Cultural Education, Strengthening of National Consciousness, and the Formation of Moral and Ethical Guideposts, became the most instagrammed work of the entire show. It involved a group of acrobats performing balancing acts while presenting key historical works from the P.S. Gamzatova Museum of Fine Arts in Dagestan. As this went on, Johanna Van Overmeir's performance—which consisted of the artist swinging on a custom-installed swing for the Biennale's opening hours—carried on in the background.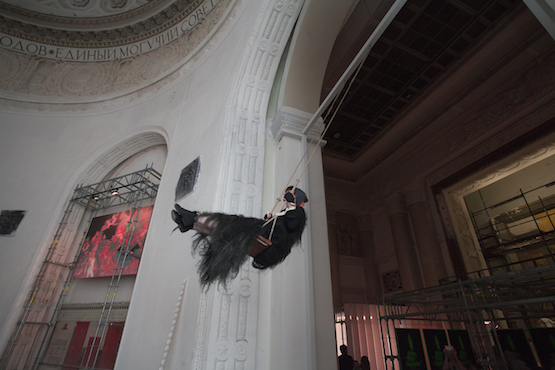 Johanna Van Overmeir at the 6th Moscow Biennale. Photo: Ivan Erofeev. Image courtesy the 6th Moscow Biennale
All this activity went down within a physical framework expertly designed by architect Fedor Dubinnikov, who essentially turned the interior of Pavilion 1 into a series of stages that protected the space (it is still undergoing restoration), while also allowing for a large number of actions, performances, happenings, and talks to unfold. One crucial section was the media machine, where documentation was produced live and in real time. Alevtina Kakhidze produced a series of news broadcasts three times a day, starting with "Future News" at noon (about future visions), "Present News" in the afternoon (events happening at the VDNKh), and "Past News" (presented in the evening). In "Past News", the artist presented stories based on a text about a woman who lives in Zhdanovka, a small town northeast of Donetsk. Meanwhile, Liam Gillick wrote letters daily, taking on the role of "spectre," while artist Mian Mian staged a daily talk show.
The result was a biennale of pure movement: an exhibition that morphed and changed as time went on. Take the fact that Ricardo Brey presented 10 different drawings per day. Or that at night, even when the Pavilion's door's were closed, Elena Kholkina was projecting images onto the building's outer walls. But there was an emphasis on presence, too. This was amplified by the fact that the central exhibition happened in one space (not counting the parallel programmes on view throughout the city). In fact, being in Pavilion 1 felt like being in a shared, working studio: a feeling intensified by the ongoing restoration project of a Soviet wall relief produced in 1954 by Yevgeny Vuchetich (discovered in 2014), taking place within the space parallel to the Biennale. The feeling was also reflected in interventions like Constantin Zvezdochotov's, whose intention was to produce Egyptian artefacts to fill perceived gaps in the famed Tretyakov collection. Or in Fabrice Hyber's, who painted portraits of Biennale visitors from his studio space (the walls filled up as the days went on). Then there was the joint production of a large-scale monument to a dead Mayakovsky by Anatoly Osmolovsky, Alexander Kutovoy, and a coalition of students, entitled Death of Modernism in Russia.
The atmosphere this created was inimitable, really. On the evening of Rana Hamadeh's electrifying eight-channel sound play, Can You Pull In An Actor With A Fishhook Or Tie Down His Tongue With A Rope? I saw artist Qiu Zhijie—working on a magnificent wall painting of "Eurasia," complete with a "Wetland of Political Islam" and a "Non-Aligned Movement" river—take time out to watch a performance that questioned the role of justice in violent politics. Michelangelo Pistoletto, fresh from delivering his keynote speech that evening (which considered the third space within infinity's loop as a site of pure potential), also lingered in the crowd. (Qiu declared at the performance's end his desire to bring Hamadeh, whom he had not known before, to China.)
Qiu Zhijie at the 6th Moscow Biennale. Photo: Nataliya Kogan. Image courtesy the 6th Moscow Biennale
Of course, there were readymade pieces on show by the time the biennale opened, too, which counters suggestions that this was an exhibition without objects—or art. Outside Pavilion 1, there was Pistoletto's The Third Paradise, a series of benches positioned to form an infinity sign with the centrepoint opening up into a loop of its own; Sergey Bratkov turned the emblems belonging to former Soviet Republics on the Pavilion's façade into moons; Babi Badalov showed a wall of hilarious text-based works in an installation that included such word plays as "Fash east," "Anarch east," and so on; Luc Tuymans purportedly spent two furious days finishing his wall painting The Worshipper in time for the opening, which presented "a cleric of indeterminate faith engaged in an ambiguous ceremony". Then there was the excellent, tongue-in-cheek Caucasus Pavilion by The Unbound Group—listed as the Biennale's fourth curators—which presented a slick anthropological study of the Caucasus, complete with bling car accessories presented in vitrines, beefy security guards at the door, and a Caucasian interpretation of Kiesza's epic music video, Hideaway.
The Unbound Group, Caucasus Pavilion. Photo: Alexey Sapronenkov. Image courtesy the 6th Moscow Biennale
That nothing felt forced was this biennale's greatest achievement: a result of misfortune that recalls the impetus behind the equally revolutionary format of the 4th Athens Biennale in 2013. (This was a biennale curated by 40 people, staged in the old Athens Stock Exchange, which positioned the public programming at the centre of the entire exhibition). You might say this was one of the greatest pleasures of the 6th Moscow Biennale experience: the fact that the curators managed to produce a biennale exhibition that pushed the social element of global art world events to productive ends. In this, a social space was created to tackle a real and urgent question with sincerity: How people from all over the world might come together in a kind of harmonious dissenus.
Four images of equal size were hung high up in the corners of the magnificent, circular central arena of Pavilion 1 like compass points. Each represented a response to the biennale's title. Isa Genzken offered a still from her film Die kleine Bushaltestelle (Gerüstbau) (2012), in which Genzken and artist Kai Althoff play two prostitutes; Anne-Mie Van Kerckhoven put forward an image of Madonna and Leviathan (2015) based on Peter Paul Rubens' altar piece The Mystic Wedding of Saint Catharina, (a part of which recalled, to her mind, a black square), and which the artist used to view as a child visiting the Saint-Augustine church in Antwerp; Flaka Haliti opted to show a poster that formed part of a campaign organised by the NATO-led Kosovo Force (KFOR) in 2010, in which a cat and dog are shown sitting together, "If they can be tolerant, so can you!" written above them.
Completing this quartet was Almagul Menlibayeva's image of herself straddled on a small pyramid, on which is written: "The Center of Eurasian Continent." The message is as clear as it is provocative: the centre of any continent exists within each body that lives on it, which stays true to the Biennale's reading of Eurasia as a community of people bound by common territory more than anything else: a shared site of fragile yet productive difference. To this end, it is fitting that the 6th Moscow Biennale produced a microcosm of such a potent, potential world: a composition of moving (and evolving) parts working together.—[O]
A documentary exhibition is on show at Pavilion 1 to 11 October 2015. A feature documentary on the whole event by Singaporean film director and artist Ho Tzu Nyen is also in the works, as is a website and a dedicated publication.