Feature | Exhibition
Singapore's Must-See Exhibitions: Art Gallery Weekend 2023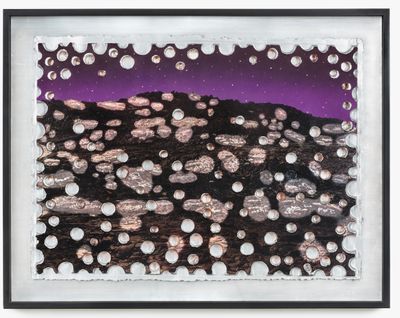 Ashley Bickerton, Graffiti Mountain No. 4 (2006). Lithography, flocking, and relief print on cast paper. 89 x 117 x 9 cm. © Ashley Bickerton / STPI. Courtesy the artist and STPI – Creative Workshop & Gallery, Singapore.
Billed as a weekend, but unfolding between 15 September and 1 October 2023, Singapore Art Gallery Weekend will see exhibitions interlinked and opening across the city's commercial gallery spaces. Ocula Magazine shares a selection of exciting presentations to see over the event.
In addition to exhibitions, galleries will host talks delving into specific topics, from Brandon Tay's talk on digital materiality and sentience at Yeo Workshop to a discussion on the connotations of excess as explored by Filipino artists in a group exhibition at Gajah Gallery.
Pinaree Sanpitak, Breast Vessel II - 4 (2018). Gampi paper and screenprint on paper. 78 x 112 cm. © Pinaree Sanpitak / STPI. Courtesy the artist and STPI – Creative Workshop & Gallery, Singapore.
21 Years: A Story in Multiple Parts
STPI – Creative Workshop & Gallery, 41 Robertson Quay
25 September–15 October 2023
Now in its 21st year, STPI was established in 2002 as a hub for printmaking and exhibitions with the initial guidance of American master printmaker Kenneth E. Tyler. Today, its residency programmes facilitate experimentation in printmaking and paper, with participating artists such as Richard Deacon, Do Ho Suh, Ryan Gander, and Shirazeh Houshiary.
Tyler was an important figure in post-war developments in art publishing and printmaking who set up workshops in New York and Los Angeles. He pushed Anni Albers to shift from textiles to printmaking, for example—a historic collaboration that was highlighted in STPI's 2022 exhibition curated by Khai Hori, director of Singapore art consultancy firm Chan Hori Contemporary.
This latest anniversary exhibition highlights some of the artists who have passed through STPI's workshops over the years, including Pinaree Sanpitak, Ashley Bickerton, Chua Ek Kay, Pacita Abad, and more.
Louie Cordero, The Choice (2023). Acrylic on canvas. 183 x 183 cm. Courtesy Gajah Gallery.
In Excess
Gajah Gallery, 39 Keppel Road, #03-04
22 September–22 October 2023
Curated by Joyce Toh, this group exhibition at Gajah Gallery explores the different connotations of excess, whether an abundance of details and materials or ideas relating to gluttony and chaos.
Featuring work by 11 artists based in the Philippines, it considers the legacies of excess within the nation's art movements, as with Vicente Manansala's historic painting Jeepneys (1951), which reflects Manila's busy streets through abstract swathes of line and colour.
Among the artworks on view, Maria Jeona Zoleta presents a trio of surreal worlds in fluorescent acrylic informed by her experiences growing up in the red-light district of Makati, Metro Manila. Elsewhere, Charlie Co's textured interpretation of the crucifixion in Contemplation (2023) depicts a man's body tinged in blood-red acrylic paint against a moody dark blue background.
Moderated by Toh, a panel discussion at the gallery on 23 September will reflect on the exhibition's themes with artists Annie Cabigting, Charlie Co, Leslie de Chavez, Mark Justiniani, and Christina Quisumbing Ramilo.
In Excess follows Harmonious Tension, Wei Ligang's solo exhibition that closes on 17 September.
Robert Yasuda, Waimea (2022). Acrylic on fabric on wood. 55.9 x 134.6 cm. Courtesy Sundaram Tagore Gallery.
Tint, Tone, Shade
Sundaram Tagore Gallery, 5 Lock Road
2 September–28 October 2023
The power of colour is celebrated in this group exhibition at Sundaram Tagore, which brings together paintings and photographs by Neha Vedpathak, Karen Knorr, Robert Yasuda, Miya Ando, and Hiroshi Senju.
Expressions vary from abstract, as with Ando's dreamy Pink Cloud (2020) rendered in pigment, resin, silver, and urethane on stainless steel, to figurative yet equally surreal, as in the case of Knorr's photograph, In the Mood for Love, Palazzina Cinese (2008), in which a flamingo is framed by a decorative pink-and-blue door inside the Palazzina Cinese in Palermo.
Known for his paintings of pigments poured on Japanese mulberry paper to resemble hazy waterfalls, Hiroshi Senju only recently began embracing colour in his practice after the pandemic, when isolation led him to observe the vibrancy of his surroundings and the changing seasons.
As the artist said, 'The world is filled with so many colours and colour is an effect of light reflection—so, in other words, I am painting light.' This celebration of the chromatic vibrancy of life is a quality shared across the works in this exhibition.
Brandon Tay, Model B: Orchid Mantis (2023). 3D-printed sculpture with embedded media display and LCD display with dynamic video loop. 44 cm x 43 cm x 40 cm. Courtesy the artist and Yeo Workshop.
Brandon Tay: Form & Agency
Yeo Workshop, 47 Malan Road, #01-25
26 August–1 October 2023
Artist talk: 1–3 pm, 16 September 2023
NTU Centre for Contemporary Art Singapore (NTU CCA)
Brandon Tay is a key figure in Singapore's new media arts scene. His practice is centred around creating digital spheres that reflect on digital materiality and sentience. Amorphous digital beings often feature, their uncanny bodies and surroundings presented within installations or moving image.
For his first solo exhibition at Yeo Workshop, curated by writer and curator Rafi Abdullah, Tay brings together five 3D-printed sculptures in the space. Embedded with screens and sensors, these 'live agents' connect to an online realm created through game-engine technology that allows viewers to observe the creatures in their natural habitat.
On 16 September at NTU CCA's screening room, Tay will partake in a conversation moderated by Abdullah with Bogna Konior, Assistant Professor at the Interactive Media Arts department at NYU Shanghai. The talk will expand on the exhibition's themes and reflect on the Japanese animated science-fiction horror series 'Parasyte' (2014–2015).
Cheong Soo Pieng, Untitled (my three children) (1974). Mixed media on board. 165 x 81 cm (each). Private collection.
Cheong Soo Pieng: A Retrospective
Artspace @ Helutrans, 39 Keppel Road #01-05 Distripark
16 September–1 October 2023
Born in 1917 in Xiamen in China's Fujian province, Cheong Soo Pieng arrived in Singapore in 1946 after studying at Shanghai's Xinhua Academy of Fine Arts. On arrival, he taught at the Nanyang Academy of Fine Arts alongside fellow Chinese diasporic artists Georgette Chen and Chen Chong Swee.
Working across watercolour, Chinese ink-and-wash painting, and oil, Soo Pieng became known for his contributions to the Nanyang style capturing subjects and landscapes in Southeast Asia with a modern abstraction that melded Western and East Asian styles.
Working with local collectors at a pop-up location, artcommune gallery has organised a retrospective of over 80 works that trace the artist's contributions to the Nanyang style and his journey to Europe in the 1960s. His experiences outside of Singapore affirmed his approach to ink aesthetics while pushing him to explore new media such as metalwork and collage.
Pachara Piyasongsoot, The Great Wave (2023). Oil on linen. 100 x 80 cm. Courtesy Richard Koh Fine Art and the artist.
Pachara Piyasongsoot: Your Green is Mine
Richard Koh Fine Art, Block 47 Malan Road, #01-26
9–30 September 2023
Pachara Piyasongsoot's atmospheric paintings have previously dealt with gardens as a visual metaphor for control and power, commenting on the political landscape of Thailand. Gardens, while associated with joy and leisure, also represent humanity's desire to manipulate nature.
In his latest paintings, Piyasongsoot takes inspiration from Rajabhakti Park in Nong Kae, where seven Thai kings are enshrined. In the artist's paintings, trees are used as symbols of strength, standing in for nobility. They appear enormous and foreboding, as in The Great Wave (2023), where a tree-shaped wave is on the cusp of crashing over a still sea.
Through painting, Piyasongsoot comments on the social context of Thailand. In his 2021 exhibition Harvest at Richard Koh Fine Art's Kuala Lumpur headquarters, the artist compared the frequency and normalisation of military coups in Thailand—some 13 successful ones, in addition to many more attempts—to the cyclical nature of a harvest.
Through representations of highly controlled natural settings, Piyasongsoot addressed the conflicts that arise after a culmination of authority, with social uprisings occurring as inevitable responses to these build-ups.
Concurrently on view at Richard Koh Fine Art is Natee Utarit's solo exhibition Historia, which references the pursuit of knowledge within history, featuring 24 paintings from Utarit's 'Hierarchy of Paintings' series, which dive into the artistic influences that have informed the artist's practice through a succession of art magazine covers, featuring iconic work by artists such as de Kooning, Pollock, and Robert Ryman.
Yeo Kaa, Staying afloat 1 (2023). Acrylic on canvas. 91.5 x 152.5 cm. Courtesy the artist and Yavuz Gallery.
Yeo Kaa: Sunny weather, blue water day spa
Yavuz Gallery, 9 Lock Road, #02-23
16 September–16 October 2023
Filipino painter Yeo Kaa is known for pastel-shaded doll characters that express a range of emotions from anxiety to contemplation, resistance, and rebellion, often providing a mirror into collective, but lesser-expressed sentiment.
Kaa's wide-eyed figures are known to disturb or shock, often presenting jarring imagery to address social taboos around identity, sexuality, and social expectations. The act of painting itself becomes a means of cathartic release.
Kaa's latest exhibition takes a positive spin, with a more 'empowering tenor'. Paintings on view emphasise the importance of rest, or a temporary break, with cotton-candy shaded figures rendered in a soft palette lounging in the sun, bathing, or at play.
Okuda Yuta, Trimmed Neo Bonsai (Pearl White x White) (2023). Acrylic, pigment ink on canvas. 72.7 × 116.7 × 5 cm. © Okuda Yuta. Courtesy the artist and Mizuma Gallery.
Okuda Yuta: Circulation
Mizuma Gallery, 22 Lock Road, #01-34
29 September–29 October 2023
A former fashion designer who worked in Japan and the United States, Okuda Yuta will present over 30 new paintings at Mizuma Gallery, including three well-known series of portraits, bonsai, and flowers, which are on view in Singapore for the first time.
Okuda's vibrant floral paintings are particularly mesmerising, resembling careful bouquet arrangements pressed onto the canvas, into semi-abstract forms. Each flower contains swirling blends of at least four to five visible shades held up by black stems, thin and thick.
Flowers, for the artist, are a symbol of the simple things in life, or reasons to express gratitude. His textured arrangements combining rich acrylic pigment and individual petals outlined with pen certainly captivate, offering viewers a momentary reason to rejoice.
This exhibition follows on from the gallery's current show, Scenic World, which runs until 17 September, and is focused on the artist Agus Suwage, curated by Tan Siuli.
Must-See Institutional Exhibitions in Singapore
Running alongside gallery presentations are exceptional shows at important art institutions such as Singapore Art Museum, where Hito Steyerl's Factory of the Sun and Jane Lee's solo exhibition Lila: Unending Play are on view until 24 September 2023. Also at the museum until 24 September is Residues & Remixes, the inaugural SAM Contemporaries focusing on six emerging practices, including that of Priyageetha Dia, an artist who had a stand-out presentation at the recent Frieze Seoul with Yeo Workshop.
Over at the National Gallery of Singapore is an excellent survey of Chinese ink master Liu Kuo-sung's oeuvre, and until 17 September you can catch the first part of See Me, See You, focusing on early video installation of Southeast Asia. Finally, NTU Centre for Contemporary Art Singapore celebrates its tenth anniversary with a series of performances by artists-in-residence and previous contributors held between 16 and 30 September. —[O]