Insight | Artworks
Art Basel Viewing Rooms: Advisory Highlights
Ocula's advisory team highlights a selection of works showing in Art Basel's Online Viewing Rooms, online between 17 and 26 June 2020.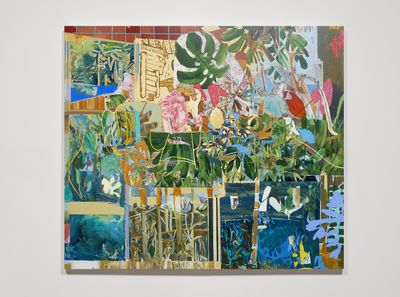 Lucia Laguna, Paisagem n. 122 (2020). Acrylic and oil on canvas. 140 x 180 cm. Courtesy Fortes D'Aloia & Gabriel.
Lucia Laguna, Paisagem n. 122 (2020) at Fortes D'Aloia & Gabriel
In Lucia Laguna's 'Paisagem' (Landscapes) series we see the blending of exterior and interior worlds, with Brazil's abundant vegetation on full display. Plants and flowers rendered in bright tones are set against a rough, grid-like structure that suggests architectural fragments, as might be seen from the artist's studio in Rio de Janeiro. Painted from both memory and observation, Laguna has an unusual painterly approach, inviting her assistants to build up the image with acrylic paint before she reworks it in oil, allowing the painting to take on a conversational dimension where growth is seemingly endless.
Sarah Lucas, Cross Doris (2019). Concrete, bronze, steel, iron, acrylic paint. 77 x 79 x 89 cm. Edition 3 of 6 + 2 As. © Sarah Lucas, courtesy Sadie Coles HQ, London. Photo: Robert Glowacki.
Sarah Lucas, Cross Doris (2019) at Sadie Coles HQ
Sadie Coles HQ are showing this Sarah Lucas sculpture from her celebrated 'Bunny' series. Initially constructed with found materials and stuffed tights, Lucas has now cast these figures in bronze, although none of the tactile sensuality has been lost. Cross Doris louchely reclines on a modern design chair lifted straight out of the gallery office, commanding attention, although we're unsure as to whether we should be amused or alarmed. Lucas plays with form effortlessly, hard edges interchange with soft and smooth, whilst deceit of material is an ongoing witty game encouraging viewers to ponder what lies beneath, except everything is proudly on show.
Hiroka Yamashita, Three Vigils (2020). Acrylic and oil on canvas. 53 x 45.5 cm. Courtesy Tanya Leighton.
Hiroka Yamashita, Three Vigils (2020) at Tanya Leighton
Born in 1991 in Hyogo, Japan, Hiroka Yamashita graduated last year from an MFA in Visual Arts from Rutgers University, Mason Gross School of the Arts. Now based in Okayama, Japan, the artist incorporates both Japanese and Western painting methods, conjuring scenes from observation, memory, and folktales. The resulting paintings have a dreamlike quality; their figures often obscured by surrounding scenery, seemingly floating across the canvas. In this canvas, Yamashita's artful navigation of figurative and abstract realms is visible as three deep-blue figures mysteriously surround the edges of the image, their bright white eyes peering out from the top right- and bottom left-hand corners.
Arshile Gorky, Garden in Sochi (1940). Watercolour and gouache on balsa wood. 12.9 x 18.6 cm. © (2020) The Arshile Gorky Foundation / Artists Rights Society (ARS). Courtesy The Arshile Gorky Foundation and Hauser & Wirth. Photo: Thomas Barratt.
Arshile Gorky, Garden in Sochi (1940) at Hauser & Wirth
It's rare to find a very small watercolour or gouache that truly stands as a great example of an abstract painter's practice. This tiny gem of a Gorky showing with Hauser & Wirth is a remarkable example, painted just before the artist's famous 1941 oil painting of the same title that resides in MoMA's permanent collection. Gorky's forms oscillate between natural and surreal, figurative and abstract; alive and dancing awkwardly across the composition. When discussing his 'Garden in Sochi' works, Gorky recalled his Armenian youth as if from a dream, describing his father's garden, where the presence of a 'Holy Tree' was believed by local villagers to hold supernatural powers.
Theaster Gates, Some Remember Sock Hops, Others Remember Riots (2020). Wood, denim, and decommissioned fire hose. 213.4 x 213.4 x 8.9 cm. © Theaster Gates. Courtesy Regen Projects, Los Angeles.
Theaster Gates, Some Remember Sock Hops, Others Remember Riots (2020) at Regen Projects
As the title of this work by Theaster Gates' suggests, those recalling the 1950s and 60s in North America might conjure different memories. Some might recall 'sock hops'—a dance form typically held in school gymnasiums, where participants removed their shoes to avoid scuffing the hardwood floor. For others, this period recalls the rise of the civil rights movement, and the social turmoil that surrounded the fight for equal rights. Gates frequently incorporates strips of decommissioned fire hose into his works, referencing the use of fire hoses against black people in civil rights struggles, including in May 1963, when a group of children engaged in peaceful protest were met with force in Birmingham, Alabama.
Keith Haring, Untitled (1982). Enamel and dayglo on metal. 229.9 x 183.8 x 4.1 cm. © Keith Haring Foundation. Courtesy Keith Haring Foundation. Photo © Yannick Sas.
Keith Haring, Untitled (1982) at Gladstone Gallery
In this typically bold and exuberant Keith Haring painting from 1982, lurid dayglo colours are combined with black marks reminiscent of the spray paint Keith Haring used on subway walls. Haring's unmistakable figures and Anubis motif are cartoonishly depicted in a fight of sorts, although the large Egyptian canine god of the afterlife is clearly dominating proceedings. Death hung heavily in the air during the 1980s in New York due to the AIDS epidemic, and although this dark undercurrent flows through much of Haring's work from this period, the energy and vigour apparent here seems proudly resolute and even celebratory. Haring and his contemporaries were all engaged in a dance with death, but their appetite for life was never diminished in the process. His work is inextricably tied to that time and place, yet more than 30 years later it still manages to connect with the present on a visceral level.
Frank Stella, Concentric Squares (1977). Acrylic on canvas. 156.5 x 156.5cm. © Frank Stella / Artists Rights Society (ARS), New York. Courtesy Lévy Gorvy.
Frank Stella, Concentric Squares (1977) at Lévy Gorvy
Frank Stella invented his own set of rules when constructing his concentric squares paintings in the 1970s, focusing on colour and form to expand the possibilities of painting and bridge the gap between Abstract Expressionism and Minimalism. Influenced by Josef Albers and his 'Homage to the Square' series, Stella transformed the humble square into a parallel grid pattern of varying bold colours that startle the retina. He viewed these pictorial parameters as a method of controlling his overwhelming desire for visual extravagance. The hard-edged definition seen here moves away from a more painterly approach to abstraction, embracing a Minimalist sensibility—albeit one that induces unexpected optical theatrics as the eyes wander in and out of the centre of the image, creating depth and movement far beyond the normal restrictions of the canvas. The rich, warm tones on the outer squares—before they move into orange, soft pinks, and white, finally returning to red—make this painting a pleasure to absorb over and over again.
Wangechi Mutu, The Claw (2018). Wood, cow horns, paper pulp, wood glue, charcoal, acrylic and glass beads. 94 x 61 x 84 cm. © Wangechi Mutu.Courtesy the artist and Gladstone Gallery, New York and Brussels.
Wangechi Mutu, The Claw (2018) at Gladstone Gallery
Kenyan-born, New York-based Wangechi Mutu's practice is multi-faceted and far reaching in its scope, encompassing painting, sculpture, video, and performance. This sculpture epitomises her ability to harness several tropes and crystallise them into one visual expression. A mythical African aesthetic, featuring charcoal, glass beads, and horns arranged ambiguously leaves us to question whether this is an ancient relic, a coveted piece of natural phenomena, or a surrealist interpretation of a writhing female figure. The spiky aggressiveness of The Claw immediately recalls Giacometti's Woman with her Throat Cut (1932), but Mutu's figure stands proud, revelling in her position as a hybrid creature from the unknown. Preconceptions of the female form are subverted as Mutu helps to form new histories and icons.
Carol Bove, Tragic Deviousness (2020). © Carol Bove. Courtesy the artist and David Zwirner.
Carol Bove, Tragic Deviousness (2020) at David Zwirner
Swiss-born, American artist Carol Bove grew up in Berkeley, where the city's industrial areas were of primary influence on her practice. Her current studio is based in the industrial waterfront area of Red Hook in Brooklyn, where a wealth of materials such as rusty I-beams are scoped by the artist for use in her sculptures. Since 2016, the artist has focused on a series of crushed, bended sculptures comprising square steel tubing and a single, highly polished disc, creating an interplay between textures. Seemingly weightless, the powder-coated steel structures are remarkable to look at, frequently rendered in popping colours, while this work holds its own in slick black monochrome.—[O]