Insight
Tel Aviv: an insight into the art scene
A tiny country, slightly smaller than New Jersey, and not yet 70 years old, Israel's contribution to the international contemporary art scene is mainly overshadowed by ongoing and seemingly never-ending conflict. But returning recently after a 15-year absence, I found myself taking in more art than I had anticipated, although I had barely scratched the surface of the country's art scene.
Inbal Dance Company, Disquiet. Performance choreographed by Mor Shani. Part of Simple Dance—Three Suggestions for Dealing with Time. Tel Aviv Museum of Art (31 March 2017). Courtesy the author.
While Israel is certainly not short on history and culture, the contemporary art scene mainly revolves around Tel Aviv, a city littered with Bauhaus buildings—built by Jewish architects who fled Nazi persecution in the 1930s. There is, of course, a Bauhaus Center, a museum dedicated to all things Bauhaus housed in, well, a Bauhaus building. Situated on Dizengoff Street, it is smack-bang in the middle of the 'White City', a UNESCO World Heritage site of over 4,000 white Bauhaus buildings. Walking through this area will yield a memory card full of architectural spoils and lead you to a number of art institutions and galleries, spread throughout the city.
Exhibition view: Gil Shachar, To Cast a Shadow, Alon Segev Gallery, Tel Aviv (16 February–31 March 2017). Courtesy the author.
On Rothschild Boulevard in the White City, littered with bars, cafes, and design shops, is Sommer Gallery, representing renowned international and local artists Wilhelm Sasnal, Ugo Rondinone, and Wolfgang Tillmans, Tal R and Yael Bartana. The space incorporates a smaller project room, S2, in which young curators are given the opportunity to curate small-scale exhibitions of emerging artists. A stone's throw away is the minimalist concrete cube of Alon Segev Gallery, which focuses mainly on Israeli artists like Arik Levy, Gideon Rubin, Eitan Ben Moshe, Gil Shachar, as well as a couple of established international artists like LA-based sculptor Joel Morrison.
Around the corner from the Bauhaus-style Norman Hotel (Tel Aviv's answer to the Soho House but with less pretension and way better service and food), housed in a beautiful 1920s neo-classical white building designed by Joseph Berlin, is Chelouche Gallery. The gallery promotes a programme that encourages dialogue between Israeli and international artists and curators, with a stable of artists including Michelangelo Pistoletto, Miki Kratsman, Nir Alon and William Kentridge. Up the road from Chelouche is Noga Gallery, where exhibitions of works by artists such as celebrated Israeli artist Ori Gersht can be found.
A little further east, we stumbled upon what looked like Tel Aviv's skid row (pegged to become the next up-and-coming neighbourhood), to find Braverman Gallery. The gallery specialises in video art and installations, with a largely Israeli stable of artists like Nira Pereg whose three-channel video, ISHMAEL (2014-15), investigates the 'border control' of the Cave of the Patriarchs in Hebron. The site of the tomb of Abraham, and thus a site sacred to both Jews and Muslims, it is also a site of historical and ongoing tension, sensitivity and conflict. Today it is divided into a mosque and synagogue, separated by a green metal door and controlled by soldiers from the Israeli Defense Forces. Politics is never far from the minds of Israelis. It touches everything in the country, including art.
Hezi Cohen Gallery represents Berlin-based artist and musician Carsten Nicolai and Israeli art-star Sigalit Landau whose multimedia installations explore the complexities of living in a divided and conflict-ridden country. Her Dead Sea salt crystal-encrusted gowns are beautiful! Further south, in an inconspicuous five-floor factory in Jaffa is Dvir Gallery, a regular presence on the global art fair circuit. The gallery has been representing Israeli and international artists and bringing them to a global audience for over 30 years, and last year opened its second space in Brussels. On the day we visited, the gallery was presenting a group show including Romanian artist Mircea Cantor, Adel Abdessemed, Ariel Schlesinger, Miroslaw Balka, Douglas Gordon, Lawrence Weiner and Shilpa Gupta. The gallery also represents the Jerusalem-born Berlin-based Omer Fast, whose videos, exploring the construction of narratives and blurring the boundaries between documentary and dramatisation, have been capturing the attention of institutions and audiences worldwide.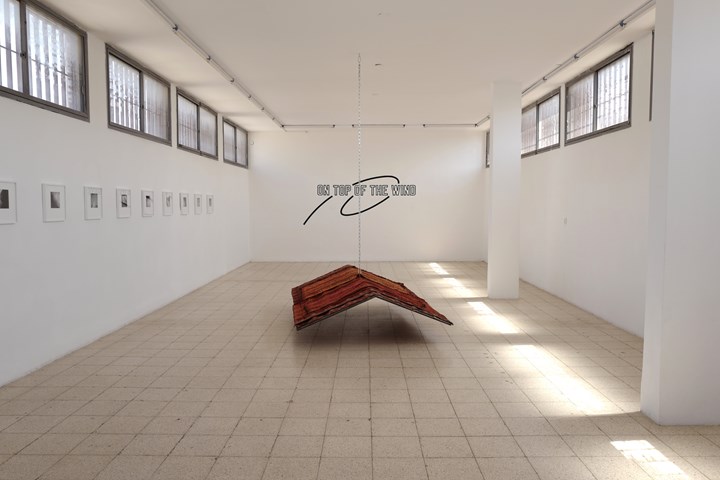 Exhibition view: Miroslav Balka and Lawrence Weiner, NOWWHERE, Dvir Gallery, Tel Aviv (10 December 2016–11 March 2017). Courtesy the author.
Spare half an afternoon for the Tel Aviv Museum of Art. Renovated in 2011 and designed by Preston Scott Cohen, the slick angular building is located across the road from an imposing Brutalist-looking Israeli Defense Forces base—a fitting location for a J. G. Ballard film—and guarded by an army of stray cats, a common sight throughout the city. Inside the museum is 200,000 square feet of light-filled galleries housing everything from impressive collections of modern masterpieces including Archipenko, Picasso, Chagall, Van Gogh, Rothko—donated by collectors including Peggy Guggenheim—Israeli contemporary art, and international contemporary art. There is a lot to see. There was an Afro-futurist art exhibition when we dropped by, featuring emerging and established African contemporary artists; a smaller exhibition of disaster relief architectural projects; and an exhibition celebrating the 10th anniversary of the Rappaport Prize for Young/ Established Israeli artists. During our visit the museum had been hijacked by an unidentified performance group clad in bright leotards storming through exhibition galleries, and annoying the narcoleptic Russian babushka sentries nodding off under the Picassos.
Tel Aviv Museum of Art. Courtesy the author.
The Center for Contemporary Art, in the heart of Tel Aviv, is a non-profit which grew out of one small room in 1998, and focuses on time-based or site-specific practices and experimental art. Previous exhibitions have included Chinese artist Cao Fei, and Icelandic artist Ragnar Kjartansson. The institution is definitely ahead of the game, credited with being the first in Israel to show the works of many international artists, including Marina Abramović and Christian Jankowski, and is also responsible for kicking off the careers of now-established Israeli artists like Yael Bartana, Guy Ben Ner and Michal Helfman. The centre also has its own video archive, comprised of over 5,000 video works from 1960 to the present, and regularly presents lectures, screenings and performances in its auditorium.
If you're up for a day trip, situated an hour north of Tel Aviv and just outside Haifa is the village of Ein Hod, an artist's colony at the foot of Mount Carmel founded by Dadaist Marcel Janco in 1953. Today about 150 artists and their families live in the village, including at one time the septuagenarian mother of an ex who's fond of stripping naked and painting herself with clay. Ein Hod feels like the kind of nouveau hippy utopia one can find in Ojai, California: full of craft and cafés, workshops and galleries, gardens littered with sculptures, tchotchke markets, and inexplicably a piece of the Berlin Wall. It's quirky, full of history, picturesque and wonderfully situated on a hillside overlooking olive groves. A relaxing break from the hustle and bustle of Tel Aviv. —[O]