Insight | Exhibition
Mayumi Terada Brings Absence to Life at Kamakura Gallery
'I want to possess what I have to lose',1 artist Mayumi Terada once said of her work—closed captures of sparse, interior spaces that the artist meticulously crafts in miniature and photographs using natural light. The statement is an evocative definition of a photograph's function: a freeze frame of a moment that passes once an image is shot, leaving an imprint of a lost instance in its wake.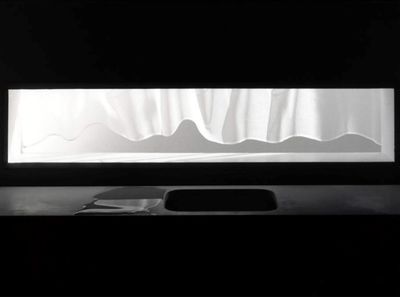 Mayumi Terada, kitchen Sink 040901 (2004). Gelatin silver print. 100.97 x73.66 cm. Courtesy the artist and Kamakura Gallery.
It is this aspect of the image that Terada heightens in her constructed pictures, which visualise a sense of absence that is at once direct and compellingly abstract. Thirty such images belonging to five different series are on view at Kamakura Gallery in Kamakura, just south of Tokyo (regarding Absence from five series, 12 September–24 October 2020), along with a selection of miniature models that the artist used to create them, made out of foamcore, cardboard, and wood, with furnishings crafted from paper, fabrics, plastic, and metals.
Terada started taking photographs in 2001, the year she arrived in New York City. 'It was an accident', the artist explains. To create invitation cards for an exhibition she was putting on in the city, she photographed a small-scale model of a door; 'unexpectedly', she recalls, 'the photo of the model was more interesting than the actual door.' Terada continued to make models of everyday objects—a bathtub, sofa, curtain, and chairs—and the show was switched to a photography show.
Mayumi Terada, curtain 010402a (2001). Gelatin silver print. 139 x 102.1 cm. Courtesy the artist and Kamakura Gallery.
'Doll House' (2001–2004) is the artist's earliest series—black and white gelatin silver prints that focus on architectural details in sharp contrast, from a single pillar positioned in the centre of a room before a dark doorway, dividing a vertical frame flush with angular shadows (pillar 010601, 2001) to a striking head-on view of a dressing table, its round mirror rendered strikingly reflective (dresser 030401a, 2001).
Examples of this series—including a shot of a French door cracked open to let a beam of light to cut a diagonal line across the floor—appeared in A Colossal World: Japanese Artists and New York, 1950s–Present, a group show at WhiteBox, New York, curated by Kyoko Sato (6 March–14 April 2018). The work references Marcel Duchamp's 1920 work Fresh Widow, apparently the first work signed as Rrose Selavy, for which Duchamp commissioned a carpenter to create a French window with panes covered in black leather.2
Mayumi Terada, dresser 030401a (2001). Selenium-toned gelatin silver print. 140 x 102 cm. Courtesy the artist and Kamakura Gallery.
On Fresh Widow, Duchamp said he could have made 20 different windows with a different idea in each one. Terada gives her spaces the same expansive treatment. In the case of shower 011101a (2001), which references Jean-Pierre Raynaud's La Maison de La Celle-Saint-Cloud in Paris (a house-turned-art installation opened in 1974 with interiors covered completely in white tile), a clear, standing transparent pane in a white-tiled room is covered in water droplets.
The invocation of condensation lends itself to the contradictory sense of enclosure and expansion in Terada's frames: abstract portals that feel at once tangible and distant, conceptual and surreal, which viewers are invited to furnish with their own associations.
Mayumi Terada, white chair and banana tree 150701p (2015). Pigment ink jet print. 101.6 x 139.7 cm. Courtesy the artist and Kamakura Gallery.
Across Terada's work, windows offer points of departure from the interior, with views of the natural world created from photographs, some taken in Central Park—from a skylight showing a cloudy sky in a bare room save for a ladder propped up against the wall in the 'Choosing Scenery' series (2004–2008), to the forests partially concealed by the frosted panes foregrounding them in 'Green House'. In printrolling table, 150902p (2015), a clear table stands in front of four such panes, a small open window in the top left corner offering a glimpse of what lies behind.
Mayumi Terada, printrolling table, 150902p (2015). 56 x 40 cm. Pigment inkjet print. Courtesy the artist and Kamakura Gallery.
Scales of transparency in Terada's work have been present from the outset. Driven by an investigation into what constitutes a photographic sculpture as a student at Tsukuba University, where she attained her MFA in Plastic Art and Mixed Media 1989, Terada produced unwearable, out-of-scale garments made entirely from clear plastic sheets. Jumper Jones (1985), for instance, awarded The Tokyo Metropolitan Art Museum Prize at the 17th Contemporary Art Exhibition in Japan in 1985, references the work of Jasper Johns, who likewise created replicas of everyday objects that were elevated to points of contemplation in their transference from object to subject.
Mayumi Terada, jar and pink cloud 200101p (2020). 55.8 x 43 cm. Courtesy the artist and Kamakura Gallery.
More recently, Another Angle (2016–2020) includes images of objects set against vistas of gentle skies shaded by the colours of a low sun illuminating golden clouds and almost metallic, pastel blues. Influenced by the gradating colours of watery horizons that she witnessed on a trip to Mexico, the photographs present an upward gaze that echoes the nature shots that Terada has included in previous series. In one frame, a clear vessel is set against a cloudy backdrop; in another, a white chair is positioned towards the window in a white room on which a sheer white shirt billows.
There is a sense of calm in these later works; more so than the hard-edge studies of 'Doll House'. Writing in May 2020 about the series, Terada asks what is important in 'shifting times' like these, where 'It's easy to get lost'.3 The question anchors the practice as an invites a surrender to uncertainty. 'This gaze seeks nothing', Terada once wrote. 'It knows that it is to be lost forever.'4—[O]
1 Mayumi Terada/Choong Sup Lim, Asian American Contemporary Art History, exhibition press release (19 May – 30 June 2006), http://artasiamerica.org/documents/4866
2 MoMA Learning, 'Marcel Duchamp: Fresh Widow', https://www.moma.org/learn/moma_learning/marcel-duchamp-fresh-widow-1920/
3 3331 Arts Chiyoda, 'Mayumi Terada "- Another Angle -"', 2002, https://www.3331.jp/en/schedule/005194.html.
4 The Center for Photography at Woodstock, 'Mayumi Terada: Statement', 2020, https://www.cpw.org/artist/mayumi-terada/.