News | Artists
The Artists Leading Action on Climate Change During COP26
Jenny Holzer, Mary Ellen Carroll, and Steuart Padwick are just a few of the artists urging action during the Glasgow summit.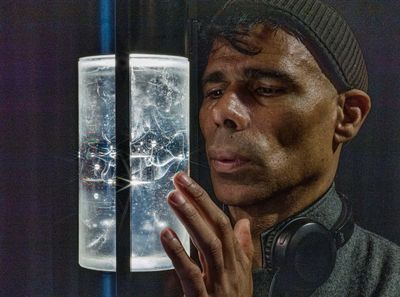 Royal College of Art PhD Candidate Wayne Binitie with Polar Zero sculpture 1765 – Antarctic air (2021). Courtesy the artist and British Antarctic Survey.
Artists have responded with a mixture of scepticism and urgency to the 26th UN Climate Change Conference of the Parties (COP26), which is transpiring in Glasgow from 31 October to 12 November.
Olafur Eliasson said 'I don't think [politicians] can achieve a solution to the climate crisis,' while Ai Weiwei offered 'we cannot depend on one meeting'. Nevertheless, several artists used the occasion to build support for action against climate change.
Steuart Padwick, Hope Sculpture (2021). © Keith Hunter Photography.
British designer Steuart Padwick produced three large-scale sculptures for Glasgow that are connected by a walking and cycling route. The central piece, Hope Sculpture (2021), is a 23.5-metre-tall tower inspired by the brick chimney stacks once common in Glasgow's East End. It's made from a low-carbon, cement-free concrete consisting of local aggregates and recycled glass.
Conceptual artist Mary Ellen Carroll's indestructible language (2021) shouts the phrase 'IT IS GREEN THINKS NATURE EVEN IN THE DARK' in eight-foot-tall red neon characters. The work has been installed on the roof of The Schoolhouse, a Victorian building visible from COP 26 and the M8 motorway, where it will remain through 31 January 2022.
Mary Ellen Carroll's indestructible language (2021) at the Schoolhouse, Glasgow for COP26. © 2021 Mary Ellen Carroll, MEC studios and photography by Dougie Lindsay.
Projected on London's Tate Modern last month, Jenny Holzer's Hurt Earth will appear on the exterior of the SEC Armadillo auditorium in the Blue Zone of COP26 on 8 November. The text-based work features a number of quotes, including: 'if we choose to act together, there are no limits to what we can accomplish' from activist Greta Thunberg; 'if not now, then when' from Jewish religious scholar Hillel the Elder; and 'Even a wounded world holds us, giving us moments of wonder and joy. I choose joy over despair,' from American author Robin Wall Kimmerer.
On the final day of COP26, artist and musician Brian Eno will host a discussion entitled 'Arts and the Imagination'. The session will feature multimedia artist Carolina Caycedo, science fiction writer Kim Stanley Robinson, poet Ben Okri, journalist Rosie Boycott, artist and writer Wilson Oryema, and writer Neil Gaiman.
Bamber Hawes with Clarion (2021). Courtesy @bamberhawes Instagram.
Other artworks in Glasgow motivated by the need to save the climate include: a sculpture of 350 hand-blown glass forms by Joseph Rossano showing in the Blue Zone of COP26; Bamber Hawes 10-foot-tall bamboo and tissue paper polar bear Clarion, which the artist carried 306 miles from Shropshire to Glasgow; flags and banners emblazoned with the words Sun, Sea, Air and Clean Power that are appearing around Glasgow by Morag Myerscough; Alan Gignoux's photographs documenting fossil fuel extraction at cultural hub Wasps in Glasgow until 12 November; and Wayne Binitie's Polar Zero, a cylindrical glass sculpture containing Antarctic air from 1765 and air bubbles trapped in an ice core from centuries past, at the Glasgow Science Centre.
Across the pond, Rashid Johnson's Bruise Painting Or Down You Fall (2021) will be offered at Christie's New York on 9 November as part of the ongoing series, 'Artists for ClientEarth'. The work has a pre-sale estimate of US $650,000–850,0000, with proceeds going to the non-profit ClientEarth, which shapes and enforces laws to fight climate change.
The first artwork in the auction series, Cecily Brown's There'll be bluebirds (2019) realised £3,502,500, over four times its estimate, at Christie's evening sale in London on 15 October. Other artists who will take part in the initiative, organised by the Gallery Climate Coalition in partnership with Christie's, include Antony Gormley, Beatriz Milhazes, and Xie Nanxing. —[O]