News | Galleries
Asia Now Returns to Ocula's Online Viewing Rooms

IN PARTNERSHIP WITH ASIA NOW
This year's edition of the Paris art fair, which addresses the theme of 'living on a damaged planet', will showcase galleries from Iran for the first time.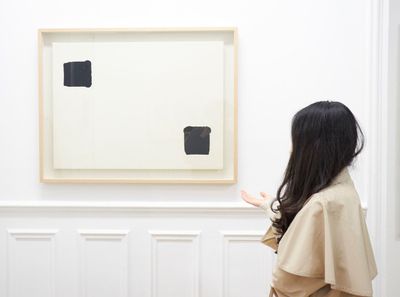 Lee Ufan, Untitled (2002). 313 Art Project, Asia Now, Paris (20–24 October 2020). © Asia Now.
The seventh edition of the ASIA NOW, Paris Asian Art Fair will take place in-person from 21 to 24 October at 9 Avenue Hoche. For the second year in a row, works will also be exhibited on Ocula.
ASIA NOW's online catalogue will be accessible to VIPs from 6am Paris time on 21 October and to the public from 6am Paris time on 22 October. Participating galleries will be able to show their artworks on the platform through 7 November.
Pre-registration for ASIA NOW's Online Viewing Rooms is available here.
ASIA NOW described the partnership with Ocula 'as an opportunity to highlight the rich diversity of our exhibitors' artworks and messages, and to allow them to reach a wider audience of new and established collectors around the world'.
The Art of Living on a Damaged Planet
This year's ASIA NOW will explore the theme 'the art of living on a damaged planet', embracing new global movements that seek to change unsustainable trajectories we were on prior to the pandemic.
The theme was in part inspired by American Anthropologist Anna Tsing, who is one of the editors of the 2017 anthology Arts of Living on a Damaged Planet : Ghosts and Monsters of the Anthropocene.
'We wanted not to resign ourselves to a situation that may appear hostile, but to espouse and support that which is in fact happening,' said ASIA NOW's director and co-founder Alexandra Fain.
As part of this exploration, the fair will include exhibitions by Beaux-Arts' Kathy Alliou and independent curator Nicolas Bourriaud, who curated the 2019 Istanbul Biennial and the 2014 Taipei Biennial, among many other exhibitions.
Alliou's exhibition Making Worlds Exist uses the Matsutaké mushroom—which has nearly disappeared from Japanese forests but can still be found abroad—as a metaphor for the upheaval of human populations. It will feature new commissions by nine artists from Asia and the Asian diaspora in France, including China's Xie Lei, Hong Kong's Trevor Yeung, Mongolia's Odonchimeg Davaadorj, South Korea's Seulgi Lee, and French Vietnamese artist Thu Van Tran, who was nominated for the Marcel Duchamp prize in 2018.
Bourriaud will organise an exhibition of eight Asia-based artists including China's Guan Xiao, Hong Kong's Ko Sin Tung, Mongolian-German artist Timur Si-Qin, and Japan's Natsuko Uchino under the title of Shun, a Chinese word whose meanings include 'flow'. Bourriaud contrasts Taoist philosophy that emphasises being in harmony with nature with the West's more utilitarian attitude, which allows for the dissection of atoms and disembowelment of the Earth.
ASIA NOW Presents Art From Iran
For the first time, Asia Now has expanded its scope to include Western Asia. Among the 40 galleries taking part, including leading global galleries such as Perrotin and Yavuz, seven are based in Tehran. Tatiana Gecmen Waldeck and Anahita Vessier, both members of ASIA NOW's advisory committee, canvassed Iran's vibrant contemporary art scene to select galleries to invite to ASIA NOW.
Odile Burluraux, curator at the City of Paris Museum of Modern Art will also introduce works by 13 female video artists from Iran at the fair as part of her project, Burning Wings.
Other sections of ASIA NOW's programming include a series of meetings and other interactions called Thanks for Nothing and two exhibitions at the Guimet National Museum of Asian Arts. These exhibitions, which will open from 21 October, feature works by Vietnam-born artists Thu Van-Tran and Dodinh Huong. —[O]