News | Market
Web3 Wizard Chris Fussner Introduces Art Dubai's Digital Programme
The director of the Tropical Futures Institute worked on Art Fair Philippines' pioneering NFT section before pitching a digital project to Art Dubai.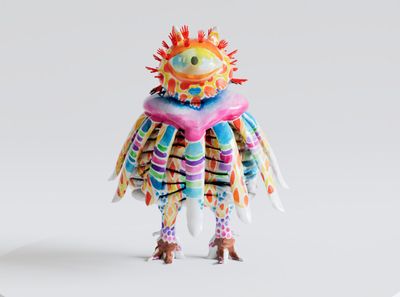 Uta Bekaia x Denia Davydov, Sacred Creature Bajbaja, Svadhisthanas Family (2021). Computer-generated image, NFT. Courtesy of Windows Project and Instigators.
Art Dubai's new digital section will trace bleeding-edge developments in the NFT space back to the rise of digital art in the 1980s when the fair returns from 11 to 13 March, with a VIP preview from 9 to 10 March.
As well as providing a comprehensive introduction to art NFTs through talks and curated exhibitions, Art Dubai Digital will get to business selling them in a dedicated galleries section.
Among the 18 participants in the section are traditional galleries with strong new media track records—like Istanbul's Pilevneli, who will present works by generative art giant Refik Anadol, and Postmasters Gallery in New York—and new entities that we don't normally think of as galleries, such as NFT platform Institut and collectives Bright Moments DAO, FingerprintsDAO, Emergeast, NFT Asia, and Africa's Cyber Baat.
Art Dubai Digital's curator, Chris Fussner, said it is 'very much an experimental section.'
Refik Anadol, Quantum Memories (2021). AI Data Sculpture. Custom software, quantum computing data, generative algorithm with artificial intelligence (AI), real time digital animation on LED screen, 4 channel sound. 10m x 10m x 2.5m. Courtesy Refik Anadol Studio and National Gallery of Victoria.
Fussner, who showed at last year's Art Dubai with his gallery-slash-design strategy studio Tropical Futures Institute, initially pitched an artist's residency that would help educate people about blockchain art. The brief only grew from there.
'There was so much curiosity from the Art Dubai team,' he said. 'Everyone acknowledged that it's been a long time since there's been so much attention and debate about art and technology.'
Born in Singapore, Fussner is a Filipino-American currently based in Milan. He describes his Instagram handle 'dj_blockchain_algoriddims' as kind of a joke, 'a remnant of the last bull cycle'.
Among his credentials as a web3 specialist is the work he did on Art Fair Philippines' digital section in May last year. Entitled 'Welcome to the Metaverse', the section shone a light on the local NFT community and brought in early smart contract artists such as Sam Hart and Harm van den Dorpel.
'It was hard to do any actual commerce with NFTs so early at Art Fair Philippines,' Fussner said, but there's been a massive explosion in what he has accommodatingly described as 'new media art collectors' since then.
Prior to NFTs, he said there were 'few collectors [who'd] say I'm gonna buy your machine learning installation project that critiques machine vision,' but NFTs' pull on people's wallets has opened them up to collecting more conceptual new media works, as well as videos, pieces of code, and renders.
LoVid, Hugs on Tape (2021). Digital animation tapestry. NFT Courtesy of Postmasters Gallery.
Servicing both the tech-savvy and the crypto-curious while evading the jabs of the doubters will be a delicate dance.
Fussner said not every gallery would make the transition to NFTs—'some galleries don't really care about new media'—but for Art Dubai's existing stakeholders who do show an interest, 'we have to support them in their experiments and explorations in the NFT space.'
When it comes to how NFT trades are completed in person at an art fair, there are likely to be a lot of questions. Do they have their own crypto wallets? Which blockchain should they trade on? Should they use fiat or cryptocurrency? Should a gallery hold a token on the collector's behalf? 'It's hard to navigate that,' Fussner conceded.
'Right now, the user experience of web3 is super janky,' he said. 'I love it because it's like when you first started using the internet. Everything is broken and weird, it's slow, and that can be really detrimental when you're dealing with large sums of money, or you lose your NFT. But I think that user experience will change. It will be a lot easier.'
'You can already mint and sell NFTs through a Shopify account,' he said. —[O]