News | Artists
Kanye West Chooses Louise Bourgeois for 'Donda' Promo Cover
Art gallery Xavier Hufkens said the painting testifies to a preoccupation with sexuality, pregnancy, motherhood, and the cycles of life.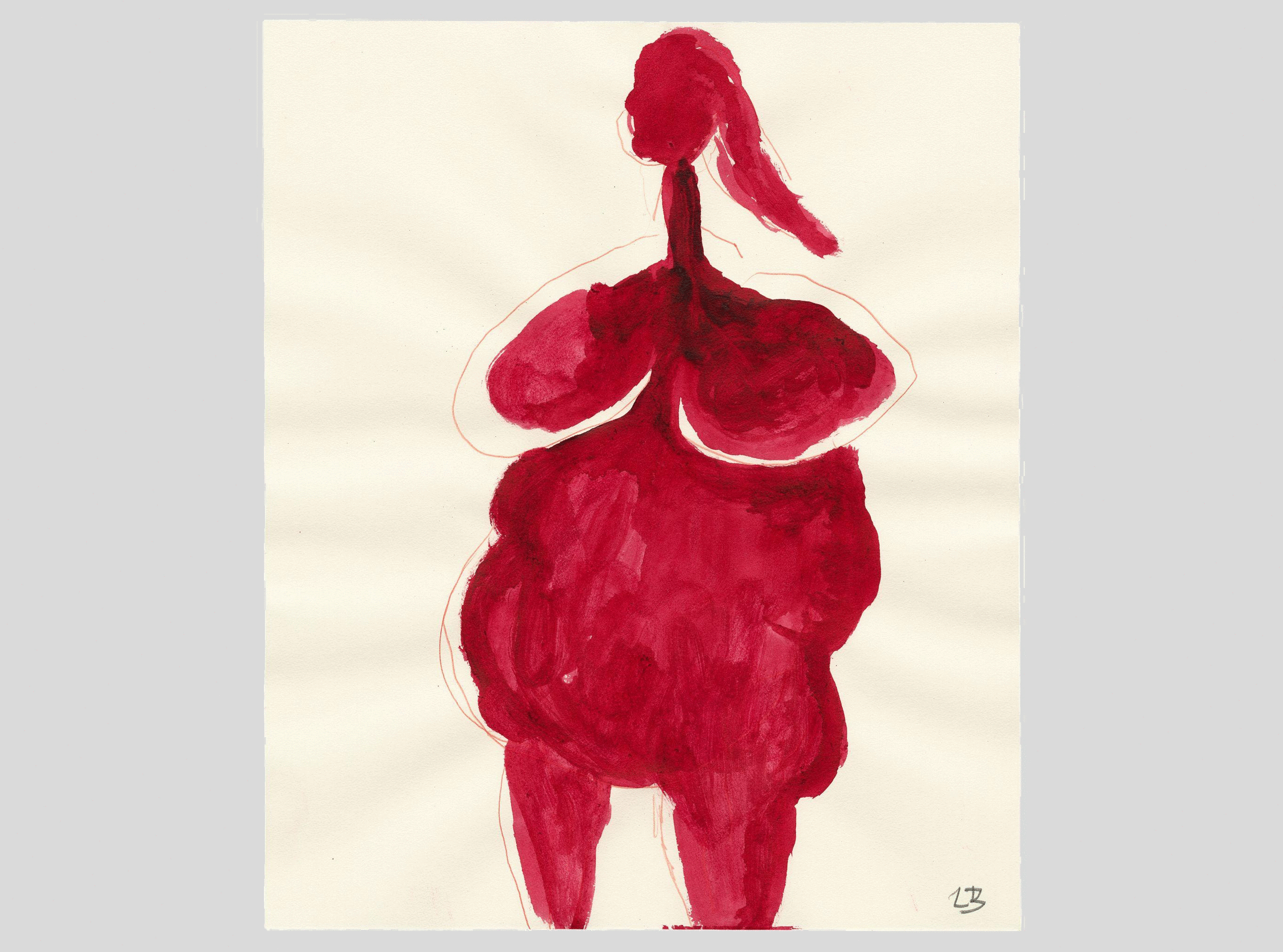 Louise Bourgeois, FEMME (2007). Gouache and coloured pencil on paper. Dimensions. 24.1 x 20.3 cm. Courtesy The Easton Foundation and Xavier Hufkens, Brussels.
Kanye West adapted a Louise Bourgeois gouache on paper work to promote his 10th studio album, Donda (2021). The album is an ode to his mother, who passed away aged 58 after elective surgery.
Bourgeois, who died in 2010, famously explored her relationship with her own mother through a series of bronze spider sculptures including the nine-metre-tall Maman (1999). The spiders can be intimidating, but Bourgeois said the arthropods were clever, helpful and protective, just like her mother―a weaver who restored tapestries.
West likely saw one of these sculptures, Crouching Spider (2003), when he visited Château La Coste in June, but he chose a very different Bourgeois work for the cover of Donda. The carmine red wet-on-wet gouache of a female form with the proportions of a fertility idol was created in 2007, the same year as Donda West's death.
The gouache painting was last publicly shown in 2015 in the exhibition Les têtes bleues et les femmes rouges at Xavier Hufkens, Brussels, which also sold Crouching Spider to Château La Coste.
A text introducing the exhibition contrasted Bourgeois' 'pink days' (good, productive, creative) with 'blue days' (unproductive, filled with despair).
About the nine red paintings, they wrote, 'With their full breasts and rounded stomachs, the figures are a lasting testament to Bourgeois's preoccupation with sexuality, pregnancy, motherhood, and the cycles of life.'
In West's life, the painting suggests not only his relationship with his mother, but his roles as father, former lover of Kim Kardashian, and a remarkably fecund artist.
West dressed in a similar colour palette to the painting—a red puffer jacket, red leather trousers, and orange shoes—for a Donda listening party at the Mercedes Benz Stadium in Atlanta on 22 July.
Ultimately, a black square was chosen as the album's official cover art.
West has worked with contemporary artists on several album covers.
He visited Takashi Murakami's Kaikai Kiki studio in Asaka, Japan, where they collaborated on the artwork for Graduation (2007). Kaws created a work for the deluxe edition of 808s and Heartbreak (2008). And George Condo painted West straddled by a phoenix for My Beautiful Dark Twisted Fantasy (2010).
Most recently, the artwork for Jesus is King (2019) is a photograph of a vinyl record in a hue that, given West's affinity for art and egotism, is surely a nod to artist Yves Klein's International Klein Blue. —[O]