News | Institutions
M+ Launches 'Watch and Chill' Video Exhibition
Featured works will show online, at exhibitions in Hong Kong, Seoul, and Chiang Mai, and at a drive-in cinema in Manila.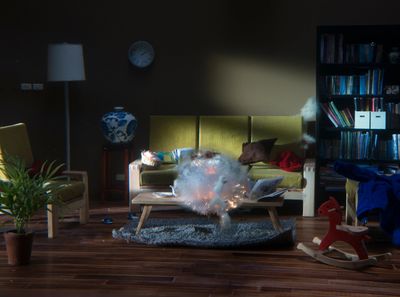 Yuan Goang-Ming, Dwelling - Moment III (2014). Digital photography, colour photograph. Image Courtesy of the Artist and Hanart TZ Gallery.
M+ Hong Kong has announced the launch of a new video art programme entitled Watch and Chill: Streaming Arts to Your Homes. The exhibition, which features more than 20 artworks, continues until 28 February 2022.
Watch and Chill was curated by M+ with Seoul's National Museum of Modern and Contemporary Art, Manila's Museum of Contemporary Art and Design, and Chiang Mai's MAIIAM Contemporary Art Museum.
The works can be viewed on a dedicated website, and at gallery exhibitions in Seoul and Chiang Mai, a drive-in cinema in Manila, and a series of screenings and public programmes in Hong Kong.
While the title echoes the popular euphemism for casual sex 'Netflix and Chill', the videos in the exhibition are more concerned with the mere act of coexisting with people and things in our daily lives.
The videos currently available online are grouped into four chapters.
'Things in My Living Room' contrasts Oh Min's neat organisation of household items in ABA Video (2016) with Yuan Goang-Ming's exploding living room Dwelling (2014).
In 'By the Other Being', Shireen Seno explores the relationship between her family and their wooden table, which is the same age as the artist, in her essayistic To Pick a Flower (2021). A talking parrot named Beuys is the subject of Wantanee Siripattananauntakul's Everyone is... (2017), which will be available from 3 September.
The sole video in the chapter 'Community of Houses' is Chai Siris' Four Seasons (2010), a portrait of a migrant construction worker on her days off.
The fourth chapter, 'Meta-Home', features Jiang Zhi's Fly, Fly (1997), a lyrical video of a hand mimicking a bird in flight as it traverses a small apartment. Koo Donghee's CrossxPollination (2016), which conflates a neighbourhood pub and a bathroom interiors showroom, will also be available from 17 September.
Watch and Chill is part of M+ International, an initiative that sees M+ partner with institutions around the world. Previous M+ International collaborations have included the Sydney Opera House, Mori Art Museum, Power Station of Art, and National Gallery Singapore. —[O]