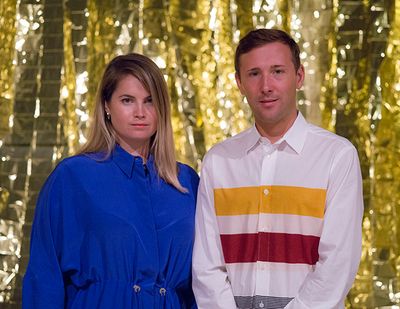 Aileen Burns and Johan Lundh. Courtesy of the Institute of Modern Art, Brisbane.
Having held the dual role of co-directors of Brisbane's Institute of Modern Art (IMA) for almost two years, Aileen Burns and Johan Lundh have shaken up the city's contemporary art landscape. The unprecedented formulation of a joint vocation of director and curator shared between two people saw two outsiders hailing from Canada and Sweden respectively enter into Australia's arts industry. Their mission: to recalibrate the vision for the organisation, updating its relevance and sustainability for the future, while making a meaningful contribution to the region and country.

With a string of professional accolades between them, the pair have imparted unique insights into the international arts scene in Australia, and in turn, have been warmly welcomed into the fold. The duo took time from their busy schedule to respond to questions from Ocula contributor, Rachael Vance.
What were your initial reasons for relocating to Australia for this unique dual position as joint co-directors of the IMA in Brisbane?
After a few quite restless years in Europe working first as independent curators and then as co-directors of the Centre for Contemporary Art in Derry, Northern Ireland, we were seeking a different challenge. An Australian colleague whom we had worked with on the Turner Prize in 2013 brought the IMA's search for a new director to our attention. They were looking for a single director to take over after senior New Zealand curator and writer, Robert Leonard. As partners in life and work, we decided to apply for the position of Executive Director together, which we got and now share. The IMA has a rich and interesting history as one of the first independent art spaces in Australia, in one of the most socio-politically complex states in the country. After 40 years, the IMA's mission is still relevant today, with an equal emphasis on showing Australian and international artists, and a dedication to learning and participation.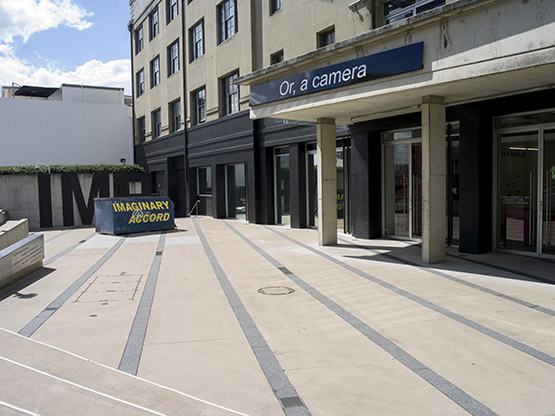 Imaginary Accord (2015), courtesy the Institute of Modern Art, Brisbane.
This was quite a big move, geographically and culturally speaking. What aspects of the Australian contemporary art scene have made the biggest impressions on you?
Australia feels both familiar and strange at the same time. In Queensland, the strength and distinctiveness of artists from indigenous backgrounds has been especially captivating. We had some contact with works by artists like Gordon Bennett and Tracey Moffatt before relocating and have learned a great deal about the rich artistic and political histories that underpin the context. We have worked with established figures like Richard Bell and Vernon Ah Kee, and have active projects developing with Dale Harding and Megan Cope. Each year, the IMA delivers a major survey of an Australian artist at a key moment in their practice. This has meant that we have had the privilege to get to know the work of artists like Stuart Ringholt and Gordon Bennett in greater depth.
Have you felt welcomed into the local arts community? What has the experience of being outsiders been like for you both?
Very much so. Australia has a small art scene, with limited opportunities. Most artists want nothing more than connecting with curators and institutions outside of the country to give greater context to their work and get feedback from an outside perspective. Having worked across North America and Europe for over a decade, we have an extensive network which we continually draw upon and whenever possible share with artists here.
Australia and New Zealand are two of the most geographically isolated places in the world, which means that their institutions need to be proactive in bringing people with new perspectives, and supporting local practitioners who are aiming to connect globally. Artspace in Auckland has actively hired directors not from New Zealand and at the same time imposed a fixed term of three years for the position. This has meant that a number of curators in the early stages of their careers have had a stint in Auckland, to the direct benefit to artists from New Zealand. It is an exciting model that we think there is something to be learned from by other institutions. We are grateful for the opportunity to contribute something to the artistic landscape here and to learn from the art and history of the context.

Slavs and Tatars: Mirrors for Princes
(2015), courtesy the Institute of Modern Art, Brisbane.
Can you discuss your collaborative working relationship and dynamic as a team. How do you filter creative and more administrative decisions between each other?
Artistically, our vision is shared, projects are co-curated and we write together. We spend most of our lives seeing art, discussing exhibitions, and meeting with artists. Conversation is at the centre of our perpetual collaboration. As with any organisation, administration is shared amongst all members of the team based on their skill set and the needs of the institution as a whole.
You have worked on some inspiring projects so far with artists such as Slavs and Tatars, Hito Steyerl and Sarah Browne that have offered Australian audiences the opportunity to view international positions while also exposing these artists to a new sphere. Is this an important aspect of the program?
Wherever we make exhibitions, we always strive to share practices that speak to a time and a place. Our ambition is to show artworks that will resonate with local conversations and artistic practices, while at the same time stay relevant to international art discourse. Doing so invariably involves working with international, Australian, and local artists. Hito Steyerl is making work about surveillance in the internet age that structures the existence of people living in Brisbane as much with audiences here it does in Amsterdam or New York. It is one thing to read about the work of Steyerl or Slavs and Tatars in ubiquitous art magazines that tout the importance of certain artists or approaches and another for audiences to see them first hand and draw their own conclusions about their relevance to art and life in Australia. Another feature of the IMA's outputs has always been its publications. We will continue this commitment and whenever possible co-publish with international partners to ensure wide distribution for our books. This year we have worked with JRP|Ringier, Mousse Publishing, and Sternberg Press.
Hito Steyerl: Too Much World (2014/15), courtesy the Institute of Modern Art, Brisbane.
Have you explored the Asia-Pacific contemporary art scene?
For us, this was one of the most exciting things about moving to Brisbane. Thus far, our research has concentrated on Australia and New Zealand but we were in Hong Kong and Singapore earlier this year and are going to do studio visits in Korea and Japan later this year. We hope that this research and relationship building will start to make its way into our program later in 2016 or 2017.

What is your overall vision for the institution in the coming years?
Our vision is to become the leading commissioning art space in the region by partnering with venues across the globe. Almost every aspect of our program is a collaboration, increasing its resources and expanding its reach. In the coming years, we will concentrate our energies on the production of works by artists at pivotal point in their practices, like in the case of Patrick Staff's
The Foundation
(2015), and curating survey exhibitions by leading or underrepresented, as with Hito Steyerl and Mierle Laderman Ukeles. In 2016, we are excited to partner with Monash University Museum of Art in Melbourne, on the first major survey and publication of Nicholas Mangan's practice.
—[O]