Amanda Rowell, 2015. Photo: courtesy, The Commercial.
The Commercial opened in Sydney in June 2012, representing a diverse group of Australian artists. Headed by founder and director, Amanda Rowell, the gallery has forged a vital role within the Australian contemporary art scene by representing early, mid and late career artists as well as the Gunter Christmann Estate (with Niagara Galleries) and the Michael Riley Estate (in association with the Michael Riley Foundation).

Amanda has enjoyed a long and accomplished career in contemporary visual art. Prior to opening The Commercial, she was gallery manager at Roslyn Oxley9 Gallery, Sydney from 2001- 2012, senior research assistant at Thirty Victoria Street (Director, Frank McDonald) in Sydney and Lucca, Italy and also worked for leading Australian dealer Eva Breuer. Parallel to her work in commercial galleries, Rowell has maintained an active presence as a freelance curator and writer working predominantly with emerging artists.

In this Ocula conversation we talked with Amanda as she prepared to exhibit at the much-anticipated second edition of Sydney Contemporary, Australia's premier international art fair.
You have worked in the Australian art market for several years across a range of sectors. When did your own personal interest in contemporary art begin?
In my early twenties, after a convoluted path that took me quite a long way away from art, I met a group of Sydney artists through my boyfriend at the time. Those artists, Hany Armanious, Mikala Dwyer and Tim Schultz in particular, have had a huge influence on me. I have worked with them in various ways over the years as a writer, curator and gallerist. I met them when I was a student doing an undergraduate degree in Art History and Theory at the University of Sydney. It was around the same time that Sarah Cottier Gallery opened in Newtown. Sarah's gallery was the first contemporary commercial gallery that I visited regularly. It has been formative of my interest in contemporary art.
I have worked for three art dealers: Eva Breuer with modernist Australian painting while I was studying, Frank McDonald at Thirty Victoria Street, working with old master European painting and sculpture in both Sydney and Lucca (Italy), sourcing works for public collections in Australia as well as important private collections—James Fairfax in particular—and ten years at Roslyn Oxley9 Gallery. Parallel to my working in commercial galleries (18 years), I have been active as a freelance writer and curator working especially with emerging artists. Although that was before opening the gallery. Everything I do now is channeled into The Commercial and its artists.
Narelle Jubelin, ALBERT FREY., 2015, from the series Box. Cotton thread on silk mesh petit point rendition. 12 x 9.5 cm. Bedroom in his owner built house in Palm Springs, 1964. Courtesy the artist and The Commercial Gallery, Sydney. Photo credit: Ho Hai Tran
Looking back to when you first began your career, what would you say have been the most significant changes in the Australian art market?
A significant turning point for the art market in Australia was a few weeks after I began as manager at Roslyn Oxley9 Gallery in 2001. Tracey Moffatt's iconic photograph
Something More 1
achieved a huge price at auction. At that moment, individuals who invested in the secondary market, until then predominantly in modernist painters and their predecessors, got the idea that contemporary art could be profitable as an investment. Interest, in the sense of enthusiasm, follows money.
Another big shift, an obvious one, which coincidentally happened around the same time was that art galleries began to build websites. Suddenly, Australia was less isolated and dissemination of information about contemporary art—both export and import—became quicker and comparatively effortless. The shift from analogue to digital photography is part of this story too.
Probably as part of a greater global awareness, certain Australian artists began to invest more in the production of their work than had hitherto been commonplace here. The work, which often involved professional fabricators, began to meet the artists' ambition and took it to another level. I am thinking mostly of sculpture here but it is also discernible in photography and video art.
Clare Milledge, Theoretical Headspeople, 2015. Oil on tempered glass, silk, hemp rope 120 x 120 x 20 cm. Courtesy the artist and The Commercial Gallery, Sydney. Photo credit: Jessica Maurer
How do you view the current climate for contemporary art in Australia? Where do you think the market is going?
The economics are changing and maturing. I think we are at the point where artists and galleries in Australia see that the price of their work is too cheap and that that is unsustainable given the financial costs, the time and the professional investment generally involved in producing it and getting to where we are now. It is important that prices on the primary market are realistic (by that I mean ambitious but modest). Artists need to be encouraged to realise their ideas as well as they possibly can without compromise. That involves a substantial amount of money as well as long development times. All of this needs to be reflected in its value in the eyes of collectors. Art in Australia is too cheap, somewhat exacerbated by the fact that prices are always quoted including GST.
Concurrent with this is a persistent, incipient bias against art being made here by many Australian collectors who are willing to pay big prices for artists from the Northern Hemisphere as trophies, but baulk at acknowledging local artists in the same way. When you compare the quality, conceptual rigour and originality of what artists are making here with what you routinely see at international art fairs, that strikes me as a ridiculous situation. It is not better. There is just more of it. Many times I have walked around the elite art fairs in Europe and the US, and had a strong sense that the artwork is no better, conceptually or aesthetically. Though it is more expensive. Everyone here—artists, galleries, collectors—need greater confidence to pursue things without compromise. Here is very good and would be better if we all just agree to raise the bar a bit. That comes directly down to prices. Proof of that is the number of Australian artists—and New Zealand artists—who achieve fame and market recognition overseas without them being identified as from this part of the world. It is then that Australian collectors sit up and take notice.
On a slightly different note, in Sydney in particular, there is a real problem with the cost of rents and real estate. Artists can't afford to have studios and galleries struggle to pay rent. It is imperative that artists and galleries have reasonably priced places to exist from which to feed the culture. There are so many brilliant artists and writers and curators here but it is a tiny population and it is difficult for them to find adequate support.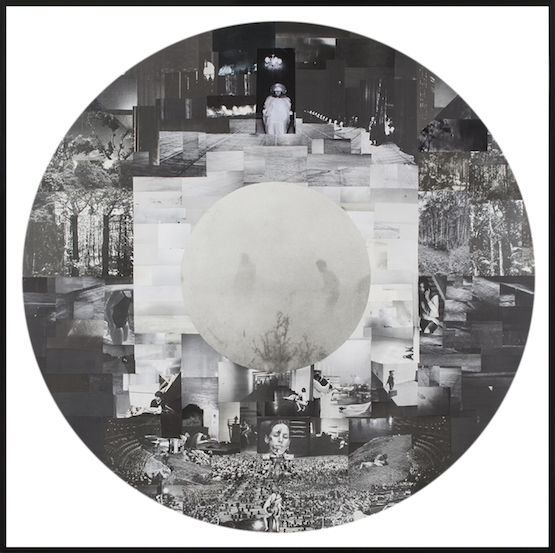 Lillian O'Neil, If you die everyone dies, 2015. Collage on kappa board. Collage diameter: 200 cm. Courtesy the artist and The Commercial Gallery, Sydney
I understand you opened the gallery with a roster of 12 artists that didn't have any other gallery representation­—a bold start for a new gallery. What do you look for in an artist and would you say there is a particular quality that defines a 'Commercial' artist?
It was obvious to me at the time. There are so many great artists and so few galleries. Why work with the same small group of artists who are lucky enough to already have gallery representation? Going against the grain makes for a more distinctive program. And, a group of dream artists were there, unrepresented. I look for single-mindedness, brilliant minds and a strong sense of self-understanding and self-trust. Risk-takers. A feeling that this individual has their own gravitational pull independent of the mad self-consciousness and narcissism of the art world in general. I like distinctive, compelling individuals. Those who are not trying really hard to make stuff that looks like art. Those who effortlessly exude it and can channel it in unconventional ways.
The seventh of September marks the start of Sydney Art Week, a dynamic program of public events that is set to further boost the profile of Sydney Contemporary. Share with us your top picks of the events on offer?
We have been so busy preparing that I haven't really had a chance to see what's on the program. Though Artspace in Woolloomooloo are launching their inaugural artist book fair, Volume. That will be good.
And what are you showing at Sydney Contemporary?
We will focus on a small group of younger artists who have been gaining recognition: paintings by Mitch Cairns, runner-up in this year's Archibald Portrait Prize and whose work is in big demand. Some obsessive, uncouth ceramics by Emily Hunt who was in Primavera and the Museum of Contemporary Art Australia last year, two huge and hugely sought after collages by Lillian O'Neil and a large group of stunning glass paintings by Clare Milledge, some of the first to come out of her Artspace studio. We have since added to that a cheeky cast bronze and mirror work by Robert Pulie. And, excitingly, the work of two important artists new to the gallery: Diena Georgetti and Narelle Jubelin. We will present both those artists for the first time at Sydney Contemporary. I am particularly excited about that. Separate to the gallery stand, Stephen Ralph has been selected for Installation Contemporary, curated by The Curators' Department. There will be an impressive group of his amazing cast concrete and carved wood busts in the corridor between the VIP room and the lectures.
Sydney Contemporary will include 75 galleries from 11 countries. How important are art fairs, and in particular the opportunity for international dialogue to the overall success of your business?
Art fairs are an important opportunity to meet new collectors and curators generally. They are also a great snapshot and way of comparing gallery with gallery and to give your gallery an added visibility. And I have always enjoyed the collegial aspect of art fairs. The gathering of the tribe.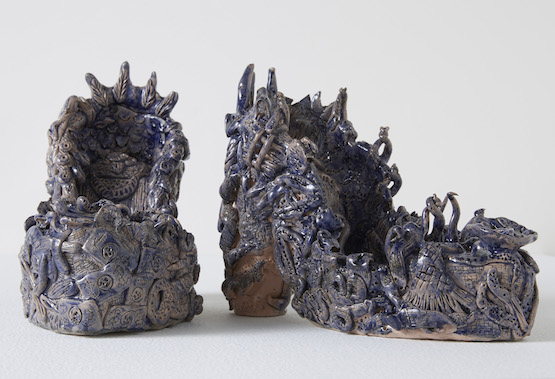 Emily Hunt, St John's Dance, 2015. Cobalt carbonate & clear glaze on stoneware. 2 objects: 16 x 29 x 38 cm overall. Courtesy the artist and The Commercial Gallery, Sydney. Photo credit: Ho Hai Tran
You are opening an Archie Moore exhibition at the gallery during Sydney Art Week. Tell us about the exhibition?
Archie Moore is a hugely intelligent and interesting artist. Certainly one of the most subtle-minded contemporary artists practicing right now. His work is very political but he doesn't deal in dumbed-down polemics. He is exhibiting a major new photographic work called
Blood Fraction
. It is an expanded self-portrait comprised of one hundred images. It is about quantification of race and raises many questions. The exhibition comes at a time when dialogue about the racism of white Australia towards Aboriginal people has reached something of a crescendo in the media here.
I was interested to read you are a participant in the newly launched, Art Money scheme, which offers interest free loans to collectors to buy art. Can you tell us about this and what sort of success it is having?
Art Money is an excellent initiative. Already, since it was launched in April this year, we have made five sales through it. They are sales that may not have happened otherwise. It is making buying art more accessible to a larger group of people. Another great thing about it from a gallery perspective is that, while I have always been open to clients paying off works, it saves us a lot in bookkeeping costs not having to keep track of where everything is up to with payments. The client gets to take the work immediately and the artist and gallery get paid within ten days. Win, win, win.
What have you got coming up at the gallery for the rest of 2015?
A much anticipated solo exhibition of Lillian O'Neil collages. There is a long waiting list for her work. Then we will be in New York in late November for Performa, the preeminent biennial of international performance art. Agatha Gothe-Snape has been invited to that and is developing a major new work. We will be ending the year with a solo show by Andrew Liversidge continuing his ambitious, conceptual coin melt series. —[O]