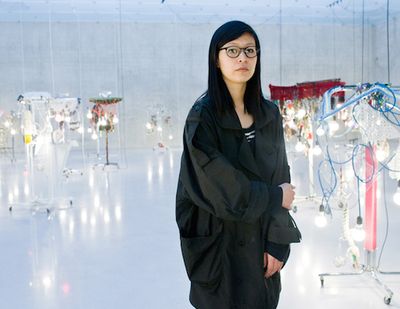 Haegue Yang (b.1971) is a South Korean artist, who lives and works in Berlin and Seoul. She is best known for drawing on a wide repertoire of ordinary household objects to create visually abstract sculptures and installations that often evoke the senses on several levels and delve into a cacophony of social, historical and political narratives.

While venetian blinds have come to be the most recognisable motif of Yang's practice, they obscure a far reaching exploration of both materials and ideas that has continued to evolve. Two presentations of the artist's work this year will serve as timely reminders of the scope of her work and the ongoing development and exploration of her practice, namely Medicine Men
and Female Natives (2010) which will be shown at the Taipei Biennial and the sculptural ensemble of so-called 'Sonic Sculptures' for Mediacity in Seoul. While the first part of this two part interview investigates her earlier works, and some of the ideas underpinning her practice, this second part delves into her upcoming projects, and in particular the works that will appear at the Taipei Biennial and Mediacity Seoul, as well as the challenges she still wishes to explore.
WHAT NEXT
What projects do you have coming up?
There are only several projects on this year, often where I will be showing older works, yet juxtaposing them with a new context. There is one group show and two Biennale participations: there is the light sculptures Medicine Men and Female Natives from 2010 for Taipei Biennial, blind installation Mountains of Encounter from 2008 for a three-men show at the Contemporary Art Museum in Houston and lastly, a sculptural ensemble of so-called sonic sculptures for Mediacity in Seoul.
There are also some pending projects in 2015 and 2016, including solo shows in Seoul, Beijing, Berlin, Brussels and presentations at Biennales, such as Sharjah Biennale and Asian Pacific Triennial in Brisbane. One of my current areas of focus is my solo exhibition at Leeum, Seoul in February 2015. I am conceiving some new pieces, while setting up a second studio in Seoul, which is in fact my first working space ever other than in Berlin.
TAIPEI BIENNIAL 2014
You will show Medicine Men and Female Natives (2010) at the Taipei Biennial 2014. Both Medicine Men and Female Natives were part of a large group of 33 sculptures, Warrior Believer Lover that you created in 2010. What was the impetus for originally creating this group of sculptures?
Originally conceived for Kunsthaus Bregenz in 2011, Warrior Believer Lover is a selection of thirty-three anthropomorphic light sculptures that can be further distinguished into groups, couples and individuals, including the group of six of Medicine Men and Female Natives. Each light sculpture is a composition of light bulbs, electric cords and readymade and handcrafted materials such as artificial plants and wigs around a commercial metal stand, conjuring up figures imbued with personality and history. I have been creating light sculptures since 2006 and when thinking about the title, the human-like quality of these sculptures prompted me to consider archetypes whose lives testify deep commitment to a particular value. For instance: the warrior who fights for something with intensity; the believer who lives with absolute faith; and the lover who courageously exposes themself to the other.
Is there a specific significance in the process and materials you used to create these works?
Each set of sculptures are adorned with elaborate ornaments and I work intuitively, drawing on the associations and origins of the industrial, readymade or handcrafted objects, while decontextualizing them - allowing their inherent qualities to emerge in new and unfamiliar ways. For example, in using artificial plants for Female Natives, there is an evident narrative around understandings of nature and artifice. One could possibly relate to these sculptures as indigenous females who have a close relationship to a nature that is apparently manmade. Isn't all that we seek or obtain artificial, in some way? Is our nature in fact essentially akin to an extraterrestrial being?
Questions on humankind's achievements and pursuits come into play too. The selection of plants addresses various vegetation and climates; and is also made to draw a landscape of multiple cultures and communities.
And what about Female Natives male counter-part, Medicine Men?
Medicine Men are decked out with party wigs of multiple colors and hair types, destabilizing the title's masculine connotations. If we look at medicine men in animalistic religions, many assume an ambiguous gender. A myriad of decorative objects from mylar to tinsel, aluminum reflectors, feather dusters, dried spices, plant leaves, and even seashells, reinforce this ambiguity. Wigs are also part of the transformation that shamans went through when they intended transforming their appearances to 'connect' themselves to spirits, inhabiting another world.
The original shapes and substances of the readymades are retained and the sculpture is at times, an insight into crisscrossing migratory and trade routes. Yet, one should venture beyond the conventional readings of these objects. Assembling these objects, often ordinary and domestic items, decontextualizes and transforms them in surprising ways. They become foreign, yet strangely familiar. I am interested in both my own process of discovery, and also that of the viewer. I am also interested in how the chance encounters with an object can open up new, and sometimes unexpected narratives or emotions.
Research into cultural, social and political history often underpins your work. I understand the sculptures in Warrior Believer Lover refer to a multiplicity of cultural references from the ballet and orchestral concert work, The Rite of Spring to Walter de Maria's Lighting Field. Can we discuss some of these references?
For installations of Medicine Man and Female Natives, Igor Stravinsky's The Rite of Spring (1913) is played two to three times a day and at the Islamic prayer hour. The Rite of Spring was written for the 1913 Paris season of Sergei Diaghilev's Ballets Russes company; and the original choreography was by Vaslav Nijinsky. Its dissonance and primitive rhythms underline the anthropomorphism of the light sculptures and the asynchronous layering of ritualistic practices. Through the ballet and allusion to Islamic prayer, we encounter layers of multiple cultural references, which in turn are intended to build upon those already implied by Stravinsky and Nijinsky's use of Native Indian's spring ritual in the radical eclectic choreography and challenging musical score of the ballet. It is as if the sculptures are Nijinsky's dancers, gathered together as historically marginalized cultural subjects, demonstrating the different topography and chronology of the globe and juxtaposing the primitive with the industrialized; and ultimately in pursuit of hybrid bodies that capture the moment of community in constant mutation.
In complete violation of classical traditions and representing a sacred pagan ritual, shudders, jerks and thumps dominated the choreography of Nijinsky - a reflection of the anticlassical trajectory of my light sculptures. Written for the Ballets Russes, the primitivism of the dance did not enjoy the same radicalism claimed by Gauguin, Picasso, and other Parisian artists. As Russians bearing pagan and mysterious origins, they were considered exotic which ironically worked against them, as only those from within were deemed capable of producing exotic art. The ambiguity of exoticism is, still today, an issue for artists. But I am less interested in political correctness around post-colonial discourse. I am more interested in the concept of 'detour' - the strategy of diversion and the presentation of alternative paradigmatic formulas for understanding identity.
MEDIACITY SEOUL
Tell me about what you will be showing at Mediacity Seoul, which opens soon?
I will create an entirely new ensemble for Mediacity in Seoul.
"Ghosts, Spies, and Grandmothers", is the theme of the upcoming Mediacity Seoul, and my contribution to this event is very much driven by these keywords. Against the prevailing socio-political climate in Asia of rising nationalism and mutual distrust, and underpinned by economies powered by technological advancements, figures whose voices have been silenced or under the radar are being awakened. These otherworldly and traditional figures from a past era, typified by the 'Ghost, Spy and Grandmother', are summoned back as alternative voices of counsel, tradition and hope to the dominant narratives of today.
On the ground floor of Mediacity Seoul, a spherical bell sculpture, Sonic Full Moon – Medium Regular #2 (2014) is hung from the ceiling, right above the start point of the taped drawing, implying a kind of orbital constellation while Sonic Dance – Half Sister (2014) and two Windy Orbits, Windy Orbit– Brass Plated and Windy Orbit– Brass and Nickel Plated (2013), are placed at a junction of lines.
I understand movement is very relevant to these works?
The notions of movement animated by visitor's manual input, as well as the cosmic geometry resulted from each movement is one of the focal interpretations of this ensemble. The viewer could actually 'dance' with the sculptures, supplying the given space with new sonic effects that are created by bells attached on the surface of metal-mesh structures. The bells are intended to trigger associations with ancient times in the history of civilisation, where they were often used for shamanic rituals, calling out to the spirits through their sound. In my recent sculptural development, the bells seem to be endowing a life-giving and communicative quality to robot-like and rigid figures.
The bells also mirror and therefore multiply the viewer's reflection. In the Mediacity presentation, these visual as well as the non-visual sensorial and metaphoric aspects are accentuated by focusing on the wind, sounds and patterns that movement brings to the work. This ensemble on the ground floor of Seoul Museum of Arts at Mediacity will construct a constellation of an imaginary cosmic order, which is less rational, yet valuable to reconsider less pre-determined ways of thinking.
In the upper floor, a range of Sonic Rotating Ovals are hung, where the 'blurring' of the initial geometric form that occurs through the rotation suggest the 'unlearning' of the original form and material. This spinning transforms the ovoid shape of the piece into a circular form, a moment close to a 'perfect geometry.'
REFLECTION
When looking back over the course of your career – from early works like Traces of Anonymous Pupil Authors (2001) to Storage Piece (2004), to more recent work like the sculptures in Warrior Believer Lover (2011) or the Sonic Rotating Ovals and Sonic Dances that will be presented at Mediacity Seoul 2014 – is there a common thread that you feel defines who you are as an artist?
Well, I guess I am not an artist whose practice could be bound to specific topics or subject matters easily. In fact, I am almost ignorant to that. My aspirations relate to fostering an understanding of how human interests extend beyond the given boundaries and categorisations. In other words, an artistic practice should be something actual; something to experience, not necessarily to understand; and it should rather resist the conventional idea of possessing a common thread or summary in the sense of an understandable message.
There is an evolution of an artist's practice and even if I feel I am aware of this, I might be not the best person to analyse it or draw conclusions from it. The only thing I could tell for a moment is what unknown mental adventure my work attempts to cause and what goes beyond that. I would rather hear from the audience, writer and various recipients a desire to interact further with my work, or an idea fostered by the work.
Is there anything in particular you feel you would like to explore that you have not yet tapped into?
Well, I wish to explore more about Korea, especially the significance of the country's division. I also generally would like to further explore Asia as a region, which ranges from Istanbul via the Middle East and Central Asia and up to the so-called Far East (over India or via Central Asia). I guess it will be a long-term engagement that will occupy me for a while as an almost-subconscious task underlying all the projects I am currently conceiving. It is exciting and terrifying, since whatever I attempt to delve into, requires a visual response through materials, method and the creation of a new way of perception. It is a long way…, but I guess I am willing to face a new chapter of challenges. Since my development from 2006 up to now has been rich and rewarding, I look forward to a new complex and difficult chapter to struggle through.