Shinro Ohtake. Image courtesy STPI.
Born in Tokyo in 1955, Shinro Ohtake's works are multilayered studies of materiality, form and process. Over the past 30 years he has steadily built an impressive and varied collection of drawings, paintings and collages as well as large-scale assemblage pieces, music and videos; but while he is well-known in Japan, it's only recently that he has gained the international recognition he deserves.
In 2012, he took part in dOCUMENTA (13) and in 2013 Massimiliano Gioni's Venice Biennale featured an astonishing collection of his scrapbooks: the densely-collaged sculptural works the artist has been making since the 1970s.
Ocula caught up with Shinro in Singapore while he was undertaking a residency at STPI during 2015. An exhibition of the works that resulted from the residency are currently on show at STPI in an exhibition entitled Paper - Sight (26 September–5 November 2016).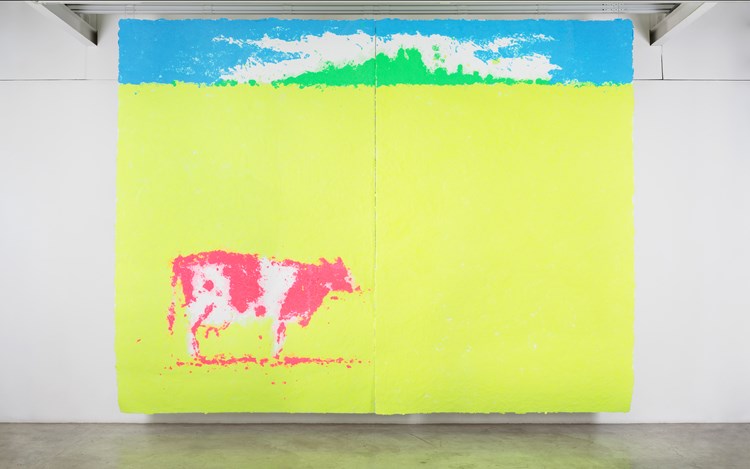 Exhibition view of Shinro Ohtake, Paper - Sight, 2016 at STPI - Creative Workshop & Gallery Singapore. © STPI/Shinro Ohtake.
LR

You studied at the Musashino Art University in Tokyo. When did you decide you were going to be an artist? Was there a defining moment?

SOI was a kid in the 1960s and at that time, comics and Japanese animation were huge so I wanted to be a cartoonist. They were my heroes. At that time, I didn't know about art at all but when I was 13 there was a Rembrandt show in Tokyo that my mother took me to. I don't know why; my mother and family were not into art at all and they had no art background. I remember being completely amazed and it was where I discovered oil painting for the first time. It was a kind of magic. It was like photography—totally flat—but looked three-dimensional.

After the show, I asked my mother to buy me an oil-painting set—the cheapest one! I started by myself at home without a teacher and began to look through books about oil painting where I found Picasso, van Gogh, Cézanne, Matisse and all the masters. My brother would bring home books and records from the TV company he worked at. I came across Pop art and thought it was so shocking. I also came across silk screening, photography and other forms that weren't painting. It was a big discovery. I thought if that is art I want to do it!
LR

You emerged onto the art scene with a breakout solo show in 1982 at Gallery Watari (which represented international artists including Joseph Beuys, Nam June Paik and Andy Warhol). Can you tell me about the art scene during that time in Tokyo?

SOThey called it 'New Painting', which was a global term for a new expressionism and it referred to artists like Schnabel and Basquiat. It was a big invasion to Asia. I remember in the 1970s painting was so old-fashioned. People in Japan were looking to the West, to America. They didn't care about Japanese art. It had been a really traditional mentality.
LR

You soon after moved from Tokyo to a small port town, Uwajima in Shikoku, where you are still based. What were the reasons for moving away from the centre of action?

SOBasically because there was no space in Tokyo! I had decided for my next show that I would make some three-dimensional works but it was an obscure idea and I didn't know what materials to use. When I visited, a man working in a shipyard asked me if there were any sites I would like to see, referring to the beautiful nature or landscape. And I said, 'I would like to see the trash of the ship yard.' He gave me two ships. That was a big lure for moving because I couldn't bring that material back to Tokyo. The wooden ships were so beautiful. I cut them into pieces and reconstructed them. It was my first sculpture.

I rented a huge factory space in the mountain and I planned on staying a couple of years to make these sculptures. It wasn't easy, it was very isolated. No one there knew or cared about art. Many people in Tokyo told me not to go and said that it would be really bad—they said I'd be finished. I had already done two or three shows in Tokyo and one in London and they said that would be the end of me. I knew it was a really big thing to move but I didn't care. I thought if I disappear that's it but I knew that if my work had power then people would come from New York or London—that was a delusion but it did happen finally! It only took 30 years! [Laughs]
Exhibition view of Shinro Ohtake, Paper - Sight, 2016 at STPI - Creative Workshop & Gallery Singapore. © STPI/Shinro Ohtake.
LR

You've made over 60 scrapbooks since the 1970s. You've used ephemera such as maps, ticket stubs, film posters from many different cultures and eras; I wonder if there is a narrative we can read? How do you select your material?

SOI simply select what I like or I dislike. For me the scrapbook is kind of a field for experimentation. There are no rules and I can do anything. I do it when I like to do it. The scrapbook has to be fun; that's really important. It's difficult to talk about the concept for my scrapbooks. I know in the contemporary art world the message is important, but not necessarily for everything. If I could explain it, I wouldn't paint. Ten years ago, I would make these absolutely huge books and one took me five years to complete. Now I don't care about the pages or the size, but I must continue.
LR

How do you know when you're finished?

SOWhen I feel that I am almost done, I start to make a new book. So the ending period becomes the beginning period of the next one.
LR

You once said you felt that art making was akin to building up a map of everything that exists inside you, like layers of concealed memory and time. Can you talk about that?

SOI think everyone has their own map and the map has many layers; it's an accumulation of time. Finding the map inside and trying to see the inner landscape is really similar to making things. Making work is how I can look at this world.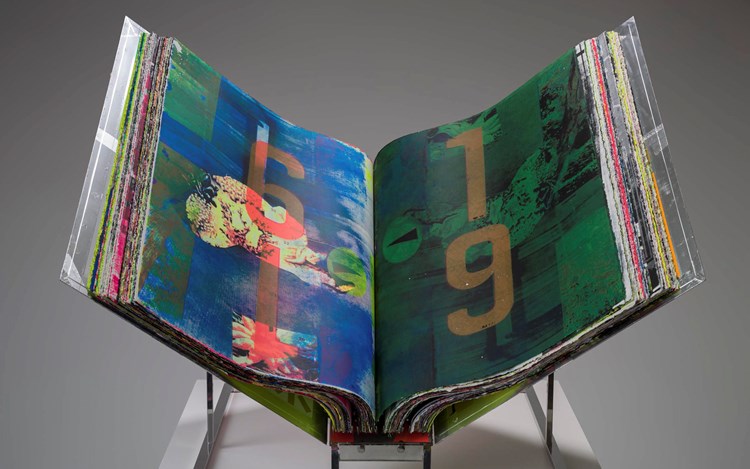 Exhibition view of Shinro Ohtake, Paper - Sight, 2016 at STPI - Creative Workshop & Gallery Singapore. © STPI/Shinro Ohtake.
LR

Music has played a significant role in your life and in 1995 you formed the band Puzzle Punks. You've also collaborated with the musician Ryuichi Sakamoto. How do the acoustic and visual intersect for you?

SOI like music and my brother was a huge influence. I can remember so much Japanese and American pop because my brother would buy three singles and play them over a hundred times each. I like listening to good music but I never wanted to be a musician because I never wanted to make a melody. I wanted to take on a more experimental, original approach. Making a track with instruments and a melody had already been done and others have done it much better than me—it's the same idea with my art, I want to be original. There's a strong relationship between art and music.
LR

You employ such a diverse range of materials and mediums in your practice. Is there a reason you consider yourself first and foremost a painter?

SOTraditionally, painting means using paint. But for me, making sculpture is a similar approach to painting. The feeling is the same. I don't know how it works for other people, but drawing is the basis of my practice. I am not interested in artists who make good work but cannot draw. It's my own rule: Artists have to draw. Artists have to be able to express their ideas using only pencil and paper.
LR

Do you follow any other contemporary artists?

SOI don't know any other artists. I don't like the art world! (Laughs) I don't have any artist friends. I have friends who are designers, editors, musicians but not artists.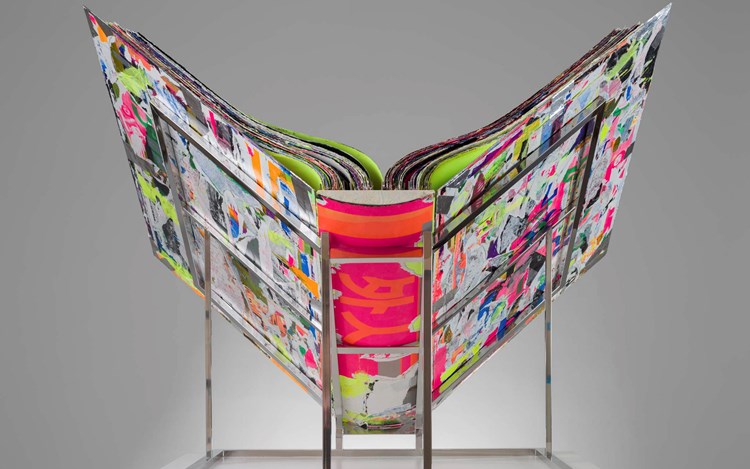 Exhibition view of Shinro Ohtake, Paper - Sight, 2016 at STPI - Creative Workshop & Gallery Singapore. © STPI/Shinro Ohtake.
LR

Would you say that you once were interested? In your 20s, you were really inspired by David Hockney and travelled to London to seek him out as a mentor.

SOI've been asked so many times about that Hockney episode. When people write about me they always focus on Hockney—Hockney and me! But at that time, it was about discovering. Tokyo was so conservative. It was really austere and had a bad feeling. Everyone was so negative and critical. I hated the Japanese contemporary art world.
LR

What interested you in doing a residency at STPI?

SOPrintmaking is a really interesting subject. I started doing silk screens and etchings when I was in high school and I haven't done it for over 20 years. I came across Ken Tyler in the mid-1970s through books and knew that he was strongly connected to this institution. He has worked with Hockney, Rauschenberg, Lichtenstein and many others. In 1978, when Hockney was at the Ken Tyler studio, he created these amazing paper pulp works. I was really interested in that technique, which is really hard to do.
LR

Did you come with some ideas of what you wanted do?

SOI had no idea. If I don't know the technique, I can't plan what I will do. The works I have created here came out of experimentation. I have made a huge book using silk screening, which will be sent back to Japan and next year I will start to bind it and make the cover. Three years ago, I went to documenta and then made the work in Japan before I sent it. It depended on what material I could find in Kassel. That book was really hard to make, it was around 200 or 300 kilograms. This book will be at least 200 kilograms.
LR

Is there something that you would like to make but haven't realised yet?

SOIt's not an art thing ... but I have wanted to make a bar for a long time. Everything has to be totally original and I will make the chairs and tables and tiles. I don't want it to be a cool or arty bar, but somewhere I can play my records. —[O]