If Koyo Kouoh's 37th EVA International took the Easter Rising of 1916 as its starting point, marking the beginning of a revolutionary period that culminated in the establishment of the Irish Free State in 1922, then Inti Guerrero's follow-up edition continues the trajectory.
With no title, the 38th edition of EVA International (14 April–8 July 2018) is anchored to a 1926/27 painting by Seán Keating, Night's Candles Are Burnt Out: an oil on canvas 'allegory of Irish society' that depicts a group of men plus one woman—including a capitalist, a priest, and the skeletal remains of a hung solider—foregrounding a view of the Ardnacrusha Power Station, the first to be constructed post-independence. This hydroelectric dam, part of the Shannon Hydroelectric Scheme aimed at electrifying and modernising the new state, was constructed north of Limerick, home of EVA International, on the River Shannon, between 1925 and 1929. Guerrero describes it as 'the futurist emblem of a modern free state after hundreds of years of British colonial rule'.
Liu Xiaodong, Hot Bed I (2005). Exhibition view: EVA International 2018, Limerick (14 April–8 July 2018). Courtesy the artist and EVA International. Photo: Deirdre Power.
Keating's painting is presented in the first room of the Limerick City Gallery of Art—one of the five venues included in the exhibition (not counting a parallel show in Dublin at IMMA, which ran from 6 April to 27 May 2018, featuring Roy Dib, Locky Morris, and Marlon T. Riggs)—alongside a series of studies the artist created around Ardnacrusha. Surrounding these are works by some of the 56 artists from 28 countries included in this exhibition, which addresses the theme of power and its transmission in both literal and figurative senses.
Liu Xiaodong's series of photographs comprising Hot Bed I (2005), for instance, offers a direct connection to the main theme of producing power as a state project. Images document the artist painting labourers working on the Three Gorges Dam on the Yangtze River in China—the largest hydroelectric dam in the world that displaced around 1 million people. (On a rooftop in Fengjie city, we see 11 men sitting on and around a mattress.) Likewise, Inji Efflatoun's 1964 oil on canvas painting Les Diables Rouges (Red Devils), depicts heavy machinery and boats on the Nile in tones of blue, green and red: a reference to the construction of the Aswan High Dam, part of Gamal Abdel Nasser's ambitious drive to modernise Egypt, and the largest rock-filled dam in the world at the time of its completion in 1971.1 ('Here are joined the political, social, national and military battles of the Egyptian people, welded together like a gigantic mass of rock', Nasser is quoted to have said.2)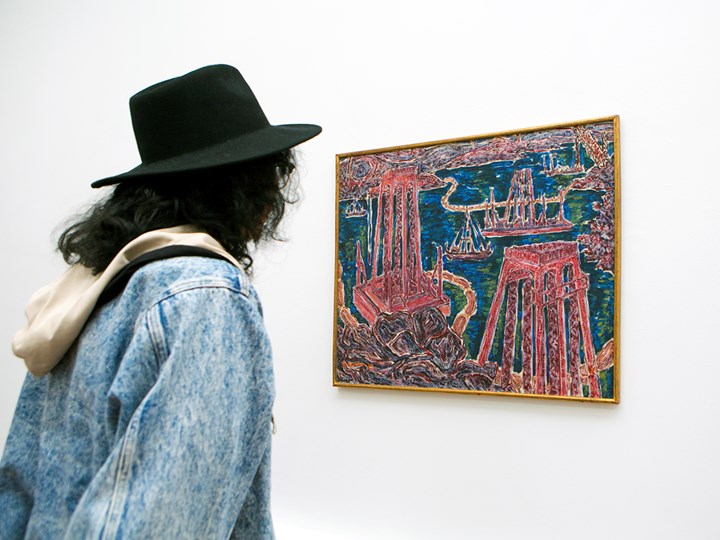 Inji Efflatoun, Les Diables Rouges (1964). Oil on canvas. Exhibition view: EVA International 2018, Limerick (14 April–8 July 2018). Courtesy the private collection, Egypt; and EVA International. Photo: Deirdre Power.
The ambiguity that Guerrero identifies in Keating's painting of Ardnacrusha, which viewed modernisation with trepidation, is palpable in works in this biennial that explore the politics of state power through the use of energy as a modernising force. José Castrellón's Palo Enceba'o (2014–2016), a series of prints and a one-minute video, focuses on the January 1964 riots for sovereignty of the Panama Canal Zone, a US territory from 1903 to 1979, and includes a framed edition of the 24 January 1964 LIFE magazine cover showing students raising a Panamanian flag on top of a street light. The image frames electricity as a site of power, struggle, resistance, and emancipation, which contrasts with Uchechukwu James-Iroha's series of black and white photographs, Power and Powers (2012), of black bodies either chained to electrical generators or standing among electric cables.
Sutthirat Supaparinya, on the other hand, focuses on the impact on the natural landscape and environment of projects such as the Srinakarin Dam and the Mae Moh Lignite mine in Thailand—both managed by the country's Electricity Generating Authority—in When Need Moves the Earth (2014): a synchronised three-channel video installation that presents views of these sites side by side.
Sutthirat Supaparinya, When Need Moves the Earth (1992). Synchronised 3-channel video installation. Exhibition view: EVA International 2018, Limerick (14 April–8 July 2018). Courtesy the artist, Earth Observatory of Singapore (NTU), and EVA International. Photo: Deirdre Power.
This focused study on the physical and generative infrastructures of state power at the Limerick City Gallery of Art is brought back to context in Lee Bul's hanging chandelier of glass, acrylic beads, and mirrors, State of Reflection (2016), whose glittering form looks like a cross between a hanging island and a deconstructed Tatlin tower. The sculpture references German architect Bruno Taut, who designed proposals for communal Alpine cities constructed from crystal, glass and light during World War I as a way to encourage peace. This backstory recalls the fact that Ardnacrusha was built by the German firm Siemens-Schuckertwerke only a few years after Germany's defeat in World War I, which resulted in massive reparations to Britain and France. (As to be expected, the Irish had no problem working with England's nemesis.) It was Irish physicist and electrical engineer Thomas McLaughlin who considered the lower part of the River Shannon an ideal site for the project—he worked at Siemens-Schuckertwerke at the time.3
Another geopolitical mapping is drawn out at the former Cleeves Condensed Milk Factory, where Adrian Duncan and Feargal Ward's large-scale video installation, The soil became Scandinavian (2018), is presented in a large warehouse space with large wooden tree trunks positioned around the screen. The film, which includes scenes of a solitary figure moving through a snowscape, recounts a 1946 Irish expedition to Finland for the purposes of sourcing appropriate trees to be used for electricity poles as part of Rural Electrification Scheme, which has been referred to as 'the quiet revolution' for the impact that it had on Ireland's economic and social development.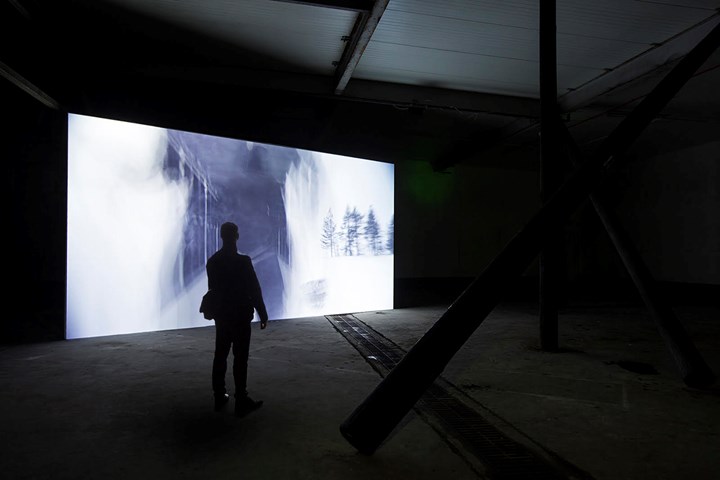 Adrian Duncan and Feargal Ward, The soil became Scandinavian (2018). Mixed media installation. Exhibition view: EVA International 2018, Limerick (14 April–8 July 2018). Courtesy the artists and EVA International. Photo: Deirdre Power.
Yet, while some works allude directly to the politics of electric power and its relationship to the form of the modern state, others connect to this biennial's overarching theme through an expansion of the metaphor of power and light. Also installed at the Limerick City Gallery is Trevor Yeung's Last Summer Sunset: two candles resting on a bronze palm leaf base representing a 'pre-modern source of light' that, as the curatorial text notes, implores viewers 'to engage with an alternative source of light that isn't reliant on technology or electricity'.
Similarly, Laurent Grasso's animated film Soleil Double (2014) at Cleeves Factory travels through the Esposizione Universale Roma complex, constructed on the orders of Mussolini for an unrealised 1942 World's Fair commemorating two decades of fascism. Throughout the film, focus is placed on the clean modern lines of the buildings that make up this site, and the classical statues that connect with an imperial Roman past. Twin suns shine over these scenes, symbolising creation and destruction—the two forces that power has the potential to bring about. John Duncan's photographs of bonfire structures built around Belfast shown at the Limerick City Gallery and the former Limerick Clothing Factory—part of a Protestant tradition commemorating the defeat of the Catholic King James at the 1690 Battle of the Boyne—underscores this fact by considering the creation of fire (or light) as a dividing force.
Laurent Grasso, Soleil Double (2014). 16mm film loop. 11 min. Exhibition view: EVA International 2018, Limerick (14 April–8 July 2018). Courtesy the artist, Galerie Perrotin, Sean Kelly Gallery and EVA International. Photo: Deirdre Power.
Back at Cleeves Factory, John Gerrard's simulation Solar Reserve (Tonopah, Nevada) (2014), is shown on a large free-standing screen in a large, dark room. The simulation explores the relationship between power as an abstract form and its concrete manifestation as material energy that humans can and do manipulate. It tracks the movement of the sun around a solar-thermal power tower in Nevada, around which ten thousand mirrors are positioned to reflect the sunlight onto it.
Indeed, at Cleeves, the concept of power shifts from a focus on state infrastructure to innovative potential. Take 20th-century designer and architect Eileen Gray's impressive 1927 Tube Light: a standing opal tube light supported by a simple steel stem resting on a spun steel base. Gray's elegant, modern design is positioned alone at the entrance to a dark, cavernous space dedicated to Sam Keogh's Integrated Mystery House (2018)—a stage-cum-citadel constructed out of discarded computer screens and keyboards, connected by various collages, wires, plastic, and other materials. Described as a starship control panel, though it feels more like a DIY spatial circuit board, a screen hangs to the side of this eerie cyberpunk scene, showing performances the artist has staged as part of the biennial's run. In these performances, Keogh takes on the role of mad-scientist storyteller, relating rambling tales from Silicon Valley, a mansion built by the widow of a rifle maker, immigrant workers in Intel's microchip fabrication labs, and a stranded and underfunded NASA museum. In this effective pairing, we move from the innovative modernist simplicity of early 20th-century design, to a complex and messy techno-present where history and a fast-approaching future meet.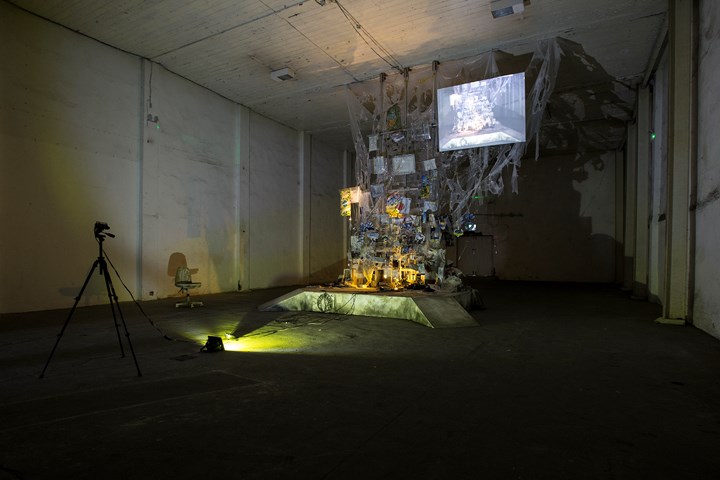 Sam Keogh, Integrated Mystery House (2018). Exhibition view: EVA International 2018, Limerick (14 April–8 July 2018). Courtesy the artist, Kerlin Gallery, EVA International. Photo: Deirdre Power.
Such juxtapositions between past and present (or here and there) are effective in this show, which tends towards an emphasis on materiality. An installation of stunning sculptures by Isabel Nolan in an adjacent warehouse, for instance, include a trio of hanging 'chandeliers' from 2017 and 2018, made from circular steel frames on which pieces of coloured fabrics are hung; plus Sun Comprehending Glass (2018), a screen made from a series of painted steel arches whose minimalist composition recalls decorative elements of a church interior. Nolan's focus on form, shape and colour recalls Mainie Jellet's stunning oil on canvas abstractions from the 1930s, which take religious paintings as their inspiration before deconstructing them into shapes and lines. Like Gray, Jellet is a prominent figure in the emergence of a modern, post-colonial Ireland: she exhibited at the 1928 Olympic Games, presented commissioned works at the 1938 Glasgow Empire Exhibition and in the Irish Pavilion at the 1939 World's Fair in New York.
Mainie Jellett, Abstract Composition (1935). Oil on canvas. Courtesy Crawford Art Gallery, Cork; Pieta Abstract (Date unknown). Gouache on card. Courtesy Limerick City Gallery of Art; Deposition (abstract) (1940). Oil on canvas. Courtesy University of Limerick; Untitled (c. 1930). Oil on canvas. Courtesy University of Limerick; Abstract Composition (1935). Oil on canvas. Courtesy Crawford Art Gallery, Cork. Exhibition view: EVA International 2018, Limerick (14 April–8 July 2018). Photo: Deirdre Power.
Historical works like these illuminate what lies at the core of this Eva International and its focus on power and statehood, as expressed in the former Limerick Clothing Factory, where artists such as Peju Alatise and Mina Talaee turn their attention to the struggle for women's rights. Alatise's sculpture of a young girl's face emerging from a cross-hatching of textiles hung on a wall, Girl Interrupted (2014), pays tribute to the girls and young women who have been abducted by Boko Haram in Nigeria; while Talaee's installation Hair Headscarf (2016), includes a video showing the artist hand weaving a shawl out of hair to cover her head when outside, and the shawl itself presented in a vitrine.
The gender political thread that runs through this exhibition was foregrounded at a performance-protest staged as part of EVA International's opening on 13 April by the Artist's Campaign to Repeal the Eighth Amendment (ACREA), established in 2015. Video documentation of this procession is presented at Cleeves, alongside quilted banners used during the happening that are evocative of medieval standards. (Pictorial compositions include a woman in the role of Saint George preparing to slay the dragon beneath her feet a sword in her hand, the words 'REPEAL NOW!' spelled out on a pink scroll.) Also on view are videos from A Day of Testimonies: a performance organised in 2017 at Projects Art Centre, Dublin, when invited speakers, including author Marian Keyes and actress Janet Moran, read aloud the written experiences of those who had been affected by Ireland's anti-abortion law.
Artists' Campaign to Repeal the Eighth Amendment. Exhibition view: EVA International 2018, Limerick (14 April–8 July 2018). Courtesy the artists and EVA International. Photo: Deirdre Power.
Given the results of a referendum that took place on 25 May in Ireland, which effectively paved the way for constitutional reform and finally granted Irish women the right to their own bodies, this section of EVA is both sobering and moving. Here, power—as an immaterial force produced by manipulating and composing productive systems out of matter—is considered in its most material sense: as a movement defined by individuals united with a common cause, and a capacity to make change happen. —[O]
—
1 Lorena Allam, 'Salvage and Loss: The Aswan High Dam and the Fate of Nubia', ABC.net, 28 March 2010. See here.
2 ibid.
3 See: https://www.siemens.com/history/en/news/1123_shannon.htm