Feature | Exhibition
Gallery Weekend Berlin: Shows to See in 2021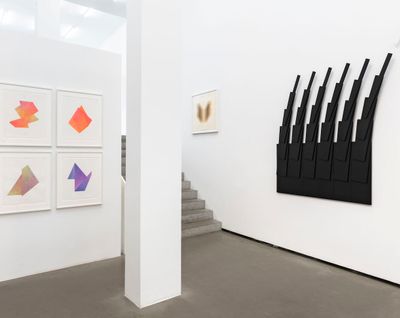 Exhibition view: Karl-Heinz Adler, Metrics, Galerie EIGEN + ART, Berlin (19 August–30 October 2021). Courtesy Galerie EIGEN + ART. Photo: Uwe Walter, Berlin.
Between 16 and 18 September 2021, Gallery Weekend Berlin launches its second event of the year under the title Gallery Weekend *Discoveries, with galleries presenting artists whose work is lesser known to the broader public.
Karl-Heinz Adler, Blau und immer wieder Blau (2007/2008). Acrylic on canvas two pieces; each one: 281 x 200 x 200 cm. Courtesy Galerie EIGEN + ART Leipzig/Berlin Photo: Freund Walter.
Karl-Heinz Adler: Metrics
Galerie EIGEN + ART, Auguststraße 26
19 August 19–30 October 2021
Karl-Heinz Adler started making collage works in 1957. His minimalist, geometrically inspired drawings, layered collages, and sculptural objects evolved over the years under the principle of seriality. Repetition, modulation, and production are central to the understanding of Adler's work and what makes it characteristic of the postwar aesthetics that marked the 1960s and 70s.
Metrics highlights this progression, gathering early collages and later paintings.
Thea Djordjadze, Why hold on to that? (2008). Aluminium. Courtesy Portikus, Frankfurt. Photo: Diana Pfammatter.
Thea Djordjadze: all building as making
Gropius Bau, Niederkirchnerstraße 7
18 September 2021–16 January 2022
Thea Djordjadze's work is inspired by historical artifacts and modern architecture. Djordjadze combines materials including plaster, metal, foam, textiles, wood, and paper-mâché to recreate fragmentary spatial settings.
Accordingly, the exhibition will be staged in the Schliemann Saal building, which housed Heinrich Schliemann's excavated archaeological findings between 1881 and 1885. Old and new works come together to introduce a dialogue reaching back in time and in space.
Sean Scully, Black Window Grey Land (2020). Oil on aluminum. 215.9 x 190.5 cm. © Sean Scully. Courtesy Kewenig.
Sean Scully: Overlay
KEWENIG, Brüderstraße 10
15 September–30 October 2021
Sean Scully is an Irish-American abstract painter. Overlay will gather major large-scale paintings from the 1970s until today. Scully's grids are inspired by his surroundings. Early works like Overlay #2 (1974) draw from his stay in the industrial town of Newcastle upon Tyne in England.
Scully's recent works inquire into emotional states and gain dimension as the painter revisits the landscape of memory. More recently, Scully has been making sculptures with steel, stone, and bronze.
Jamie Diamond, 27 days (1938–2017). Digital print mounted on Dibond. © Jamie Diamond. Courtesy Kewenig.
Jamie Diamond: 365 Days: 1938/2017
KEWENIG, Wilhelmshavener Straße 7
15 September–30 October 2021
Jamie Diamond's work explores identity, memory, and intimacy through a blend of photography and performance. 365 Days: 1938/2017 draws from a family album scavenged from a flea market in Berlin. The album depicts a young child's growth throughout the years.
Diamond recreated the scenes from 1938 and merged the photographs to reflect the post-war tensions between Germany and America. The viewer is invited to reconsider the authenticity of memory and the process of documentation.
Exhibition view: Jonas Roßmeißl, Gadget, Center for Contemporary Art (18 January–2 August 2020). Courtesy KLEMM'S. Photo: Paul Razlaf.
Jonas Roßmeißl: Die neue Statik / a new static
KLEMM'S, Prinzessinnenstraße 29
15 September–23 October 2021
Jonas Roßmeißl is an interdisciplinary artist who employs historical motifs around machinery and technology to create sculptural objects. Roßmeißl's sculptures inquire into the forms and conditions of representation under 'repressive systems', the influence of technology, and rationalised production.
The new static refers to the sensation of static in continuous movement. Three sculptural clusters will be on display challenging the viewer's spatial perception.
María Magdalena Campos-Pons, The Rise Of The Butterflies (2021). Collage. Courtesy Galerie Barbara Thumm.
María Magdalena Campos-Pons: The Rise of the Butterflies
Galerie Barbara Thumm, Markgrafenstraße 68
18 September–31 December 2021
María Magdalena Campos-Pons' work claims space for lost narratives and forgotten voices. The Rise of the Butterflies will feature five glass mobiles crafted from old Murano glass techniques. These replicate the unique pigmentation in butterfly wings as an ode to the body count inherited from postcoloniality.
From the memorial piece, waterdrops ascend and transform into butterfly eyes rising.
Exhibition view: Su Yu Hsin, frame of reference, Taipei Biennial (2020). Courtesy © Taipei Fine Arts Museum and Artist. Photo: Yuro Huang.
Su Yu Hsin: frame of reference
alexander levy, Rudi-Dutschke-Straße 26
16 September–16 October 2021
Su Yu Hsin is a Taiwanese filmmaker based in Berlin. Hsin's work explores the relationship between technology, ecology, and the production of geographical knowledge. Frame of reference I & II (2020) will show real-time footage of scientists monitoring the Taroko Gorge in Taiwan as part of an investigation into the relationship between landslides and climate change.
The two-part video installation is made in collaboration with the German Centre for Geosciences and the Disaster Prevention and Water Environment Research Centre.
Dirk Lange, Eigennacht (2020). Pencil, crayon, ink, and watercolour on paper. 183.5 x 135.5 cm. Photo: © Lea Gryze. Courtesy the artist and Soy Capitán, Berlin.
Dirk Lange: Saint Fauxpas
Soy Capitán, Prinzessinnenstraße 29
16 September–23 October 2021
Dirk Lange creates large-scale drawings in pencil and in ink. Lange's figures are intricate and complex, rendered in rich textures through multiple layers of paint.
From afar, the drawings appear ornamental, with faceless subjects placed in romantic settings reminiscent of the ambiance of Old Masters. Up close, the viewer is absorbed into the detail. The initial impression fades.
Exhibition view: Alexandra Bircken, ESKALATION / Deflated Figures, The Hepworth Wakefield (1 October 2014–25 January 2015). Photo: Stuart Whipps.
Alexandra Bircken
KINDL – Contemporary Art Centre, Am Sudhaus 3
19 September 2021–15 May 2022
Alexandra Bircken is a Berlin-based artist who works with the motif of skin to replicate the boundaries between inside and outside.
Bircken's sculptures and installations are crafted from textile material, machine parts, wood, steel, and latex. Organs, clothing, cellular membranes all contribute towards an inquiry into the relationship between body and shell, humans and machines.
Christopher Cozier, Home/Portal (2017). Photograph. Dimensions variable. Courtesy the artist. Photo: Di-Andre Caprice Davis.
Más Allá, el Mar Canta (Beyond, the Sea Sings): Diasporic Intimacies and Labour
Times Art Center Berlin, Brunnenstraße 9
16 September 2020–19 December 2021
Más Allá, el Mar Canta gathers a scatter of voices to revive the collective memory of the Chinese diaspora in Central America and the Caribbean.
Curated by Pablo José Ramírez, the exhibition borrows its title from Afro-Chinese Cuban writer Regino Pedroso's award winning book and its focus on diasporic specificities. Artists include Esvin Alarcón Lam, Sybil Atteck, Nicole Awai, Mercedes Azpilicueta, Andrea Chung, Christopher Cozier, Colectivo Hapa, Richard Fung, Mimiam Hsu, Peng Zuqiang, Naufus Ramírez-Figueroa, Humberto Velez, and David Zink Yi.
Arthur Jafa, Love is the Message, The Message is Death (2016) (still). 7 min 25 sec. Colour, sound. Courtesy the artist and Gavin Brown's Enterprise, New York/Rome.
A FIRE IN MY BELLY
Julia Stoschek Collection, Leipziger Straße 60
6 February–12 December 2021
A FIRE IN MY BELLY features works by 36 artists from different backgrounds and origins, including Sophia Al-Maria, Thomas Demand, Marcel Dzama, Tracey Emin, Arthur Jafa, Laure Prouvost, and Robin Rhode, among others. In response to increasing social and political tensions, artistic expression is offered as a way to mediate conflict.
Film, photography, installation, painting, and poetry combine to document the experience of loss and violence. A print magazine will accompany the exhibition featuring contributions from artists, writers, and theorists invited to respond to the works on display.
Tomás Saraceno, Printed Matter(s) (2018). Printed with ink made of black carbon PM2.5 pollution, extracted from Mumbai's air. © Tomás Saraceno. Courtesy the artist and neugerriemschneider, Berlin.
Tomás Saraceno: we do not all breathe the same air
neugerriemschneider, Linienstraße 155
18 September–31 October 2021
Breath can be renewal. It can be recognition. We do not all breathe the same air looks into inanimate particles, cosmic forces, and living beings. Through a variety of mediums,Tomás Saraceno expresses his environmental concerns while inquiring into ways of coexistence.
The exhibition will be powered by renewable energy and gallery.
Ruscha Voormann, Swipe Up (2021). Acrylic and acrylic glass on canvas. 200 x 150 cm. Courtesy Crone, Berlin.
Ruscha Voormann: SWIPE UP
Crone Side, Fasanenstraße 29
14 September–23 October 2021
Ruscha Voormann's large-scale paintings seek to replicate an internal refuge through abstraction. Paintings featured in SWIPE UP are made with acrylic paint applied between plexiglass and the canvas in a rotating motion.
The gesture is meant to mimic the loss of control and its recovery. Voormann's metaphor for coping with life and the source of equally fascinating geometrical motifs.
Peter Piller, no title (2021). Archival pigment print. 64 x 44 cm. Edition: 3 + 1 AP. Courtesy the artist and Galerie Barbara Wien, Berlin.
Peter Piller: different degrees of completeness
Barbara Wien, Schöneberger Ufer 65
11 September–6 November 2021
Peter Piller has been studying ancient caves in France and in Spain for years. For Piller's sixth solo show at Barbara Wien, the artist introduces photographs, found images, and drawings gathered from his ongoing interest in prehistoric art.
Different degrees of completeness will juxtapose magnified reproductions of physical findings with everyday photographs taken by the artist.
Tobias Pils and Joe Bradley. Courtesy Capitain Petzel.
Joe Bradley / Tobias Pils
Capitain Petzel, Karl-Marx-Allee 45
15 September–23 October 2021
Colour-bursting canvases meet grey-toned lines in the joint exhibition of ex-punk singer Joe Bradley and figurative painter Tobias Pils. The visual dialogue will mark Bradly's debut in Berlin.
Additional works on paper will be on display in the lower gallery.
Wu Tsang, Anthem (2021). Colour video, with sound, fabric, and carpet. Dimensions variable. Exhibition view: Solomon R. Guggenheim Museum, New York (23 July–6 September 2021). © Wu Tsang. Rendering by Lucie Rebeyrol. Courtesy © Solomon R. Guggenheim Museum. Photo: David Heald.
Wu Tsang: Lovesong
Galerie Isabella Bortolozzi, Schöneberger Ufer 61
14 September–31 October 2021
Recently on an 84-foot curtain hanging in the rotunda of the Guggenheim, Wu Tsang's sonic-structural collaboration with singer, composer, and transgender activist Beverly Glenn-Copeland will be adapted and installed in Galerie Isabella Bortolozzi in Berlin.
Curtains often feature in Tsang's film installations, as Editor-in-Chief Stephanie Bailey recently remarked in Ocula Magazine, as 'objects of transformation' for the artist.
Ciprian Muresan, Untitled (2021). Acrylic resin. 70 x 30 x 20 cm. Courtesy the artist and Plan B Cluj, Berlin.
Ciprian Muresan
Galeria Plan B, Potsdamer Straße 77–87
17 September–9 October 2021
Ciprian Muresan's work looks at the shift in meaning of objects and artworks collecting dust in the junkyard of museum repositories. For his exhibition in Berlin, Muresan will repurpose old monuments and reconfigure historical busts, including fragments of a broken statue of Lenin.
Rediscovered sculptures by Paul Stoie will also be on display. Stoie's use of hot stone complements Muresan's concerns with immanence and change.
Bettina Pousttchi, Directions 08 (2021). Steel, coated. 115 x 87 x 1.2 cm. Photo: Michael Schultze. Courtesy the artist and Buchmann Galerie, Berlin.
Bettina Pousttchi: Directions
Buchmann Galerie, Charlottenstraße 13
10 September–30 October 2021
Bettina Pousttchi is a Berlin-based artist who works at the intersection of sculpture, photography, and architecture. Pousttchi's site-specific installations often reference urban structures and the history of place.
The present exhibition will feature new sculptures and wall reliefs.
Des Hughes, Never Try Never Fail (2015). Antique embroidery with cotton silk cross stitch on linen. 85 x 85 cm. Photo: Studio Des Hughes. Courtesy the artist and Buchmann Galerie, Berlin.
Anna & Bernhard Blume, Des Hughes
Buchmann Box, Charlottenstraße 75
15 September–6 November 2021
Striking similarities can be sighted between the works of Anna and Bernhard Blume, known for their photographs in the 1980s, and embroideries by British artist Des Hughes.
While inhabiting different time periods, the concern with class and the work ethic of contemporary life and its promises remain constant. The medium changes while the desire for impeccable representation remains.
Brook Hsu, The Pillow Book (2021). Ink on canvas. 200 x 160 cm. Courtesy © Brook Hsu and Kraupa-Tuskany Zeidler, Berlin.
Brook Hsu: Fictions
Kraupa-Tuskany Zeidler, Kohlfurter Straße 41/43
16 September–1 November 2021
Taiwanese-American artist Brook Hsu explores the autobiographical and mythological tones of historical narratives across a range of mediums.
Hsu's imagery draws from old symbols and motifs draped under a veil of tranquility to invoke the residual haunting of icons and shared stories.
Louise Lawler, Untitled (Sfumato) (2021). Dye sublimation print on museum box. 121.9 x 182.9 cm. Courtesy the artist, Sprüth Magers and Metro Pictures, New York.
Louise Lawler: LIGHTS OFF, AFTER HOURS, IN THE DARK
Sprüth Magers, Oranienburger Straße 18
17 September–30 October 2021
When artworks are photographed and displayed outside the viewing environment, their meanings change. Louise Lawler's photographs explore the life cycle of the artwork and the conditions of exhibition.
LIGHTS OFF, AFTER HOURS, IN THE DARK draws from Donald Judd's retrospective at the Museum of Modern Art in New York, photographed by the artist after hours. The darkness brings new perspective to detail, otherwise concealed by daylight.
Andro Wekua, june berlin (2021). Oil, pencil and chalk on canvas. 80 x 60 cm. Courtesy © Andro Wekua, Sprüth Magers and Gladstone Gallery. Photo: Timo Ohler.
Andro Wekua: It Seems Like That
Sprüth Magers, Oranienburger Straße 18
17 September–October 30 2021
Andro Wekua is a Georgian-born, Berlin-based artist. Wekua grew up in Sukhumi amid the ethnic conflict in Abkhazia in the 1990s. The death of his father, political activist Vova Wekua, permeates the body of work from collage to sculpture.
In Wekua's paintings, the personal blends with the political—sentiment meets detached contemplation.
Sim Chi Yin, Interventions: Helicopter (2020). Pigment print, foil on glass. 59.4 x 42 cm. 1/3 + 2 AP. Courtesy the artist and Zilberman, Istanbul/Berlin.
Sim Chi Yin: One Day We'll Understand
Zilberman Gallery, Goethestraße 82
14 September–27 November 2021
Sim Chi Yin's work explores the legacy of colonial rule in British Malaya. One Day We'll Understand draws from Sim's familial history, notably the story of her grandfather, a journalist and left-wing intellectual who was deported to China and executed by the Kuomintang.
Photos from the Imperial War Museum in London have been salvaged and modified to invite the viewer to reconsider who gets to determine archival evidence.
Michael Toenges, 23-18-170-140 (2018). Oil on canvas. 170 x 140 cm. Courtesy Galerie Albrecht, Berlin.
Joseph Marioni, Michael Toenges, Peter Tollens: Three Painters
Galerie Albrecht, Bleibtreustraße 48
31 July–25 September 2021
What is more important for painting—line or colour? The three painters showing at Galerie Albrecht have made the latter the subject of their paintings.
Colour and paint are their material. They are sensual and react to the conditions of light and the environment, imbued with life as would any figurative painting.
Liu Ye, Book Painting No. 30 (2020). Internationale Architektur Bauhaus Bücher No. 1, Albert Langen Verlag, München, 1925. Courtesy © Liu Ye and Esther Schipper, Berlin.
Liu Ye: International Architektur
Esther Schipper, Potsdamer Straße 81E
11 September–23 October 2021
Liu Ye's personal iconography draws from art historical references, real and imagined artworks to explore the boundaries of abstract representation.
Internationale Architektur will feature the artist's 'Book Painting' series, its title referencing the Bauhaus movement, which merges with Liu's existing interest in image and replication.
Abraham Cruzvillegas, Haussmanian Leftovers: Richard Lenoir (2007). Acrylic paint on wood and cardboard found boxes, variable dimensions. Courtesy the artist and kurimanzutto, Mexico City / New York. Photo: Abigail Enzaldo.
Abraham Cruzvillegas: Unbetiteltes Tautologisches Selbstportrait
Galerie Thomas Schulte, Charlottenstraße 24
16 September–6 November 2021
In Abraham Cruzvillegas' installations, every colour stands for an idea, an intention, or a quality that is constant throughout the body of work and accumulates in a process of self-construction.
The method draws from the self-building techniques employed by rural communities on the outskirts of Mexico City whose homes are made from recycled materials and improvisation. —[O]