Feature
Ocula Report: Art Stage Jakarta 2016
Image: Roh Projects booth, Art Jakarta 2016. Courtesy Cristina Sanchez-Kozyreva.
For its first edition, which ran from 5th to 7th August 2016, Art Stage Jakarta bustled with exuberant visitors, and the overall atmosphere was one of heightened excitement and activity. Works shown throughout the fair represented a wide consideration of contemporary and modern art. There were representations of well-known regional names, including Nyoman Masriadi's bold comic-like paintings, Entang Wiharso's narrative panel-sculptures, and Handiwirman Saputra's organic shapes.
In the spirit of resistance to the art world's commerciality, and specifically the perverse effects of the auction industry, the Manila-based gallery The Drawing Room presented a Manuel Ocampo and Jigger Cruz collaboration: a series of paintings titled Brown Dada: Series Goya (2016). The works channelled Francisco de Goya, blending representation and abstraction with a deliberate effort to confuse the notion of authorship. Ocampo emphasised that, in an attempt to defend the fragile position of artists in the Philippines, he wanted to make it difficult for speculators to turn over these works at auction. The canvases feature Cruz's impasto smears and drips, over dark characters drawn in black paint—supposedly by Ocampo—and often accompanied by skulls. As a whole, the works were both charmingly absurd and strangely narrative, as if representing retrieved stories from a parallel history of the Middle Ages. In Brown Dada: Series Goya 5 (2016), for example, three vaguely religious figures—including one wearing a top hat—are roughly arranged in a classical triangular composition with skull, swastika and candle. In the background, an alien-like holy spirit hovers comically.
Image: Manuel Ocampo and Jigger Cruz, Brown Dada: Series Goya 5, 2016. 104 x 103 cm. Courtesy of The Drawing Room, Manila.
Eddy Susanto's work, showing at Lawangwangi's booth, was also influenced by an Old Master (though Susanto's approach draws on rigorous research, as opposed to relying on a mystical channeling of spirits, as claimed by Ocampo). Susanto presented Seven Java of Dürer (Reimagining the Javan Rhino) (2016), an installation that includes six paintings, and two sculptures of a rhinoceros. It follows the artist's exploration into the works and philosophy of German painter and printmaker Albrecht Dürer, in relation to the history and spirituality of Java. Taking inspiration from Dürer's 1515 woodcut Rhinoceros, Susanto painted Renaissance imagery, emulating engraving which he then covered with historic Javanese script in ink. Additionally, he moulded the above-mentioned rhinoceros image in resin, covering it with an identical script written in phosphorescent ink.
The execution of these works was ambitious and evidently time-consuming; their appearances yellowed, reflecting hours of historical research and studio work. Yet Susanto's meticulousness and perfectionism arguably exist to the detriment of conceptual clarity and strength, diluting his conclusions on the historical relationship between Orient and Occident and its residual effects today—or his desire to bring attention to the near extinction of the Javanese rhinoceros. The canvases do remain spectacular however, and the sophistication of their details all-absorbing. Another captivating example was Four Naked Women and Mitologi Perempuan Jawa (2016), an engraving-like painting of four Renaissance naked graces holding a cloth (perhaps referencing the shyness shown towards nudity in the Javanese tradition), its surface covered with minute Javanese historical text.
History and current affairs were reflected in many of the art works on show. At Ota Fine Arts, Zai Kuning showed Massacre (2016). A work on paper that represents a tribute to the sea people (Orang Laut) of the Riau islands in Malaysia, and is formalised through lines rendered in pencil and cinnabar in which humanoid forms appear as gestures or even anonymous waves.
Lighter and cheekier, the works of Agus Suwage were scattered throughout the fair (mostly in the booth of Nadi Gallery) and reveal a renewed creativity in the artist's practice. Teach Your Children (2016), a mixed-media watercolour on paper with tobacco juice and gold leaf, features a dog-headed human talking to dogs, and confirms the Jogja-based artist's custom of basing his works on his immediate surroundings. Here he was apparently inspired by his daughter teaching their dogs. More works by Suwage focusing on the mundanity of life could be found at ROH Projects' and Bale Project's booths. Both galleries deserve a mention for a strong curatorial effort that made their presentations stand out amidst other more standard salon/fair-type hangs.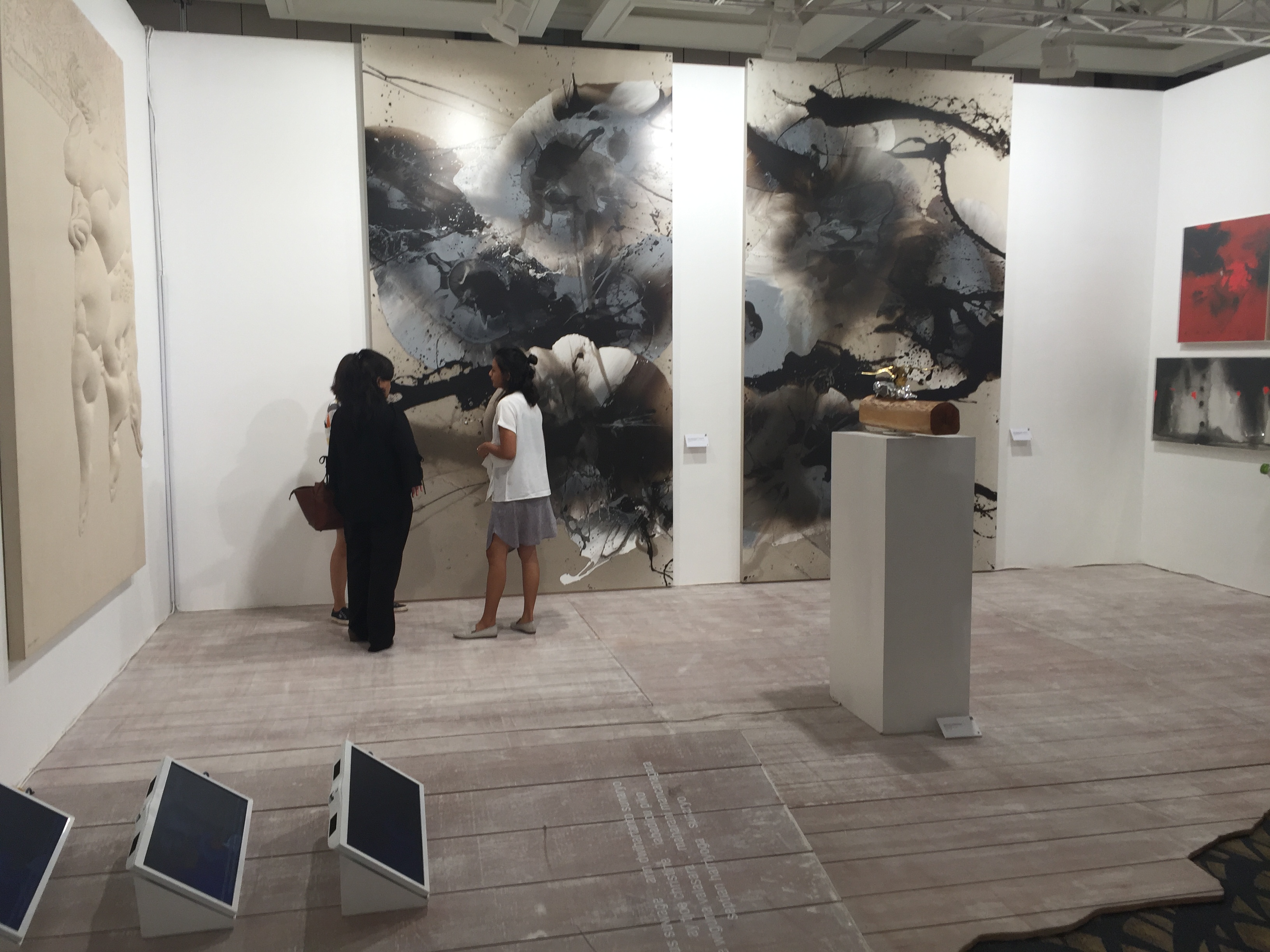 Image: Bale Projects at Art Jakarta 2016. Courtesy Cristina Sanchez-Kozyreva.
Another gallery worth mentioning is Cohju Contemporary Art, which presented Tomoko Takagi's highly colourful oil paintings. Works such as beppu 36 (2016) show the young Japanese artist's tactile, finger painted and kaleidoscopic smears, inspired by Beppu, a spa resort city on the Japanese island of Kyushu. The canvases demonstrate her interest in how people arrange their (pretty) things in their living spaces.
More interpretative contributions on objects could be found at Chan Hampe Galleries, where a blue-toned triptych by Dawn Ng, BLUE (2015), was shown. It comprises of digital prints depicting staged installations of everyday Singaporean objects sourced from the artist's homeland and positioned against a blue backdrop. Formally assembled, the photographed installations were aesthetically satisfying and anthropologically intriguing.
Image: Dawn Ng, Blue, 2015. Courtesy Chan Hampe Galleries, Singapore.
At Fost gallery the publication From Bukit Larangan to Borobudur: Recent Drawings by Jimmy Ong 2000 – 2015, the first detailed study of Jimmy Ong's art and thoughts by renowned art historian TK Sabapathy, accompanied Ong's charcoal on paper works. Also presented were the artist's Raffles at Parangkusuma – Labuhan (2016): imagined historical scenes that are romantically drawn, but are interesting primarily for the narrative they offer on the disconnect between various historical interpretations within the region. (Sir Thomas Stamford Raffles, while well admired in Singapore as the nation's founder, is seen as a coloniser in Indonesia).
At Equator Projects, Hahan presented his loud comic-like paintings, as well as the more subdued The Formula of Contemporary (Visual) Art (2015) made in collaboration with artist Uma Gumma. This is a charcoal wall diagram that explains how to be successful in the art world from an economic point of view. At the fair, viewers were invited to write on it after acquiring the memory stick with instructions.
Outside of the gallery presentations there were also two 'special exhibitions'. One such exhibition was dedicated to the Indonesian artist Affandi, and the works on show for this exhibition were drawn from various private collections and offered more than just great self-portraits in the painter's dripping style. The other, Expose: The Collectors' Show, was an exhibition featuring works from six Indonesian collectors, put together by Enin Supriyanto. It included a rarely exhibited eleven-metre-long acrylic work by Handiwirman Saputra, Di Kamar Hotel (2007) which depicts a long radiator in light green pastel, and an Aditya Novali installation of drawings. Entitled Conversation Unknown (2015), Novali's drawings were rendered on plexiglass and depict photographs of members of the Indonesian art scene taken by collector Melani Setiawan. Also included was Ryoji Ikeda's data.tron (2007), an immersive sound and visual projection which is part of the artist's experimental datamatics series. Worth mentioning too was a sculpture by the late S. Teddy D, coincidentally titled Viva La Muerte (2000): an animal form with red-lit eyes, alluding to the artist's criticism of the spread of violence in Indonesia's over-militarised society. The piece was chosen as a homage to the artist, just recently deceased.
Image: Ryoji Ikeda, data.tron, 2007. Private collection of Wiyu Wahono. Courtesy Art Stage Jakarta.
All in all, the first edition of Art Stage Jakarta confirmed—or at least hinted at—the continuous ebullience of artistic production in the region, which presented an important step towards stimulating the art ecology in Jakarta. —[O]