News | Galleries
Anicka Yi, Sculptor of Air, Joins Esther Schipper
Other artists moving to new galleries in May include Hajime Sorayama, David Huffman, Brett Taylor, and Tomashi Jackson.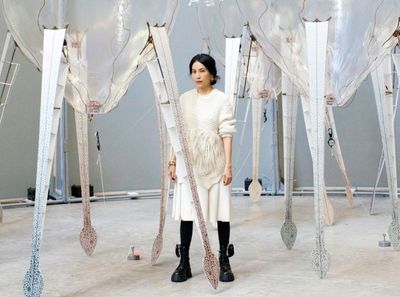 Anicka Yi. Photo: Lauren Fleishman.
Esther Schipper has announced their representation of Korean-American artist Anicka Yi, who is best known for her multi-sensory installations. The gallery will represent Yi in collaboration with Gladstone Gallery.
'What I like to do is to sculpt the air,' Yi told The Guardian in 2021.
That year, she created a monumental 'aquarium of machines' for the Hyundai Commission at the Tate Modern. She populated the Turbine Hall with floating jellyfish-like machines called 'aerobes' that were programmed to move autonomously like living, adapting organisms.
Yi is also well known for her work with smells. In her 2015 solo show, You Can Call Me F, at New York's The Kitchen, Yi diffused the gallery space with a scent synthesised from samples swabbed from 100 female friends.
Yi's latest initiative is an interdisciplinary artist-led nomadic research project called Metaspore. It aims to create 'spores' of social trust and connective exploration in anticipation of a global paradigm shift.
The pilot programme will include a spring course and student fellowship this year working with Stanford University students and staff on a series of virtual, augmented, and mixed reality experiments.
Yi's first solo show with Esther Schipper is slated for September.
Also this month, Lebanese American painter and ceramicist Simone Fattal, joined Greene Naftali in New York.
Japanese contemporary artist Hajime Sorayama, known around the world for his sexy robots, joined Almine Rech.
New York gallery Hollis Taggart took on the estate of American artist and teacher Brett Taylor, who founded the Aegean School of Fine Art in 1966. Contemporary artists Hayoon Jay Lee, and Osamu Kobayashi will also join the gallery's roster.
Other artists joining new galleries include: painter David Huffman, who is now represented by Jessica Silverman in San Francisco and Casey Kaplan in New York; colourful multimedia artist Tomashi Jackson, who is now represented by Pilar Corrias; and painter Joe Bradley, who is now represented by David Zwirner. —[O]