News | Galleries
Australian Artists and Institutions Caught in Historic 'Rain Bomb'
'We had everything on the top floor, which is now gone,' said Ashleigh Ralph, director of Lismore Regional Gallery.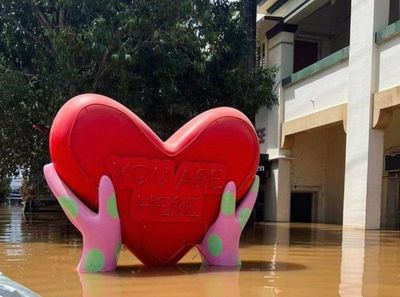 Holly Ahern and Eden Crawford Harriman, In the Heart (2021). Sculpture in Lismore, New South Wales. Courtesy the artists. Via Instagram.
Eight people have died and hundreds have been rescued from rooftops in northern New South Wales and southern Queensland following historic flooding.
Artist Lucy Vader made a video plea for help from her roof surrounded by flood waters in Lismore, 200km south of Brisbane, on 28 February.
'I'm on my roof, the water is still rising, my dog is stuck inside my house,' she said.
Desperate call for help from \#Lismore local Lucy Vader. Stuck on a roof at 36 Macaulay St. Her dog is inside her home. "I'm having to flex my back to stay on the roof and not slip off" She is one of hundreds desperately needing rescuing from floodwaters @nbnnews @9NewsSyd pic.twitter.com/LXcCkFtFLb

— Olivia Grace-Curran (@livgracecurran) February 28, 2022
Vader was rescued by a kayaker and her dog survived, according to 9News editor Olivia Grace-Curran.
Vader's exhibition was scheduled to open at Michael Reid Southern Highlands in Sydney on 12 March. Michael Reid said Vader lost about 12 works to the flood, but the exhibition would likely go ahead.
'Works are being loaded into a van as we speak,' he said.
Lismore Regional Gallery was submerged by the flood.
'From the footage that we've seen, and knowing the height of the flood, we can see that the water went above the second floor of the gallery, about two or so metres, which would have inundated all of our pre-packing of the space,' Ashleigh Ralph, the gallery's director, told ArtsHub.
'In the previous flood the top floor didn't flood, but this time it did. We had everything on the top floor, which is now gone. So that's our collection, that's artworks from exhibitions that were on display, including the war rugs from Afghanistan, it's the Hannah Cabinet. It's everything,' she said.
Ralph said her team was safe and accounted for, but she had not yet spoken to the gallery's insurer or inspected the damage.
Lucy Vader, Like Cut-Outs on the Horizon (2021). Oil on canvas 101 x 152 cm. Courtesy the artist and Michael Reid Gallery.
The Queensland Art Gallery & Gallery Of Modern Art (QAGOMA), organisers of the Asia Pacific Triennial of Contemporary Art, has been closed since 27 February due to the flooding.
'QAGOMA and the Queensland Cultural Centre are currently closed until further notice as flood impacts are assessed. The safety of our collections, the public and our staff are our focus,' they announced in a Facebook post.
Ben Domensino, a meteorologist at Weatherzone, told The Guardian it was hard to discount the role of climate change in the storm.
'We know the oceans are getting warmer and that puts more moisture in the atmosphere, and a warmer atmosphere can hold more moisture,' he said.
In anticipation of future floods and fires, New South Wales art institution Bundanon built its new creative learning centre in the form of a 160-metre-long 'bridge' designed to allow floodwaters to flow beneath it, while its new art museum is concealed inside a hill to protect against heat and wildfires. —[O]