News | Exhibitions
Biennale of Sydney Names Cosmin Costinaș and Inti Guerrero Artistic Directors
The pair previously collaborated on exhibitions including A Journal of the Plague Year at Para Site in 2013 and Long Green Lizards at the Dak'Art Biennale in 2018.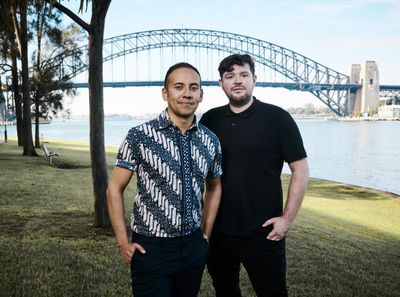 (From left) Inti Guerrero and Cosmin Costinaș at McMahons Point, North Sydney. Photograph: Joshua Morris.
Berlin-based curators Cosmin Costinaș and Inti Guerrero have been named the artistic directors of the 24th Biennale of Sydney from 9 March to 10 June 2024.
The Biennale's CEO, Barbara Moore, described the pair as 'highly respected curators both together and independently with a deep understanding of the international and Australian creative landscapes.'
Romanian-born Costinaș curated his country's national pavilion at the 59th Venice Biennale and served as the artistic director of the fourth Kathmandu Triennale this year. Prior to that, he served as the executive director and curator of celebrated Hong Kong art space Para Site from 2011 to 2022.
Guerrero, who was born in Colombia, is tutor of the Curatorial Studies programme at the Royal Academy of Fine Arts-KASK in Ghent. He was the artistic director of Bellas Artes Projects (BAP) in Manila from 2018 to 2022, and curator of the 38th EVA International in Limerick in 2018.
Cover of a 'Journal of the Plague Year' (Sternberg Press) edited by Cosmin Costinaș, Inti Guerrero, and Lesley Ma. Publication of the eponymous touring exhibition originated at Para Site, Hong Kong (2013).
Costinaș and Guerrero have collaborated on a number of exhibitions over the past decade, including A Journal of the Plague Year (2013) and Soil and Stones, Souls and Songs (2016) at Para Site, and Long Green Lizards at the Dak'Art Biennale in 2018.
The theme and title of the Biennale have not yet been released, but Costinaș and Guerrero offered a broad, inclusive ambit for the event.
'Our vision for the 24th Biennale of Sydney is to create a space that examines the past and present through multiple art languages, from places of struggle and resistance to collective joy, while celebrating and respecting place,' they said.
'As exhibitions are reflections of different ways of seeing reality, the scenographic vocabulary of exhibition-making also needs to reflect the multiplicity of visual regimes that form the lived experience of most people in the world,' they continued.
The 23rd Biennale of Sydney, entitled rīvus, opened on 12 March and continues until 13 June. Latin for 'stream', the exhibition takes inspiration from the idea of nature advocating for itself.
It was curated by Artistic Director José Roca with Paschal Daantos Berry, Anna Davis, Hannah Donnelly, and Talia Linz. —[O]