News | Galleries
Shinro Ohtake and Lee Ufan Retrospectives Headline Art Week Tokyo 2022
Ohtake's self-portrait as a scrapped shed is one of 500 works by the artist that will show at the National Museum of Modern Art in November.
Shinro Ohtake, MON CHERI: A Self-Portrait as a Scrapped Shed (2012). Mixed media, timber, electronics, sound, steam, dimensions variable. Sound production cooperation: Masaru Hatanaka. Photo Masahito Yamamoto, © Shinro Ohtake, courtesy Take Ninagawa, Tokyo.
Major exhibitions by Mono-ha master Lee Ufan and assemblage artist Shinro Ohtake are among the highlights of this year's Art Week Tokyo, which takes place from 3 to 6 November.
Taking inspiration from '70s punk culture, Ohtake's eclectic practice includes collages, scrapbooks, kinetic sculptures, and noise music.
His exhibition at the National Museum of Modern Art, across from the Imperial Palace, will include the installation Mon Cheri: A Self-Portrait as a Scrapped Shed (2012), which was commissioned for documenta 13.
This 'self-portrait' is largely comprised of mass media flotsam. The walls are plastered with newspaper and magazine clippings. Screens play concert footage, and interactive guitar strums respond to visitors' movements.
The work, which takes its name from the neon sign salvaged from a snack bar, also releases steam, a feature inspired by the failure of the Fukushima Daiichi Nuclear Power Plant following the Tohoku earthquake in 2011.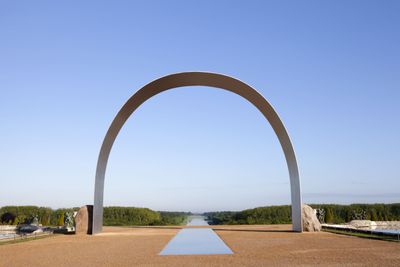 Lee Ufan,
Relatum – The Arch of Versailles
(2014). Stone and stainless steel. Collection of the artist. Photo Archives kamel mennour, courtesy the artist, kamel mennour, Paris, and Pace, New York.
Over 50 works by Lee Ufan will show at The National Art Center in Roppongi as part of its 15th anniversary celebrations. One of the standout works is Lee's outdoor installation Relatum—The Arch of Versailles (2014), a 12-metre-tall arc of steel anchored by boulders at either end. The work was installed at the top of the Gabriel staircase in Versailles in 2014.
Gallery highlights include Hiroshi Sugimoto at Gallery Koyanagi, Ryoji Ikeda at Taro Nasu, Gozo Yoshimasu at Take Ninagawa, Yuko Mohri at Yutaka Kikutake Gallery, Yuichiro Tamura at Kotaro Nukaga, and Hideo Anze at Kana Kawanishi Gallery.
Featured international artists include Dutch painter Daan van Golden at Misako & Rosen, a multi-venue presentation of British artist Julian Opie at Maho Kubota Gallery, and a collaborative presentation of German artists Imi Knoebel and Erik Swars by Ken Nakahashi and Leipzig's Galerie Jochen Hempel.
Art Week Tokyo is organised by the Japan Contemporary Art Platform in collaboration with Art Basel, and directed by Take Ninagawa gallery's Atsuko Ninagawa. Today they announced Atsuki Kikuchi as the event's art director.
Kikuchi has previously served as art director for fashion labels minä perhonen and Sally Scott. He also conceived the visual identity for art institutions including the Aomori Museum of Art and the 2008 Yokohama Triennale. —[O]