News | Galleries
Simone Leigh, Kennedy Yanko, and Camille Henrot's New Galleries
The representation merry-go-round gained speed in the lead up to Art Basel in Miami Beach, with Ragna Bley and Alexander Ross also finding new galleries.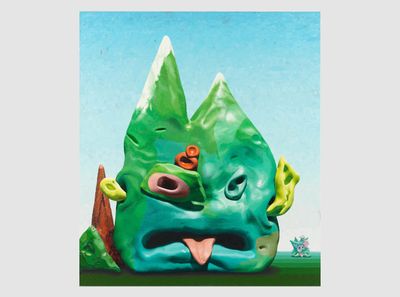 Alexander Ross, Untitled (2014). Oil on canvas. 228.6 x 200.7 cm. Courtesy Miles McEnery Gallery.
Sculptor Kennedy Yanko is now showing with New York gallery Salon 94. Yanko is one of the 2021 artists in residence at the Rubell Museum, a known springboard for young artists. Two of her sculptures—combinations of supple paint skin and banged up metal—appeared in their booth at Art Basel in Miami Beach last week.
Another sculptor, Simone Leigh, showed in Miami with Matthew Marks, whose five spaces are divided between New York and Los Angeles. Leigh, who will represent the United States at the Venice Biennale next year, announced her departure from Hauser & Wirth late last month.
'I love and respect the people I worked with at Hauser & Wirth,' Leigh said in a statement, 'but I do not feel the gallery is the right fit for me in the wider sense. I'm still figuring out what I want from a primary gallery relationship.'
Only a week or so earlier, Hauser & Wirth added to their roster French artist Camille Henrot, who won the Silver Lion at the 2013 Venice Biennale for her film Grosse Fatigue.
'Camille is a pioneer,' said Marc Payot, President, Hauser & Wirth. 'She is fearless in her effort to get to the bottom of what makes us all tick in the 21st Century and in her ability to locate connections between technology and our deepest humanity, an imperative that places her alongside such greats as the late Nam June Paik, Pierre Huyghe, and Pipilotti Rist.'
Henrot is also represented by kamel mennour and KÖNIG GALERIE.
Meanwhile, Oslo-based artist Ragna Bley has joined Pilar Corrias, and will show new work at their Eastcastle Street gallery next London summer, while painter Alexander Ross joined Miles McEnery Gallery in New York.
Other notable moves in recent weeks include Andrea Marie Breiling joining Almine Rech, Umar Rashid joining Blum & Poe, Thomas Agrinier joining Hollis Taggart, Louise Lawler joining Sprüth Magers, Allana Clarke joining Kavi Gupta, and Martine Gutierrez joining Fraenkel Gallery. —[O]