News | Galleries
Taipei Dangdai 2022: Booth Previews From Five Gallery Directors
The fair will feature 62 galleries when it returns to the Taipei World Trade Center from 19 to 22 May 2022. We asked directors at Yavuz, Lin & Lin, Whitestone, Asia Art Center, and Hanart TZ to share what they're showing and why.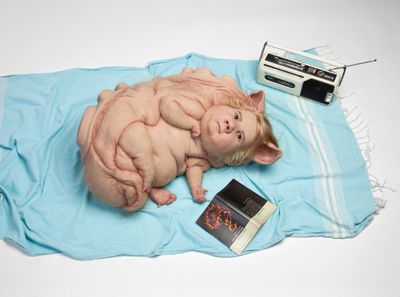 Patricia Piccinini, Teenage Metamorphosis (2017). Silicone, fibreglass, human hair, found objects. 137 x 25 x 75 cm. Courtesy the artist and Yavuz Gallery.
Caryn Quek, Director of Yavuz Gallery, Singapore
Yavuz Gallery will be presenting a group show featuring acclaimed artists from Australia and Southeast Asia: Abdul Abdullah, Christopher Bassi, Alvin Ong, Patricia Piccinini, Jason Wee, and Grace Wright. It was important to bring together a group of artists at the forefront of current societal concerns with engaging works that reflect our everyday life.
Patricia Piccinini's sculpture Teenage Metamorphosis is the centrepiece of our booth; an uncanny, fantastic, and futuristic piece that speaks of humanity's development and consumer desire. The work is presented on a Turkish towel, and features found objects such as a radio and Kafka's 1915 novella Metamorphosis.
A second highlight is Singaporean-artist Jason Wee, showcasing three new works entitled Constellations Fort Road. As the artist states, 'Fort Road sits on an entirely reclaimed beach [but] it was significant for gay men in Singapore in the 1980s and 1990s as a utopian wilderness.'
Abdul Abdullah, Lies we tell our therapists (2022). Oil on linen. 198 x 163 cm. Courtesy the artist and Yavuz Gallery.
The third highlight is Abdul Abdullah, a Muslim Australian who grew up in suburban Perth. He sees himself as an artist working in the peripheries of a peripheral city, in a peripheral country, orbiting a world on the brink.
In Taipei, Abdullah presents a new painting, Lies we tell our therapist (2022). The work speaks of our collective broad anxieties on climate crisis and political conflict, highlighting the disjuncture between our lived experiences and what we put out into the world.
Huang Chia-Ning, Ladybug (2021). Oil on canvas. 106 x 160 cm. Courtesy Lin & Lin Gallery.
At Taipei Dangdai 2022, I would like to introduce artists with market potential to everyone who comes to visit the fair in order to broaden the market for Chinese artists worldwide. If you ask me, each of the artworks in our booth is unusual and interesting.
I particularly recommend new artworks by Zhao Zhao and Huang Chia-Ning, both of whom have received a lot of attention and enquiries from collectors.
Zhao Zhao, Peach (2021). Oil on canvas. 180 x 150 cm. Courtesy Lin & Lin Gallery.
Zhao Zhao's oversized artwork Peach (2021) demonstrates a unique poetic aesthetic to the viewer. As a warm and ambiguous colour, the pink in his paintings is a bustling temporal landscape that he saw in life.
Huang Chia-Ning's latest artworks continue her realistic painting of life scenes and bring back memories of life by precisely depicting a balance between reality and perception.
Kohei Kyomori, Demeter col.02 (2022). Mixed media on canvas. 91.0 x 72.7 x 5.0 cm. Courtesy Whitestone Gallery.
Whitestone's booth will feature a curated selection of works by Japanese artists Miwa Komatsu, Kohei Kyomori, Yu Kawashima, and Etsu Egami.
In this showcase, nearly half of the works were created by Kohei Kyomori. This is his debut in Taiwan before his upcoming show in Taipei.
The painting Demeter col.02 (2022) is the highlight of our booth. It offers a Japanese reinterpretation of Greek mythology. Kyomori combines his skills in modern Japanese painting with his studies in European decorative arts, in which the intensity of his narrative power suggests a prospect of overcoming cultural, linguistic, generational, and racial differences.
Deborah Brown, Signs of Spring (2021). Oil on canvas. 122 x 152.4 cm. Courtesy Asia Art Center.
Steven Lee, Managing Director at Asia Art Center, Taipei
Asia Art Center celebrates its 40th anniversary in 2022, and we hope to represent the zeitgeist through presentations of Western contemporary art and modern Eastern art. In the Galleries sector, we will present a curated exhibition in two sections that includes works from 11 artists.
In the first section, we will present a section of outstanding international artists including Alejandro Acosta, Deborah Brown, Chiharu Shiota, Adam Parker Smith, Katarina Janečková Walshe, Joseph Olisaemeka Wilson, Taiwan indigenous artist Etan Pavavalung, and young artist Hong Zhen You.
Etan Pavavalung, Horizon (2022). Acrylic and print pigment on board. 100 x 80 cm. Courtesy Asia Art Center.
In the second section, we will present works by Dong Shawhwei, Ju Ming, and Li Chen. They include a number of important new works from Li's 'The Ethereal Cloud' and 'Spiritual Journey through the Great Ether' series, Dong's abstract paintings re-envisioning the artist's own courtyard, and Ju's Living World Series—Ballet, which attempts to embody the thoughts and feelings of a dancer.
In the Salon sector, we will display a vibrantly coloured painting by American artist Howard Fonda to show his labyrinthine thinking.
Luis Chan, Untitled (Hooked) (1972). Ink and Colour on Paper. 136 x 68.5 cm. Courtesy Hanart TZ Gallery.
Hanart is proud to present a special exhibition of works by six seminal artists from Taiwan and Hong Kong, reflecting the powerful development of artistic practice in these two spheres, and illuminating the deeply humanistic sensibility innate in the voice of each artist.
Presenting these six artists in the dynamic context of Taipei Dangdai opens up new perspectives from which to review Hanart TZ Gallery's promotion of Chinese contemporary art and its imprint in the art scenes of Taiwan and Hong Kong.
Shih-Chiang Yeh, Village House on the Edge of the Forest (2007). Oil on canvas. 217 x 426 cm. Courtesy Hanart TZ Gallery.
Luis Chan was the first major Hong Kong artist whom Hanart TZ Gallery exhibited in Taiwan. Chan shares a common ground with the late Taiwan artist Yeh Shih-Chiang.
These two brilliant and eccentric artists can be described as two of the most challenging figures in Chinese modern art history, as their work does not fit neatly into prevalent art historical narratives. Yet each artist has achieved almost legendary status in their respective spheres in Hong Kong and Taiwan. —[O]