News | Artists
Who Are the Sigg Prize Nominees for 2023?
Six artists have been nominated for the HK $500,000 prize, which recognises artists from the Greater China region.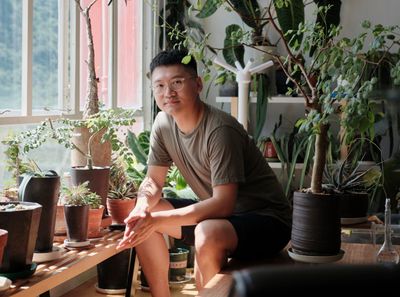 Trevor Yeung. Courtesy the artist. Photo: South Ho.
Hong Kong's M+ museum has announced the nominees for the second Sigg Prize.
The shortlisted artists will present works created in the past three years in the Sigg Prize 2023 exhibition at M+ from 23 September.
A cash prize of HK $500,000 (US $63,800) will be awarded to the winner, and HK $100,000 (US $12,800) will go to each of the other shortlisted artists. The winner will be announced in early 2024.
Jes Fan. Courtesy the artist. Photo: Jia Li.
The nominees are: Jes Fan, Miao Ying, Wang Tuo, Xie Nanxing, Trevor Yeung, and Yu Ji.
Raised by Hong Kong factory workers, Jes Fan uses materials such as glass, resin, melanin and oestrogen-rich cosmetic products to fabricate sculptures interrogating race and gender. The artist is currently the subject of a solo exhibition at Empty Gallery in Hong Kong.
Miao Ying. Courtesy the artist. Photo: Thierry Bal.
In her videos and installations, Shanghai and New York-based artist Miao Ying examines online censorship and the implications of AI with an eye for the gauche beauty found online.
Beijing-based artist and filmmaker Wang Tuo creates works that enter the silences of painful pasts, including China's devastating Cultural Revolution. His first institutional solo show, Empty-handed into History, showed at the UCCA Center for Contemporary Art in 2021. The artist is currently showing at Blindspot Gallery.
Wang Tuo. Courtesy the artist.
Hong Kong-based painter Xie Nanxing paints works that straddle figuration and abstraction and often suggest some physical or psychological hurt.
Also based in Hong Kong, Trevor Yeung uses plants, vitrines, and aquariums in his works, which treat the natural world as a metaphor for human relationships. In a recent commission for Gasworks, he made a soap-cast of Hampstead Heath's 'fuck tree', whose bark has been polished smooth after decades of use by gay cruisers.
Xie Nanxing. Courtesy the artist. Photo: Fan Xi.
Sculptor Yu Ji has described herself as 'a street cleaner', gathering materials such as cement, steel rebar, plaster, soap, and beeswax that have been left for dead to create works with real vitality.
'By honouring the most ambitious and pioneering artistic practices from this part of the world, we hope to enhance the public's understanding of Chinese contemporary art and inspire new dialogues and discourses on its latest developments and upcoming trajectories,' said Suhanya Raffel, Museum Director, M+ and Chairwoman of the Sigg Prize.
Yu Ji. Courtesy the artist.
Uli Sigg, collector and member of the M+ Board, said that 'following a series of intense discussions, the jury has shortlisted six artists comprising multi-generational and multi-disciplinary creators who represent different gender identities, movements, and ideas in today's contemporary visual culture.'
The inaugural Sigg Prize was was won by Hong Kong–based artist Samson Young in 2019. The biennial prize was cancelled in 2021 due to the pandemic, but it will now return every two years. —[O]