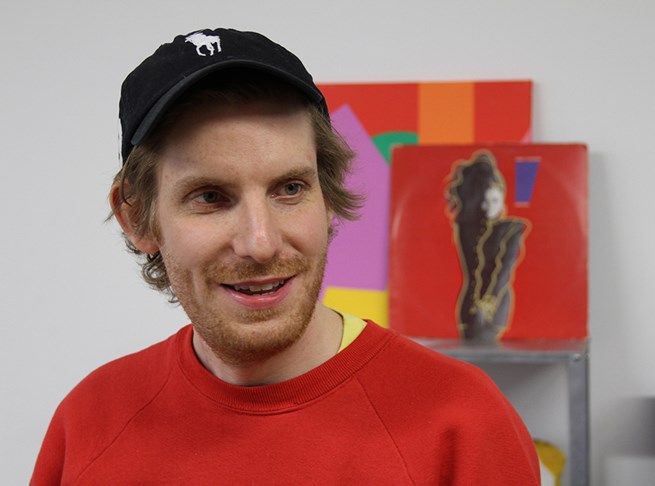 Cory Arcangel. Courtesy the artist and Lisson Gallery. © Cory Arcangel. Photo: Bennett Williamson.
Going through Cory Arcangel's website feels like riding across waves of digital archaeologies, where things endlessly fold and unfold. The site meticulously presents every aspect of Arcangel's practice, including detailed information about exhibitions and artworks for which the artist has become known. These include his 'game modifications' (or 'game mods')—a series of hacks that Arcangel has performed on games cartridges in which he erases all of the action, so that only the setting remains. In the case of his 2002 video installation Super Mario Clouds, the classic Nintendo game, all we see are the clouds; while in F1 Racer Mod (aka Japanese Driving Game) (2004), Arcangel removes the car and other elements of the racing game so that all that appears is a vacant road. (The artist offers the code to some of his projects on his website, inviting others to modify them.) One of the artist's favourite 'mods'—as he claims on the website—is Totally Fucked (2003), for which Mario is shown perpetually stuck on a single cube.
Cory Arcangel, Totally Fucked (2003). Courtesy the artist.
Technology, in all its forms, is the medium of Arcangel's choice. Other series include his 'Photoshop Gradient Demonstrations' (2007–2015)—large gradient digital paintings made using the gradient tool on Photoshop to create large colour surfaces which he then transposes onto materials such as silk or carpet, or exhibits as C-prints. Another series, 'Lakes' (2013–2015), presents photographs taken from the online space—such as an image of Paris Hilton, or Hillary Clinton—and applies the Lake effect of Java's applet onto them, turning the images into what look like liquid pools, presented on vertical screens to emulate a smartphone. Other projects take a more material approach to the digital: 'The Source Digest' series (2006–2015), for instance, is a publishing project commenced in 2006, for which Arcangel publishes the source code for his software-based works.
Arcangel presents many of his works on new technologies, such as iPads or high lumen projectors. Instead of straightening the lines of history in the technological realm, Arcangel blurs them, in particular those that create divisions between professional and amateur. One way he does this is through his venture 'Arcangel Surfware', 'a non-aspirational lifestyle, software, and publishing company' that the artist founded in 2014 as a side project. Aside from publishing the source code books of his past mod projects, including Space Invader (2004) and Super Mario Clouds (2002), 'Arcangel Surfware' manufactures products like Fidget Spinners, three of which were shown at the New York Art Book Fair at MoMA PS1 in 2017. The popular toy of 2017 can be spun and balanced on the user's fingertips, and is claimed to help people focus—not unlike the conditioned actions of finger scrolling on phone screens, a fluid experience confined by the screen's frame.
In this conversation, Arcangel talks to curator Venus Lau about his collaboration with artist Olia Lialina to create an exhibition project titled Asymmetrical Response, which has been shown at Western Front in Vancouver (9 September–22 October 2016), The Kitchen in New York City (11 January–18 February 2017) and, most recently, Art Projects Ibiza (20 June–16 December 2017). The project consists of works that were the result of an ongoing conversation between the artists about the impact of digital technologies whose original purpose was for military communication.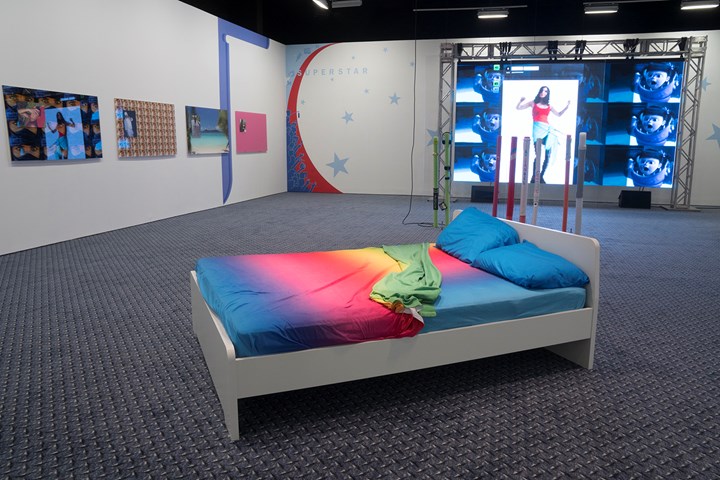 Exhibition view: Cory Arcangel & Olia Lialina: Asymmetrical Response, The Kitchen, New York (11 January–18 February 2017). Photo: Arcangel Studio.
The exhibition Asymmetrical Response, a collaboration between you and Olia Lialina, is a touring show that has been exhibited at Western Front in Vancouver, The Kitchen in New York City and Art Projects Ibiza. What was the main difference between each conception?
CAI can't speak for Olia, but maybe the biggest factor was that each space was a totally different size. Western Front was the smallest show, and then the Kitchen maybe three or four times bigger than the Western Front, and Ibiza maybe three or four times the size of The Kitchen. Art Projects Ibiza has two spaces as opposed to one. With each show we learned from the previous one, and so we kind of started where the other shows left off; they were made in sequence, and they were made totally from the ground up. Although the three shows share similar works, I started over with each show.
The version of the show at Art Projects Ibiza did not include the carpet from your 'Photoshop Gradient Demonstrations' series, right?
CAYes, that's correct. It doesn't have a carpet that covers the floor, wall to wall. In Ibiza we showed a carpet work that appears in a very small scale, just a few carpet tiles, called Skipping Stones (2010). You know, there are works that appear and disappear; it depends on the show.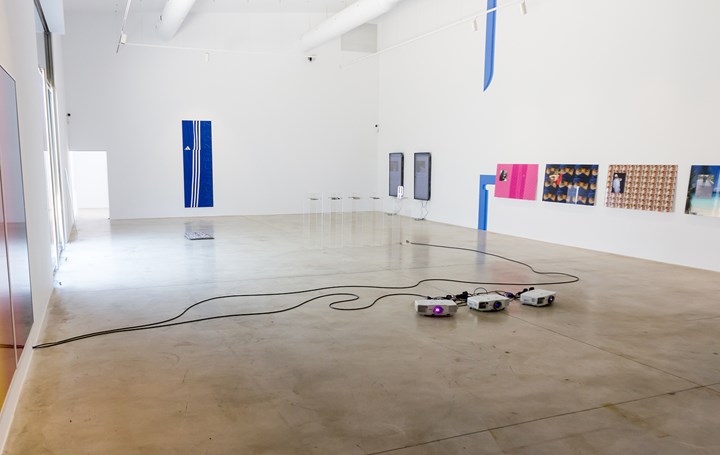 Exhibition view: Cory Arcangel & Olia Lialina: Asymmetrical Response, Art Projects Ibiza + Lune Rouge, Ibiza (20 June–16 December 2017). Courtesy Art Projects Ibiza. Photo: Eduardo Rondón.
The pattern from the carpet you used in The Kitchen in New York, diamond plate, is derived from the non-slippery metal surface usually seen in industrial settings, which contrasts to the corporate feeling a carpet can so often create. It also references a common website background used in the 1990s, including your first website.
The carpet reminds me of your ideas about 'professional' and 'amateur' aesthetics, which recalls your obsession with the font Comic Sans. When did you start using this font style in your practice?
CAThat's interesting. With the diamond plate cover, I have never made the connection with the corporate feel—that's something I haven't ever realised. But of course, it's not up to me to say what associations come with this. It's always up to the viewer.
To answer your question, Comic Sans has appeared in my work almost continuously on and off for the last ten years. It is my default e-mail font, but recently I stopped using it. It's in the logo for the merchandise I produce for Incorporation Company Arcangel Surfware, and in a way I am still using it because it's one of the fonts that is part of the style guide for that company. We have Arcangel Surfware, and Webmaster Summer, which is Olia Lialina's clothing line—there was a pop-up shop in the Asymmetrical Response Ibiza show.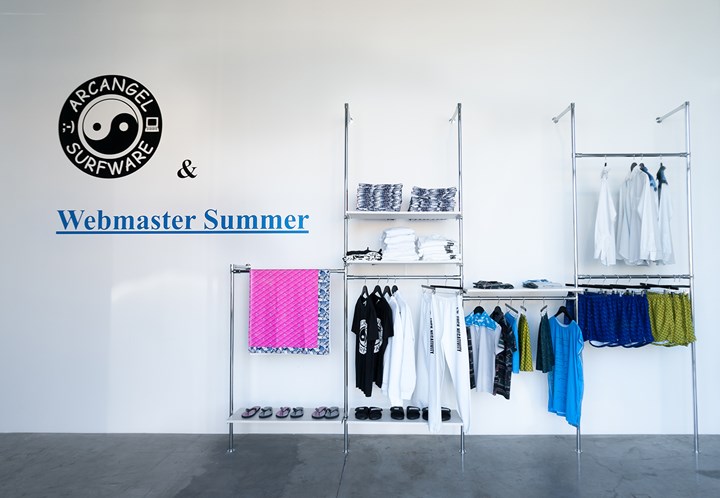 Exhibition view: Cory Arcangel & Olia Lialina: Asymmetrical Response, Art Projects Ibiza + Lune Rouge, Ibiza (20 June–16 December 2017). Courtesy Art Projects Ibiza. Photo: Eduardo Rondón.
You started Arcangel Surfware, a 'non-aspirational lifestyle, software, and publishing company' in 2014. What were the reasons for founding it and how do you separate it from or merge it with your artistic practice?
CAI would consider them two parallel systems, although Surfware is a lot newer and so of course smaller, and I am still learning the economy, distribution and workflow around publishing, and all the things that go with it. But in terms of how these two components—Arcangel Surfware and my practice—are constructed, they are parallel. Surfware is kind of autonomous. For example, Surfware has its own mailing list, its own customer base, its own invoicing protocol; it also has its own products, which have their own inventory number. So it's separated. It has really been a lot of work when it comes to learning how wholesale works, and how to get things in the store.
But, in terms of the relationship with my work; although it is parallel, there is a kind of bleed or slip'n'slide. Some of the Surfware things are my artworks, others are more ambiguous. You might have seen that we have recently started publishing things by other artists—our big project in 2016 was publishing Tony Conrad's Music and the Mind of the World (1976–1982). So in that case, it might even grow into something I'm not involved in. For me, publishing things by other artists creates a space that just provides a different outlet. The original idea was if I had a show somewhere at an art space, I would also have merchandise in the gift shop.
Do you actually produce the Fidget Spinners? Or do they only exist as images on the website?
CAWe actually produced Fidgets and they were debuted at the New York Art Book Fair at MoMA PS1 this year; we do a booth every year there and we tried to go pretty wild. We made three different Fidgets.
The 'Surfware' project manufactures 'gear' for internet surfing. Surfing is all about gliding across the internet waves, but your 'surfing' is obviously about going deep into the ocean of your research subjects, like There's Always One At Every Party (2010), which edits together scenes from the sitcom Seinfeld that show one of the character's (Kramer) coffee table, and Freshbuzz (www.subway.com) (2013–2014), a 'motion picture' of yourself surfing www.subway.com.
What does the word 'surf' mean to you?
CAIt's different from when I started 20 years ago, when the term 'surfing' meant something more like 'wandering', because you kind of went from site to site. And now it is mostly done on the phone and 'surfing' almost equates to scrolling through feeds of whatever social network you happen to be addicted to. The term definitely changed in my projects, like the video Coffee Table Book about Coffee Tables (2012), or Freshbuzz (subway.com) videos where I just surf around websites. Videos of me surfing around on the website is a kind of throwaway action. The fun thing about it is to take things that people don't consider to have value and put them into a context where value is generated or usually projected on content. It's just an experiment, really.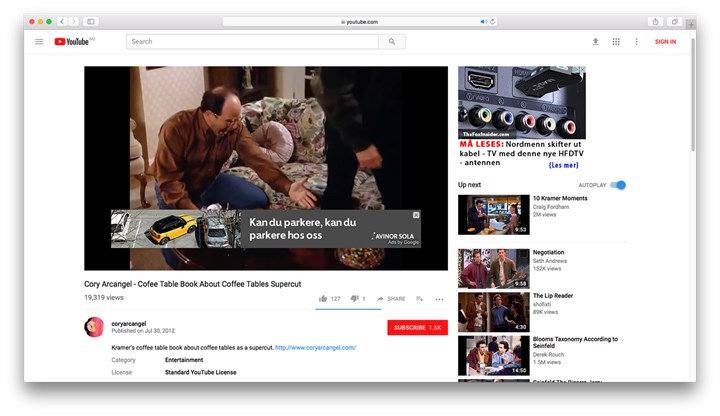 Cory Arcangel, There's Always One At Every Party (2010) (Performance still). Single-channel video, Youtube. Courtesy the artist.
Scrolling is one of the main forms of internet surfing, with fingers on phone screens moving through endless flows of information, like on Instagram and Facebook—it is an elongated and fluid experience confined to the limited space of the screen, which reminds me your early artworks related to the scrolling movement in vintage 8-bit games, such as those made for the classic Nintendo Entertainment System.
CAI never made the connection between scrolling and instagramming in those early works that I did about scrolling, but it is the same. It's interesting. It's the illusion of space; the illusion of depth. For those early works, I was interested in how one could perceive an entire world behind the screen—and it's real, a real thing—from such a small gesture: the left and right scroll. In lots of early video games, it was all about that left to right scroll. It's funny, I have never thought that the internet could be taken in the same way, but it's just the same thing, only up and down. Same as Twitter, and whatever, I guess: it's up and down.
You work with a lot of obsolete digital materials and transplant them into new technological forms such as projections or tablets. This turns the original materials you use into ghosts.
CAFor me, a lot of the time when these things are brought into the art space, people have certain expectations and certain forms of spectacle in mind. When these kinds of things are taken apart or represented as art, it's a combination of these two things that create a type of energy for me. Let's say, there is a video game on loop: to me that has some kind of energy because now it is in an art space being projected in monumental size, which brings it into some kind of sculptural situation.
A lot of these things I am making do not present themselves as this kind of revelation; they present themselves as almost a kind of borderline, or an insult or something, in order to create a grand monument. Our electronic lives are so silly. We are surrounded by all this junk! That's the energy I am after. That's ridiculous.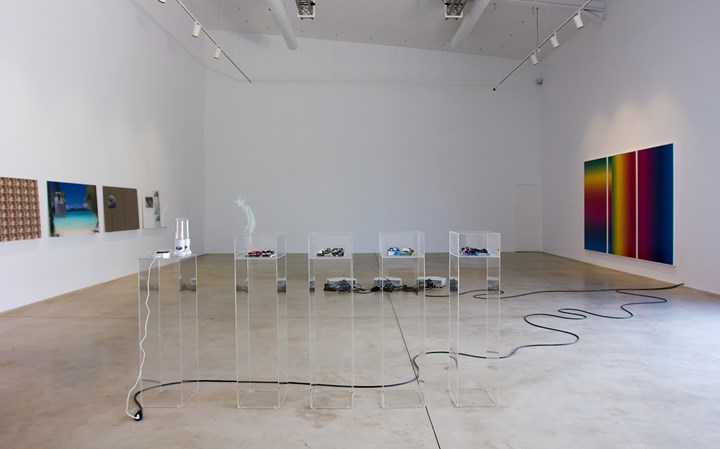 Exhibition view: Cory Arcangel & Olia Lialina: Asymmetrical Response, Art Projects Ibiza + Lune Rouge, Ibiza (20 June–16 December 2017). Courtesy Art Projects Ibiza. Photo: Eduardo Rondón.
Apart from the borrowing of visual languages and styles from digital worlds, you also reveal the invisible in them, like when you publish the source code of your past projects in 'The Source Digest' series, as well as using your computer's temporary storage (RAM) as your raw material in the Data Diaries (2003), which is presented as a series of abstract, glitchy videos. What urges you to actually make all these things, which are supposed to stay in technological black boxes, visible?
CAThat is a good point. With 'The Source Digest' it's pretty easy—printing the source code is the backup of my work. I don't highly trust computers or hard drives, or anything that has to be plugged into the wall. So my goal is to eventually publish 'The Source Digest' as a whole, and they are going to be widely distributed in order to protect my work from how temporary and how unstable the electronic is.
In terms of Data Diaries, it was just raw material that I saw was just there and I can't explain it. It just makes sense. It was just there, in front of me.
Cory Arcangel, Data Diaries (2003) (Still). 62 single-channel videos. Courtesy the artist.
The shift of orientations in your practice, especially between the horizontal and vertical, draws my attention. There are the TVs placed vertically in the 'Lake' series, for which you take images from pop culture and apply the lake effect from Java's applet onto them, making them look as if they are pools of water. You also use 'pool noodles'—flotation devices for swimming—presented in an upright position as sculptures.
This reminds me of your website. When I checked out your website I was sucked into a black hole of condensed digital folklore; I don't knowwhere it starts and where it ends.
CAIn terms of horizontal and vertical, I haven't thought about it, but it maybe it's something to do with sagging blocks, or maybe I just have a thing in my life for everything that looks like it sags. It is almost kind of an OCD thing. My hard drive is super organised, so there is no way for me to feel like the world is disorganised—everything either sags or piles up with each other, it's hard to explain.
My website is supposed to look old and outdated. It is my ideal world in terms of how I want to present my work, and it is a little bit confusing; everything is all mixed together. This is the way I can view my site or my work.—[O]