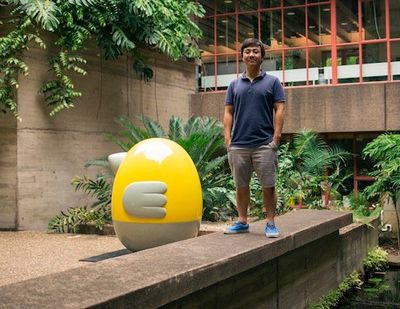 Born in Korea in 1981, Seung Yul Oh moved to New Zealand in 1997 and graduated from Elam School of Fine Arts at the University of Auckland in 2005. He has exhibited widely in New Zealand and Korea. In 2013 he was recipient of the SEMA Nanji Residency in Seoul and in 2011 was recipient of the Harriet Friedlander New York Residency, supported by the Arts Foundation of New Zealand.

His work is represented in the collections of the Auckland Art Gallery; The Museum of New Zealand - Te Papa Tongarewa in Wellington; and the National Gallery of Victoria in Melbourne. He lives and works in Auckland and Seoul.

Seung Yul Oh's current exhibition MOAMOA: A DECADE
is a collaborative project between the Dunedin Public Art Gallery and City Gallery Wellington. The largest survey exhibition of his work to date, it features a selection of work produced over the past decade, along with new pieces commissioned by the organising galleries and created with the support of Creative New Zealand.
Ocula talked to Seung Yul Oh about his new exhibition, life as a Korean New Zealander and his plans for 2014.
You moved from Korea to New Zealand when you were 15, a pivotal time in the mind of a young artist. Can you tell us how it all began, how you came to work as an artist?
I wanted to go to a new place - an environment with a different culture and language - to have unexpected experiences; something unpredictable. When I first started school in NZ, it was a completely different system of teaching than what I was used to. Art class was my favourite time, as I could do things I wanted to do… there were not many rules! I could confront more unpredictable processes and results, and I had much greater freedom to explore this new environment in ways I could not in other arenas.
As a Korean New Zealander you have bridged two distinct cultures. How much of your work is autobiographical?
My work became more autobiographical since I spent some additional time living in Seoul, these two places [Korea and New Zealand] feed back into each other and into in my practice.
I enjoy how my work responds to these distinct influences coming together, and also how it can stand apart from them also. It creates a distant dialogue between my different situations and locations that is less self-referential and more to do with finding common ground.
Who are your influencers and inspirations?
Everyone I encounter seems to be doing something - be it in art or life - that I am fascinated by how creative they are. I am constantly startled and impressed by creative people. In response, I try to discover what I can do and re-imagine this through layers of perception embedded in my work.
This is the first major survey of your work and will travel to the City Gallery in Wellington. How did the exhibition come about?
I was approached by the Directors of the Dunedin Public Art Gallery and City Gallery Wellington and they asked if I would be interested in presenting a new body of work with a mix of existing works.
It's been an extraordinary opportunity to put together a wide variety of works in a large space, revisiting some past projects and works from museum collections, some reassembled for the first time. I've seen how the new works are able to interplay with other works and create a new dialogue between them and the viewer. This allows different spaces (physical and cultural) to be experienced in new and unique ways.
The title of the exhibition is MOAMOA, a Korean word implying a gathering together. The exhibition brings together works from the last decade alongside some new works. Can you tell us about the new works?
I wanted to gather together works from my multiple practices and continue to explore their dynamic interactions with an audience.
Among the new works is Sphere Square, which is basically a giant beanbag. It almost fills up the entire room and people can relax on it or climb up and into the squishy hills that it makes. I found that it really starts to activate the work once people lose track of themselves in this foreign environment – either completely absorbed into relaxing or jumping around and screaming! I notice their behaviour change once they know it can be played with, despite being in a gallery space. Their interaction in a moment of uninhibited bodily freedom allows spatial and cultural norms to become interchangeable.
Few of the earlier works in the exhibition are shown in their original form – you have remade some, refabricated elements of others and in some cases reconsidered the presentation of the original work? This is an interesting process of rejuvenation that raises many questions. Please discuss your thinking with respect to the remaking of works?
The Huggong (inflatables) series tends to be re contextualized every time it is installed in a different space, they change their mass and form in response to the character and dimensions of the architectural spaces they encounter. So, rather than being remade, the objects themselves seem to reform in response to the limits of breath in a room.
In this exhibition, some elements from works that were first drawn or painted reappear in a physical, three-dimensional form, and sometimes other way round. They link to each other in cycles and recycling of suggestions and challenges.
You work across a wide range of media including sculpture, painting, video, performance and installation. Do you consciously try to avoid a singular practice or is it a case of being endlessly curious?
I am curious and I'm innately responsive, in that I respond to the ever-changing fields of artistic and cultural questions and the subsequent modes of display that seem most appropriate to me at the time of making. Being open to a variety of media opens up options of activities, ways of seeing and new meanings. It's like responding to everyday decisions such as choosing whether you want rice or noodles.
The exhibition includes Periphery, 2013 a large-scale inflatable installation that was a highlight of at Art Basel in Hong Kong last year. What is it about inflatables that captures your interest?
Air is an element that fully expands its form and creates faux mass and space. The works contain breath and make it tangible, but it is also vulnerable and its containment is precarious. It has a temporal presence that can be formed or deformed by breathing out, and this crystal breath can inhabit architecture.
What are your hopes for the exhibition?
I hope my exhibition itches and scratches the audiences and myself. That it inhabits the viewers' future selves and slips into their waking dreams.
Aside from MOAMOA what does 2014 hold for you?
I plan to go to Korea, where I can carry on research and producing works for a solo exhibition at Starkwhite, and I'm also working on a temporary public sculpture in Auckland. — [O]