News | Market
$20m Joan Mitchell Leads Sales at Art Basel in Hong Kong
No other work came close, but sales in the six-figure range were strong.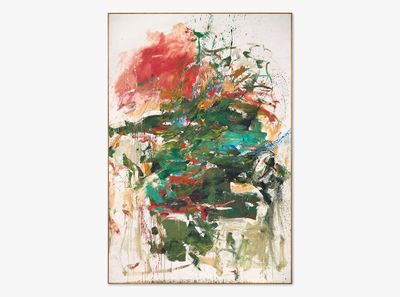 Joan Mitchell, 12 Hawks at 3 O'Clock (circa 1962). Oil on canvas. 295.6 x 200 cm. Courtesy Lévy Gorvy.
Lévy Gorvy sold Joan Mitchell's three-metre-tall abstract painting 12 Hawks at 3 O'Clock (circa 1962) for around US $20 million at Art Basel in Hong Kong. The fair opened to VIPs on Wednesday and continues through Sunday 23 May.
That price couldn't compete with the $35 million Lévy Gorvy fetched for Willem de Kooning's Untitled XII (1975) in 2018, but it was notable given the constraints on the fair imposed by the pandemic.
Due to travel restrictions, fewer international collectors are in town, and most galleries without spaces in Hong Kong are participating via the fair's Online Viewing Rooms and satellite booths — less kindly described by some as zombie booths — attended by staff appointed by Art Basel.
Despite these limitations, Hauser & Wirth's Iwan Wirth described an 'electric atmosphere' at the fair.
'Ninety percent of our first day sales of works by our artists have been placed in truly superlative collections across the region which shows that the art market in Asia is on a high,' he said.
The gallery sold George Condo's oil on linen painting Blues in A flat (2021) for $1,750,000 and work on paper Haunted By Demons (2020) for $800,000. They also sold Rashid Johnson's Untitled Broken Crowd (2021) to Shanghai's Long Museum for $595,000, Paul McCarthy's WS, White Snow Flower Girl #2 (2016) for $575,000, and Pipilotti Rist's video object Wasserschatz (Schwarzlicht) Water Treasure (Black Light) (2019) for $160,000.
Maurizio Cattelan Night (2021). Stainless steel, black paint, bullet holes. 140 × 244 × 4 cm Photos by: Zeno Zotti. Courtesy of MASSIMODECARLO and the artist.
David Zwirner's Leo Xu was more circumspect about the voltage of the fair's atmosphere, saying, 'there are certainly not as many visitors this year as before, but there was still a surging crowd on the first day.'
He said this year's Art Basel in Hong Kong 'attracted many local collectors, whether they tend to collect contemporary, modern or traditional Chinese art.'
Zwirner sold three oil paintings by Harold Ancart to a single Asian art museum for unspecified sums. They also sold Liu Ye's Study for Bamboo Bamboo Broadway (2011) for $500,000 and Mamma Andersson's Only the Nights are New (2005) for $500,000 — both to art museums in the region.
Among other notable sales results, Massimo de Carlo sold Maurizio Cattelan's bullet-holes-in-stainless-steel work Night (2021) for around $1.1 million.
Lehmann Maupin sold Lari Pittman's Found Buried #4 (2020) for $300,000 and Vanitas #2 (Aeternum) (2021) for $225,000.
Kukje sold Lee Ufan's Dialogue (2020) for around $425,000 and four works by Ha Chong-Hyun for around $150,000 each.
And Almine Rech sold Kenny Scharf's painting Torna Doon (2020) for $100,000–200,000.
Hong Kong's 10 Chancery Lane Gallery sold multiple works by Laurent Martin 'Lo' and Frog King Kwok for around $10,000.
And the city's Blindspot Gallery sold Lam Tung Pang's acrylic and charcoal on plywood work Meaningless no.12 (2020) for $60,000–70,000 and Jiang Zhi's oil on polyester work The world is yours, as well as ours No.B-2021-02 (2021) for around $50,000. —[O]