News | Artists
Blak Douglas Wins Australia's Archibald Prize 2022
Claus Stangl's portrait of Taika Waititi won the Packing Room Prize, which is chosen by staff who receive, unpack, and hang works by the Archibald Prize finalists.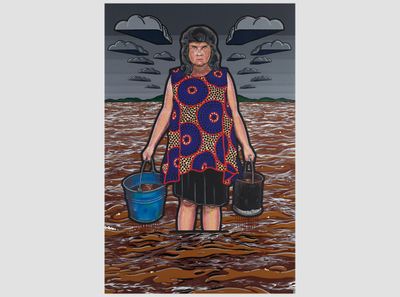 Blak Douglas, Moby Dickens (2022). Synthetic polymer paint on linen, 300 x 200 cm © the artist. Image © AGNSW, Mim Stirling.
The Art Gallery of New South Wales (AGNSW) today announced Blak Douglas the winner of the 2022 Archibald Prize, Australia's pre-eminent prize for portraiture. Douglas's portrait of artist Karla Dickens was one of 52 finalists selected from 816 entries.
'It feels like winning an election campaign,' Douglas said, thanking his friends, family, and artist colleagues.
'We have to honour Karla Dickens, the great Wiradjuri artist who many of you know,' he added.
In a live video feed, Dickens teared up.
'Just for you to include me in the mud, acknowledging everybody up here in Bundjalung country that has gone through so much, thank you,' she said. Bundjalung is the northern coastal region of New South Wales, which experienced severe flooding earlier this year.
'This is incredibly historic,' Douglas added. Using a term for Aboriginal Australians from the region, he said 'I'm the first Koori to paint a Koori to win the Archibald prize.'
Previous winners of the AU $100,000 prize Archibald Prize include Peter Wegner for his portrait of painter Guy Warren in 2021 and Vincent Namatjira for his portrait of champion Aussie Rules player Adam Goodes in 2020. Both were present at today's announcement after missing their own prize announcements due to the pandemic.
The AU $50,000 Wynne Prize for the best landscape painting of Australian scenery or figurative sculpture was won by Nicholas Harding for his painting Eora (2022).
Nicholas Harding, Eora (2022). Oil on linen, 196.5 x 374.8 cm © the artist, image © AGNSW, Mim Stirling.
Harding said he was commissioned to create something immersive and representative of the Sydney landscape, qualities readily apparent in the nearly four-metre-wide work.
The AU $40,000 Sulman Prize for best subject, genre painting, or mural was won for the first time by a duo, Claire Healy and Sean Cordeiro, for their acrylic and gouache painting Raiko and Shuten-dōji (2022).
Unlike the Archibald and Wynne Prizes, which are both judged by AGNSW's board of trustees, the Sulman Prize was judged by artist Joan Ross, who won the Sulman herself in 2017.
'Thank you so much to Joan Ross for putting us in this technicolour show,' said Cordeiro. 'It's a riot!' Healy added.
Finalists for the Archibald, Wynne, and Sulman Prizes will be exhibited at the AGNSW in Sydney from 14 May to 28 August 2022, along with the Young Archies finalists, a category open to artists aged 5 to 18.
Claire Healy and Sean Cordeiro, Raiko and Shuten-dōji (2022). Acrylic gouache, jute and tape on helicopter shell. 159.5 x 120cm. © the artist, image © AGNSW, Mim Stirling.
Packing Room Prize Goes to Claus Stangl for Portrait of Taika Waititi
Claus Stangl won this year's Packing Room Prize for his portrait of filmmaker Taika Waititi, director of the magnificent vampire mockumentary What We Do in the Shadows (2014) and the Marvel romp Thor: Ragnarok (2017), among other films and TV shows.
The AU $3,000 Packing Room Prize is judged by the staff who receive, unpack, and hang the finalists for the Archibald Prize. The winner is decided by head packer Brett Cuthbertson who, after 41 years at the gallery, holds 52% of the vote.
Claus Stangl, Taika Waititi (2022). Acrylic on canvas. 245 x 195.1cm. © the artist. Image © AGNSW, Felicity Jenkins.
'I really love Taika Waititi and his movies like Hunt for the Wilderpeople (2016) and Jojo Rabbit (2019), and shows like and What We Do in the Shadows and Reservation Dogs,' Cuthbertson said. 'I love his humour and how he sees the world in a way that other people don't—that twisted, humorous way—and that's the way Claus has painted the picture; it's Taika all over.'
Stangl painted Waititi while he was in Sydney making the upcoming film Thor: Love and Thunder (2022).
'I wanted to create a portrait that captured Taika's sense of humour and to execute it in a playful cinematic style, reminiscent of the movies of the seventies and eighties that were popular when he was child,' Stangl said.
'After sharing some concepts with Taika, we landed on the idea of making a 3D-style portrait using the [iconic] reds and greens from eighties retro cardboard glasses.' —[O]