News | Artist
Lynda Benglis, Famous for Her Latex Pours, Joins Mendes Wood DM
The São Paulo-based gallery also represents artists such as Lucas Arruda, Sonia Gomes, Paulo Nimer Pjota, and Kishio Suga.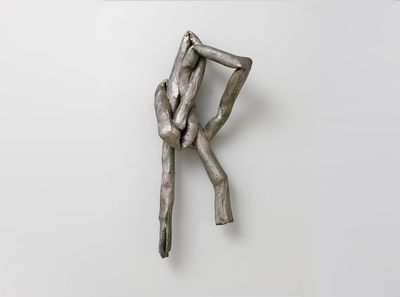 Lynda Benglis, Foxtrot (from the 'International Alphabet' series) (1974). Aluminum wire mesh, cotton bunting, plaster, sprayed zinc, tin. 132.08 x 53.34 x 38.1 cm. Courtesy Mendes Wood DM. Photo: Brian Buckley. Collection: Kunstmuseum Basel, Switzerland.
Mendes Wood DM announced this week that it now represents American sculptor Lynda Benglis.
Benglis rose to prominence in the 1960s for her poured latex and foam sculptures, which oozed into being from her earlier training in abstract expressionist painting.
As her works spread out they could be flat like a painting while standing on the floor as sculpture. They challenged the cleanness and austerity of the Minimalists popular at the time.
A sense of lyricism pervades much of Benglis' work, which comes in diverse media that has included not only latex but also water, phosphorescence, and beeswax, as well as the more traditional bronze and clay.
'I could have been easily a dancer,' the artist told Ocula Magazine in 2015. 'I love the idea of movement.'
Benglis has also explored how gender and celebrity are constructed in the art world. In 1974, she ran two advertisements in Artforum: one showing her with slicked hair, leaning against a silver Porsche, and the other a self-portrait, in which the artist appears naked and holding a dildo to her crotch.
Lynda Benglis, Water Sources (2015), Storm King Art Center, Mountainville, New York. Courtesy Storm King Art Center. Photo: Jerry L. Thomson.
Mendes Wood DM, which has locations in São Paulo, New York and Brussels, first worked with Benglis in 2020 on the group exhibition At the Noyes House—a collaboration with the art and design fair Object & Thing and Los Angeles gallery Blum & Poe, who also represents the artist. Transforming American architect Eliot Noyes' modernist family home into a temporary gallery, Benglis showed her glazed ceramic sculptures on a piano and the living room coffee table.
Despite the brief duration of their relationship with the artist, Mendes Wood DM told Ocula Magazine their 'admiration for Lynda has been around for years'.
Matheus Yehudi, associate director of the gallery, described their representation of Benglis as 'a natural union'.
'Benglis's voice and strength are complementary to the sensibility of the other artists we work with,' he said.
Established in 2010 by partners Felipe Dmab, Matthew Wood, and Pedro Mendes, Mendes Wood DM's other artists include Sonia Gomes, recognised for her abstract sculptures that explore the African diaspora in Brazil (and who also showed at the Noyes House and joined Blum & Poe last year), and Nigerian-born, Belgium-based Otobong Nkanga, whose performances and installations interrogate the complex relationship between humankind and ecological systems.
Lynda Benglis is also represented by Pace Gallery and Xavier Hufkens.
Mendes Wood DM is currently planning a survey of Benglis' work that they will exhibit in São Paulo. The dates have not yet been determined. —[O]