News | Market
Phillips' Sales Exceed $500 Million in First Half of 2021
The result bettered their sales in the first half of 2019 by a quarter.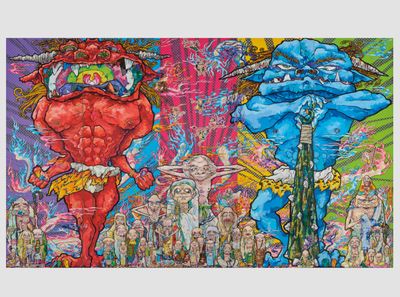 Takashi Murakami, Red Demon and Blue Demon with 48 Arhats (2013). The work sold for US $6,080,000 in New York on 23 June 2021. Courtesy Phillips.
Auction house Phillips reported sales of over half a billion US dollars in the first half of 2021 (H1). The result is up 25 percent on the same period in 2019, before the pandemic struck.
'The Spring 2021 sales were truly extraordinary, surpassing pre-pandemic levels with strong international participation across all of Phillips' platforms,' said Edward Dolman, Phillips' Chief Executive Officer, and Cheyenne Westphal, Phillips' Global Chairwoman.
Phillips' top three contemporary art sales so far this year were Yoshitomo Nara's Missing in Action (2000) for almost $16 million, Gerhard Richter's Abstraktes Bild (940-7) (2015) for over $12 million, and David Hockney's A Neat Lawn (1967) for $11 million.
David Hockney, A Neat Lawn (1967) sold for US $11,000,000 in New York on 23 June. Courtesy Phillips.
The auction house's sales were bolstered by private sales and sales in Asia, which both grew by 107 percent in H1 of 2021. Asia-based buyers now account for 34% of Phillips' global sales, slightly less than rival Christie's, where the number is 39%.
Christie's recently announced that it will move into a new four-storey Asian headquarters in Hong Kong in 2024.
In June, Phillips opened their own new global headquarters at 432 Park Avenue in New York City.
Research firm ArtTactic estimated Philips' sales of art at auction in H1 of this year at $425 million, well below Sotheby's sum of $2.8 billion and Christie's $2.6 billion.
Phillips is growing faster than Christie's, though. Christie's sales increased by 13% from H1 2019 to H1 2021, roughly half of Phillips' 25% increase over the same period. (Sotheby's has not released sales results for the period). —[O]