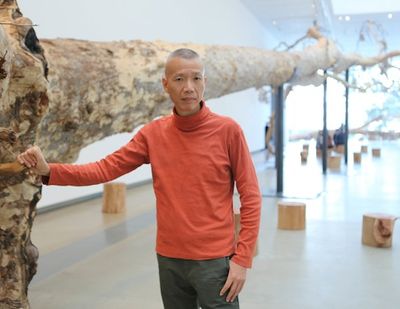 Cai Guo-Qiang in front of installation 'Eucalyptus' at the Gallery of Modern Art, Brisbane 2013 Photo by Yuyu Chen, courtesy of Cai Studio
Cai Guo-Qiang was born in 1957 in Quanzhou City, Fujian Province, China. He was a child during Mao Zedong's Cultural Revolution and strongly influenced by society's vision for social utopia. Cai trained in stage design at the Shanghai Theatre Acadmey. He left China in 1986, spending almost 9 years as a young artist in Japan before moving to New York in 1995, where he is now based. He has established a reputation for creating large-scale installations and elaborate performances using gunpowder and fireworks.

Cai was awarded the Japan Cultural Design Prize in 1995 and the Golden Lion at the 48th Venice Biennale in 1999. In the following years, he has received the 7th Hiroshima Art Prize (2007), the 20th Fukuoka Asian Culture Prize (2009), and the International Association of Art Critics' first place for Best Project in a Public Space for Cai Guo-Qiang: Fallen Blossoms
(2010).
He curated the first China Pavilion at the 51st Venice Biennale, 2005, and was Director of Visual and Special Effects for the opening and closing ceremonies of the 2008 Summer Olympics in Beijing.
His many solo exhibitions and projects include Cai Guo-Qiang on the Roof: Transparent Monument, Metropolitan Museum of Art, New York, 2006 and his retrospective I Want to Believe, which opened at the Solomon R. Guggenheim Museum, New York in February 2008 before traveling to the National Art Museum of China in Beijing in August 2008 and then to the Guggenheim Bilbao in March 2009. His solo exhibition Cai Guo-Qiang: Saraab at Mathaf: Arab Museum of Modern Art in Doha, Qatar in 2011 was his first ever in a Middle Eastern country.
In 2012, the artist appeared in three solo exhibitions: Cai Guo-Qiang: Sky Ladder (The Museum of Contemporary Art, Los Angeles), Cai Guo-Qiang: Spring (Zhejiang Art Museum, Hangzhou, China), and A Clan of Boats (Faurschou Foundation, Copenhagen, Denmark). In 2013, his first solo exhibition in Brazil, Da Vincis do Povo, traveled to Brasilia, São Paulo and Rio de Janeiro. Falling Back to Earth, at the Queensland Art Gallery | Gallery of Modern Art, is his first solo exhibition in Australia.
Tell us how it all began. I understand your father was a calligrapher and traditional painter. How did you come to work as an artist?
When I was little, I loved to paint and was quite good at it. I remember my grandmother always kept my works, because she believed that I was more talented than my father, who painted with ink and calligraphy.
Growing up in Quanzhou, I felt that the society and the time I lived in were oppressive, and I needed to liberate myself by making art. This desire prompted me to search for a medium that freed me, in a way that the watercolors and oil paints could not.
I tend to be relatively cautious and timid, serious and controlling, which are not very good traits for an artist. I needed to be more open and bold, so I began to play with a fan to blow the paint. Other times, I reversed the paintings and let them broil on top of a fire. Later on, I threw mini rockets toward the canvases. Gradually, I began to create works with gunpowder, and my works became more conceptual. Creating art has always been enjoyable and amusing; it has been my time-space tunnel.
You are widely recognised as one of China's greatest contemporary artists and indeed your work has deep roots in Chinese culture and tradition. However, you have not lived in China for more than 25 years. Can you tell us about your journey into the international art world and how you see yourself in the context of Chinese art today?
I went from harbor to harbor, telling stories of different cultures. Yet the story of my mother harbor was embedded in every story I told. Although my growth and development have taken roots in different cultures, the Chinese cultural heritage has been the foundation of my exploration in the methodologies of artistic creation, and I have never abandoned it.
Turning to your exhibition at GOMA, this is not the first time you have exhibited in Australia. How did the exhibition come about?
My relationship with the Queensland Art Museum dates back many years. I participated in their Asia-Pacific Triennial twice – both in 1996 and 1999. Unfortunately, there were accidents both times. In 1996, an accident took place at the fireworks factory, setting off the gunpowder prepared for my explosion event, Dragon or Rainbow Serpent. The second time, I was responsible for the accident. I prepared ninety-nine small silver zinc boats, filling each of them with rubbing alcohol and lighting them so that they were filled with blue flames. These boats sank to the bottom of the Brisbane River—one by one—before they were ever seen by the public.
However, the Queensland Art Museum never viewed these as failures. Instead, they treated them as inevitabilities, bound to occur when an artist challenges the status quo to explore new possibilities of artistic presentation, allows art to face nature, or collaborates with distinct cultures and people. Therefore, although the museum's director has changed three times, and the museum has since expanded, establishing a new venue (Gallery of Modern Art, GOMA), our dialogs have never ceased. Four years ago, the museum decided to present my solo exhibition. In particular, they offered a 1100m² large gallery space to accommodate one single installation.
I therefore had to decline several exhibition invitations from various institutions in Australia, including the ICA (Institute of Contemporary Art) in Sydney, and I also started to visit Queensland for inspiration. However, the creative process didn't go very smoothly: originally I thought it would be easy to come up with ideas, because I constantly ran into "problems" in Brisbane. During these more recent trips, though, I came to realise that Queensland itself lacked problems – the wind is gentle, the sun radiant – it is like spring all year. This actually made it more difficult for me to find an approach. I never expected that I would be at a loss about what to do [for the exhibition].
During my last visit, I was with my wife and daughter. Observing the white sand, clear blue water, and fallen leaves of various colors at the bottom of the Brown Lake, I suddenly felt that Queensland was so beautiful that it seemed to be the "last paradise" on Earth. This thought alone illustrated that Earth as a collective whole and mankind had a problem. The concept of the exhibition started from this realisation.
Heritage (2013) is one of two new works in the exhibition that features 99 replica animals drinking at the edge of small lake? Can you tell about this work?
In Heritage, ninety-nine animals – both predator and prey, gentle and aggressive – coexist harmoniously, all lowering their heads humbly and drinking from the same pond. Water drips, triggering ripples that underscore the serenity of the space, giving the piece a religious solemnity.
All beings should be able to coexist peacefully; unfortunately, the vision is a Shangri-La, and one that can never be realised. I have never been keen on depicting people in my artwork, but a number of my works use animals to comment on humanity.
Is there any significance to the selection of animals you chose to include in the work?
I picked familiar animals from the five continents – both predator and prey.
For the lake I understand hundreds of cubic meters of concrete, steel and soil were excavated from the gallery's foundations - no small feat! You must have had very supportive partners at GOMA to make this happen?
No, no, no. Nothing was excavated from the gallery's foundations. Instead, we produced an elevated ramp to form the lakeshore, which surrounds a pool of water. That being said, the museum was incredibly supportive. They provided solid technical support to ensure the 170 tons of water wouldn't leak, and that the air conditioning system on the ground wouldn't be affected.
The exhibition is called Falling Back to Earth. You have said that you are shifting your focus from the universe and cosmos back to earth, please discuss.
Unlike my past work series that dealt with the "extraterrestrials" and "cosmos", this exhibition - by presenting the utopian beauty of Queensland and Heritage - is focused on Earth, reminding people of the ecological issues that surround us. However, as we were completing the installation of Heritage, I suddenly realised the piece relates to the cosmos: if in the vast universe, only Earth held beings capable of contemplating the universe, imagine our responsibility!
Another work in the exhibition, Head On (2006) also includes ninety-nine animals. What is the significance of this number? Where were the animals made?
The ninety-nine wolves in Head On were manufactured in a factory in Fuzhou, China, before they were shipped to Brisbane. In Eastern philosophy, "nine" has many implications. It's a symbol of infinity, insufficiency, and incompleteness. As an odd number,"9" can easily break symmetry, therefore lacking visual rigidity in the eyes of an artist. Admittedly, with "99" objects it's hard to perceive whether or not the layout is symmetrical; however, sometimes the psychological effect it generates for an artist is also significant. "99" is also a lucky number.
Eucalyptus (2013) features an enormous spotted gum tree suspended in the gallery space as if in the process of falling to earth – a radical treatment for an iconic Australian image. How important is it to you to create works that relate to the local context?
For me, the infinite possibilities of my art rely on the dialogs and experiences I have with the local culture. I am inspired by this, absorbing parts of the culture into my works. I'm neither interested in nor good at shipping a culture to local people, asking them to accept. The tree should be intimate and familiar to the Australian audience. It's because of this relationship to locals that its use is like an adventure for me as the artist and is what interests me.
What are your hopes for the works?
I hope that when seeing my works, the audience can be touched directly. Through my works, they experience the aesthetics of the piece, come to understand and be surprised by the art, and become concerned about and develop expectations for this planet that we inhabit. As an artist, my work often involve issues that are the focus of the public attention, and often, they prompt people to think about and to be attentive to the issues. However, these are not the objectives of my artistic creations; they are the outcomes.
What are you working on in 2014?
I just came back from Sicily, where I spent a splendid break with my family over the New Year. Argentina may be my next stop, which again will be an unknown world that will attract a little boy's interest. We are also trying to travel Falling Back to Earth from GOMA to China. The idea of the exhibition and the issues it has brought up seem to be more urgently needed there.