Insight | Exhibition
Hong Kong Spotlight: Six Artists to Watch
Showing in partnership with Fine Art Asia at the Hong Kong Convention and Exhibition Centre between 27 and 30 November 2020, Hong Kong Spotlight is Art Basel's first physical presentation in 2020. Ocula Magazine highlights six artists on view among the curated booths of 22 participating galleries.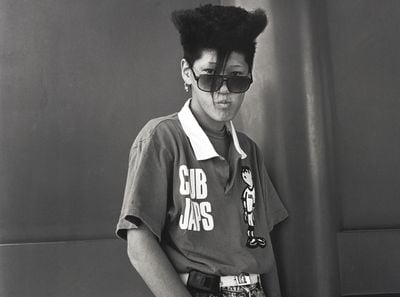 Hiroh Kikai, A young man wearing earrings in G clef shape (1992). Photograph on paper. 50.5 x 40.6 cm. AP 1/1 unique print from artist proof. © Hiroh Kikao. Courtesy NANZUKA.
Hiroh Kikai
Two main strands compose Yamagata-born, philosophy graduate Hiroh Kikai's arresting study of Tokyo, created with the same Hasselblad SLR camera: portraits of people he would stop around the Senso-ji temple in the Asakusa district, and captures of the city's architectures sans people in Tokyo Labyrinth.
Showing at Hong Kong Spotlight with NANZUKA, Kikai's portraits, initiated in 1973, are uniform in their staging, with figures positioned against a plain wall, captured mostly from mid-body up. Apparently, he would photograph a maximum of three people per day, giving time to learn more about the subjects who caught his eye.
Titles gesture at what Kikai learned. One image of man styled like a teddy boy is called A man who said he grew his sideburns, so people wouldn't mess with me, another showing a man with a cat perched on his back is titled A man who dresses his cat in lace. In publications of these photos, Kikai often referred to his subjects as kings.
There is an intimacy in Kikai's pictures. A familiarity that gallerist Shinji Nanzuka, who staged Kikai's final exhibition early in 2020 before his passing in October this year, touched on when pointing out the 'sincerity, affection, and curiosity' in the photographer's remarkable work. 'What I photograph is the time that person has come from,' Kikai once said, 'and the time to which they will go from now'.
Su-Mei Tse, Nested #1 (2016). Limestone, polished mineral, marble balls. 30 x 27 x 16 cm. Courtesy Edouard Malingue Gallery.
Su-Mei Tse
A classically trained cellist, Su-Mei Tse's practice has consistently explored the textures of time and perception through multimedia works that invoke at once a sense of presence and a longing for a moment in a perpetual state of passing.
Among the works included in Air Conditioned, the artist's Golden Lion award-winning Luxembourg Pavilion at the 2003 Venice Biennale, were the video projections Echo (2003) showing the artist playing a cello on a grass field overlooking the overbearing mountainside that rises up from a valley, and The Desert Sweepers (2003), in which men in janitorial uniforms use brooms to sweep sand piles at their feet in a desert.
More recently, Nested, the artist's travelling show presented at Musée d'Art Moderne Grand-Duc Jean in Luxembourg, Aargauer Kunsthaus in Aarau, Switzerland, Yuz Museum in Shanghai, and Taipei Fine Arts Museum, included White Noise, a vinyl record playing on a turntable with balls caught in its grooves, and the 'Nested' series, comprising stone orbs in limestone niches.
One of these stone sculptures, Nested #1 (2016), is among the photographic and film works presented by Edouard Malingue Gallery at Hong Kong Spotlight, such as Shaping (2019), a film of hands spinning clay in and out of form accompanied by a woven mesh of sound.
Yuko Nasaka, Untitled (1984). Plaster and pigment on wooden panel, glass in metal frame. 45 x 45 cm. © Courtesy Axel Vervoordt Gallery.
Yuko Nasaka
In 1962, Jiro Yoshihara was among the jurors that awarded Yuko Nasaka the Mayor's Award and the Fifteenth Anniversary Prize at the 15th Ashiya Art Exhibition, prompting Nasaka's invitation to join the avantgarde postwar Gutai Art Association at the age of 24.
Nasaka became a prominent figure in Gutai's so-called second generation, defined by a turn from gestural abstraction to minimalist tendencies. The artist developed textured circular compositions using plaster, paint, and glue on cotton mounted on wooden board, coloured with luminous shades of car lacquer.
For her first solo show at the Gutai Pinacotheca in 1964, these circles dominated, appearing in square panels arranged like tiles to create wall-scale pieces that became characteristic of Nasaka's investigations into texture and colour, their concentric forms seemingly scored like gravel in a rock garden.
For their Hong Kong Spotlight, Axel Vervoordt Gallery brings together such pieces from the artist's early period between the 1960s to 1980s with those from 2015 to 2017. What emerges is a shift from bold colours, as seen in a composition of nine royal blue rings in rows of three from 1964, to the earth tones seen in a 2015 piece of six circles in various shades of sand.
Henry Shum, Dream Construction (2020). Oil on canvas. 181.2 x 121.2 x 5.6 cm. Courtesy Empty Gallery.
Henry Shum
Empty Gallery's black box was the perfect setting to showcase the impressive hand of Hong Kong-born painter Henry Shum, who graduated with a BA in fine art from Chelsea College of Arts only in 2020.
The title of Shum's first solo show with the gallery, Vortices (26 September–21 November 2020), drew from a term describing the spiral-like structure of the cosmos, and the compositions of each oil on canvas painting invoked this term in the articulation of thresholds, as in Before a Mirror (2020), where a figure gazes up at the sky through the elegant arch of an architectural branch.
At Hong Kong Spotlight, Empty Gallery presents a selection of Shum's paintings, which are striking for their assured command of material balance, in which veils of colour build to create that effect of an ink-dipped brush on rice paper, in which colour bleeds across the canvas's weave. The result is akin to turning a flat surface into a pool of reflections.
Take the namesake painting of Shum's Empty Gallery show, Vortices (2020), which shows the diaphanous outlines of people circling a giant balloon, their forms woven into the earthen contours of a landscape that ripples up the canvas towards a midnight horizon breaking through a wall of lighter blue.
Lee Bul, Perdu XLV (2020). Mother of pearl, acrylic paint on wooden base panel, steel frame. 163.3 x 113.3 x 6.6 cm (framed). Courtesy Studio Lee Bul and Lehmann Maupin, New York/ Hong Kong/ Seoul/ London.
Lee Bul
Billed as Lee Bul's first exhibition of paintings in Hong Kong, Lehmann Maupin's solo focus showcases the artist's 'Perdu' series, which mixes materials like mother of pearl with paint and lacquered wood to create forms that seem to float on textured, monochromatic backgrounds.
In the diptych Perdu LI (2020), a tan shape swirls over deep maroon like a land formation, while in the triptych Perdu XVIII (2019), an elegant, amoebic dark blue shape with flecks of green and red stretches out over three red panels, a bright blue line distinguishing shape from ground.
The artist describes a connection between the 'Perdu' series and the 'Cyborg' (1997–2011) and 'Anagram' (1999–2006) series, the latter involving sculptures made from leather-covered cast fibreglass, stainless steel, and stainless steel wire that look like tentacular cyborg limbs in the process of organic growth.
Currently, Lee Bul's work is on view alongside artists from the Russian avantgarde in Utopia Saved at the Manege Central Exhibition Hall in St. Petersburg (13 November 2020–31 January 2021), with Lee Bul: Beginning scheduled to open February 2021 at Seoul Museum of Art.
Zao Wou-Ki, 21.11.03 (2003). Oil on canvas. 195 x 130 cm. © Artists Rights Society (ARS), New York. 195 x 130 cm. Courtesy Lévy Gorvy. Photo: Julien Gremaud.
Zao Wou-Ki
Three booths feature the work of Zao Wou-Ki, making Hong Kong Spotlight something of a survey for a painter renowned for bridging techniques of East and West to become a master of abstraction.
Lévy Gorvy have opted for a solo booth centring around 21.11.03 (2003), an oil on canvas painting that invokes the aerial view of an arctic edge, exhibited only once before at the Pierre Gianadda Foundation, alongside two brushed India ink on paper works from 2006 that capture gestural, calligraphic lines.
Paris was a major influence on the Hangzhou School of Fine Arts educated painter. Zao moved there with artist Lalan, his wife, in 1948; a move that frames Kwai Fung Hin's presentation, which brings together paintings by Zao, Lalan, and Georges Mathieu, all connected by the post-war Art Informel movement.
Completing the picture is Anna Ning Fine Art's focus on representations of landscape in the works of Zao, Wu Guanzhong, and Ma Jun. Work by the artist is also currently included in the group exhibition Milieu in Change: He Art Museum Chinese Modern Collection Exhibition at He Art Museum in Guangzhou.—[O]