News | Galleries
Five Fantastic Booths at Frieze Los Angeles 2022
The third edition of Frieze Los Angeles opened to VIPs on Thursday. With over 100 galleries taking part, we asked Blum & Poe, Goodman Gallery, Pilar Corrias, Roberts Projects, and Sean Kelly to share what they're showing and why.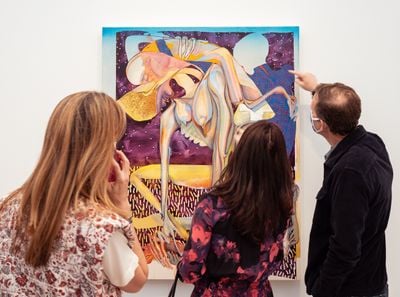 Christina Quarles, Another Day Over (2022). Acrylic on canvas. 127 x 101.6 cm. Booth view: Pilar Corrias, Frieze Los Angeles (17–20 February 2022). Courtesy Ocula. Photo Charles Roussel.
Pilar Corrias, Owner of Pilar Corrias, London
'Highlights of our booth include paintings by Shara Hughes and Christina Quarles, and "functional art pieces" made by Tschabalala Self, which has never been shown in public before. In addition, we have an outstanding Marquee sculpture by Philippe Parreno, which is part of the same series as the Chandelier Marquees [Echo (2019) and Echo Radio (2020)] currently installed in the entrance hall of MoMA, New York.'
Tschabalala Self, Fat Leg Lounge #1 (Red) (2021). Hand formed and welded steel rods, powder coat finish; custom fabric and Dacron 109.2 x 95.3 x 106.7 cm. Courtesy of the artist and Pilar Corrias, London.
'I am also tremendously excited about the unveiling of a site-specific mural by Shara Hughes, commissioned by the Ovitz Family Collection for the I. M. Pei-designed building at 9830 Wilshire Boulevard during the fair. The mural is 26 x 18 feet, and the painting by Shara on which it is based is on view at our booth.'
'Los Angeles is home to some of the most prestigious collectors in the world and we have very strong ties to the city. We work closely with each of its leading institutions: LACMA recently added a work by Tschabalala Self to its collection and Tala Madani has a major forthcoming show at MOCA, for example.'
Dawoud Bey, Jean Shamburger and Kyrian McDaniel (2012). Archival pigment print. Diptych overall: 40 13/16 x 65 5/8 x 1 5/8 inches. Booth view: Sean Kelly, Frieze Los Angeles (17–20 February 2022). Courtesy Ocula. Photo Charles Roussel.
Thomas Kelly, Partner at Sean Kelly, New York
'The first day at Frieze has been great; we've had a wonderful introduction to the fair. We sold a number of works by artists Antony Gormley, Hugo McCloud, Wu Chi-Tsung, Alec Soth, Shahzia Sikander, Idris Khan, Landon Metz, and Sam Moyer, with a few pieces still on hold.'
'We chose a selection of the gallery's artists that highlight the international breadth and depth of the gallery's program, a number of whom will be featured in the first year of programming at Sean Kelly, Los Angeles.'
Idris Khan, I write, erase, rewrite (2022). Three glass sheets stamped with ultramarine oil-based ink, aluminum, and rubber. 64 15/16 x 55 1/8 x 7 1/8 inches. © Idris Khan. Courtesy Sean Kelly, New York.
'One of our featured works is a photograph from Dawoud Bey's "The Birmingham Project" series, which memorialises the lives of six young African American children killed in the bombing of the 1963 Sixteenth Street Baptist Church in Birmingham, Alabama, and its aftermath. Bey was recently the subject of a major career retrospective [Dawoud Bey: An American Project] at the Whitney Museum of American Art, SFMOMA, and the High Museum of Art.'
'We are also excited to show a multilayered work by Idris Khan that creates a sense of expanded time, allowing the viewer to contemplate a deeper meaning buried within language. Khan will be creating a new body of work for the inaugural exhibition at Sean Kelly, Los Angles in the Spring of 2022.'
Tony Lewis, ? (2020). Pencil and coloured pencil on paper. 75 1/2 x 100 1/2 x 1 inches framed. Booth view: Blum & Poe, Frieze Los Angeles (17–20 February 2022). Courtesy Ocula. Photo Charles Roussel.
Jessica Witkin, Director of Blum & Poe, Los Angeles
'The two dozen artists we're presenting at the fair highlight the global reach of the gallery, while also having a nice focus on our local L.A. artists. New works by Alvaro Barrington, Lauren Quin, and Lonnie Holley are preludes to their exciting first solo exhibitions coming up at the gallery this spring.'
(Left) Umar Rashid, A Herodotan account of the Icarian revolt in Topanga from non Greek sources, attributed to an eyewitness that was never there. Or, don't fly too close to the sun but just high enough over the waters to avoid complete disaster. A lasting victory is never assured but, fuck it. Go for the goddamn gold anyway. (2022). Acrylic and mica flake on canvas. 182.9 x 214 cm. (Right) Alvaro Barrington, Win or lose/choose (2021). Collaged photograph, oil, acrylic on paper on carpet in concrete frame 48 x 57 x 8 1/2 inches. Booth view: Blum & Poe, Frieze Los Angeles (17–20 February 2022). Courtesy Ocula. Photo: Charles Roussel.
'A major new stone piece by Alma Allen greets visitors right at the entrance to the tent. The form is sharp and expressive, carved from a single block of white marble with pink veining, it belies its labour-intensive making.'
(Centre) Kehinde Wiley, Portrait of Ibrahima Ndome (2021). Oil on canvas. 121.9 x 91.4 cm. (Right) Dominic Chambers, Shadow Work (Kayla) (2022). 101.6 x 88.9 cm. Booth view: Roberts Projects, Frieze Los Angeles (17–20 February 2022). Courtesy Ocula. Photo Charles Roussel.
Julie Roberts, Co-owner of Roberts Projects, Los Angeles
'The highlight of our presentation is a site-specific recreation of Betye Saar's monumental 1983 public mural, L.A. Energy (1983/2022), which reinterprets the symbolism and ideas of the artist's Los Angeles-based mural of the same name through a multiplicity of techniques and intersectional narratives. Commissioned in 1983, the downtown mural incorporated several key motifs of Saar's practice, including collaged elements and the interplay of varying hues to highlight a decidedly West Coast colour palette.'
Betye Saar, L.A. Energy (1983/2022). Artist rendering. Courtesy the artist and Roberts Projects.
'Our gallery has consistently supported artists who live, work, and/or have deep histories in the city of Los Angeles. Showcasing the work of Betye Saar, arguably one of the most important living artists, who not only grew up in Los Angeles, but studied at UCLA, raised a family, built a studio practice, and continues to live and be inspired by the surrounding city, was an easy decision.'
(Left) William Kentridge, All That Breathes (2021). Indian Ink and pencil on phumani. (Centre) Misheck Masamvu, Pink Gorillas in Hell Are Gods (2019). Oil on canvas. 280 x 550cm. Booth view: Goodman Gallery, Frieze Los Angeles (17–20 February 2022). Courtesy Ocula. Photo Charles Roussel.
Jo Stella-Sawicka, Senior Director of Goodman Gallery, London
'With a William Kentridge solo exhibition forthcoming at The Broad Museum, Los Angeles, we will debut a major new "Ink on paper" tree by the artist. Works from this series are a focus of the artist's forthcoming Royal Academy exhibition this September.'
'Additionally, we're showing Misheck Masamvu, one the leading painters in Zimbabwe. We will present a five-metre-wide painting that was made and exhibited as part of the 22nd Sydney Biennale: NIRIN in 2020, the first major exhibition devoted to First Nations artists on the international stage.'
Candice Breitz, The last thing I would want to be a taped confession (2020). Excerpted from the 'Digest Archive', 25 Channel video installation: 5 shelves, 25 videotapes in polypropylene sleeves, paper and acrylic paint. Courtesy the artist and Goodman Gallery Johannesburg, Cape Town and London.
'Also in our booth is Candice Breitz's Digest, the artist's most significant work 'on film' to date. Created over the pandemic, during a period of enforced studio work, it's composed of over 1,001 video tapes, row after row, each painted pitch black. The covers of these films are buried in thick, impasto paint except for one single verb, left behind from the film's title in white paint.'
Frieze Los Angeles 2022 continues at 9900 Wilshire Boulevard until 20 February. View more photos of our five featured booths here.—[O]