News | Exhibitions
German Galleries Reopen After Lockdown
Galleries in Germany have cautiously reopened their doors, while those in other parts of Europe expect to remain closed for weeks to come.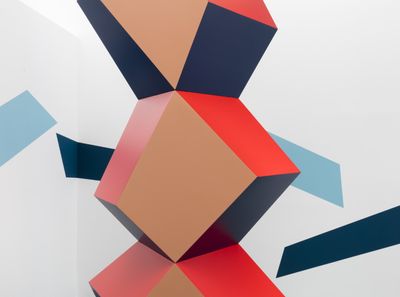 Andrea Bulloch, Heavy Metal Body (2017). Exhibition view. Courtesy the artist and Esther Schipper, Berlin. Photo: Andrea Rossetti.
Shuttered since mid-March, several galleries in Germany opened to the public this week. They were among the first in Europe to do so after lockdowns were implemented across the continent due to COVID-19.
Galerie Thomas Schulte, Berlin, Beck & Eggeling International Fine Art, Düsseldorf, and Galerie Julian Sander, Cologne, were among those that invited visitors from Tuesday 21 April. It's not quite a return to normal, however, as visitors are being asked to adhere to strict precautions.
'We reopened today, but only two visitors at a time are allowed with distancing rules to be obeyed and obligatory face masks,' said Thomas Schulte, whose Robert Mapplethorpe exhibition XYZ Portfolios has been extended until 9 May.
'We have many cancelled sales in March but the German government and the city of Berlin are supportive offering loans and some subsidies in order to keep the cash flow going for the next months,' Schulte said.
Esther Schipper, founder of the eponymous Berlin gallery, said she was also planning to reopen this week in accordance with government guidelines including 'the wearing of masks, regular disinfection, the limiting of visitor numbers, and of course social distancing across the team.'
Elsewhere in Europe, galleries expected to remain closed for several more weeks, and in some instances new exhibitions were not expected to take place until mid to late summer.
Nils Staerk, Copenhagen, is currently open by appointment only. 'We will hopefully re-open in May but our exhibition program will re-open in August,' said founder Nils Staerk.
Austria announced it would reopen museums and cultural venues from mid-May, but Samuel Mizrachi, Gallery Manager at Galerie nächst St. Stephan Rosemarie Schwarzwälder, Vienna, said, 'in Vienna all the large museums intend to open at the beginning of July. The galleries possibly will open for this date also—hopefully, before.'
Countries in Southern Europe were especially hard hit by COVID-19, with deaths exceeding 20,000 in France, Spain and Italy. Galleries there seem unlikely to reopen before the end of May.
Templon, which closed both its spaces on March 17, said it planned to open a show of new paintings by Will Cotton in Brussels on May 28 and works by Chiharu Shiota in Paris on May 30. Both Mazzoleni, Turin, and Sabrina Amrani Gallery, Madrid, said they were still unsure when they would reopen.
The lockdown period has been tough on galleries across Europe and around the world.
While many galleries Ocula Magazine spoke to felt that online viewing rooms—including Angela Bulloch at Esther Schipper and Billie Zangewa at Templon—had helped mitigate the impact of gallery closures, and would continue to benefit them when they reopened, Mizrachi said, 'the person to person exchange cannot be replaced easily.'
Jal Hamad, Director of Sabrina Amrani Gallery, said the biggest challenges they've faced are convincing 'collectors to keep on acquiring works during this time, as well as shipping the ones that have been sold.'
'The cancellation of our entire season of fairs—Art Basel Hong Kong, Art Dubai, Art Brussels—and the postponing of Art Basel' was another major challenge, according to Anne-Claudie Coric, Executive Director of Templon. 'The uncertainty surrounding the fall fairs such as FIAC and Frieze is also quite stressful,' she said.
With COVID-19 curves beginning to flatten and decline in Europe, Alessia Maiuri, Gallery Manager of Mazzoleni, said, 'what we hope will last is the sense of global connectedness, the exchange of ideas and theoretical thinking that has been stimulated by the lockdown.' —[O]
Send art news, announcements, and tips to [email protected]