News | Market
Las Vegas Mansion with James Turrell Skyspace Listed for Sale
The pyramid-shaped construction offers a singular view of the desert sky.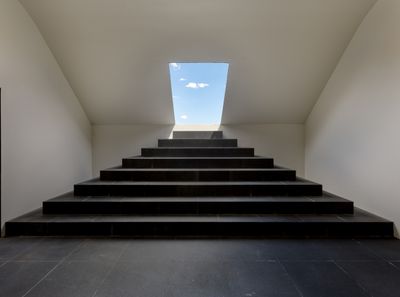 James Turrell, Arrowhead (2009). Installation. Courtesy The Ivan Sher Group.
A Las Vegas mansion with its own James Turrell Skyspace is now on the market for US$10.5 million, from a reported US$14.5 million in 2018.
Entitled Arrowhead (2009), the installation is located at 7 Painted Feather Way in Las Vegas, Nevada, a 3,000 square-foot house on 1.5 acres at the base of Red Rock Canyon. The glass and steel home was built for former MGM Resorts International Chairman and CEO Jim Murren and his wife Heather Murren by architecture firm Marmol Radziner, builder Jack Raftery and Turrell.
The Arrowhead Skyspace features two partially subterranean rooms that resemble pyramids.
'It captures the natural light of the rising and setting sun, combines that with a sophisticated pattern of lights inside the structure and creates the illusion through its lighting that you are floating through space,' said Ivan Sher, the agent selling the property.
7 Painted Feather Way viewed from above. Courtesy The Ivan Sher Group.
Obsessed with the sky, Turrell obtained his pilot's license when he was just 16. In his 30s, he developed a novel way of approaching it—a series of installations called 'Skyspaces' that have become central to his practice, which uses light as his primary material. (Pace Gallery London is currently showing works from Turrell's LED light installation series 'Constellation', for example.)
These precisely engineered chambers are equipped with apertures in the ceiling that can be circles, ovals, or squares. In addition to focusing the eye on subtelties of the sky's changing weather in the day and the movements of astral bodies at night, changing lights reflected on the ceilings around the aperture draw attention to the sky's shifting hues.
There are now dozens of Skyspaces around the world incorporated in venues as disparate as Beijing's Temple Restaurant, Berlin's Dorotheenstädtischer Cemetery chapel, and Rice University, Texas. A work that can be considered Turrell's ultimate Skyspace is under construction at the Roden Crater, a two-mile-wide extinct volcano near Flagstaff, Arizona, where Turrell lives. —[O]